US air base in Tokyo sends civilian children off base for health care
By
Stars and Stripes
June 24, 2022
---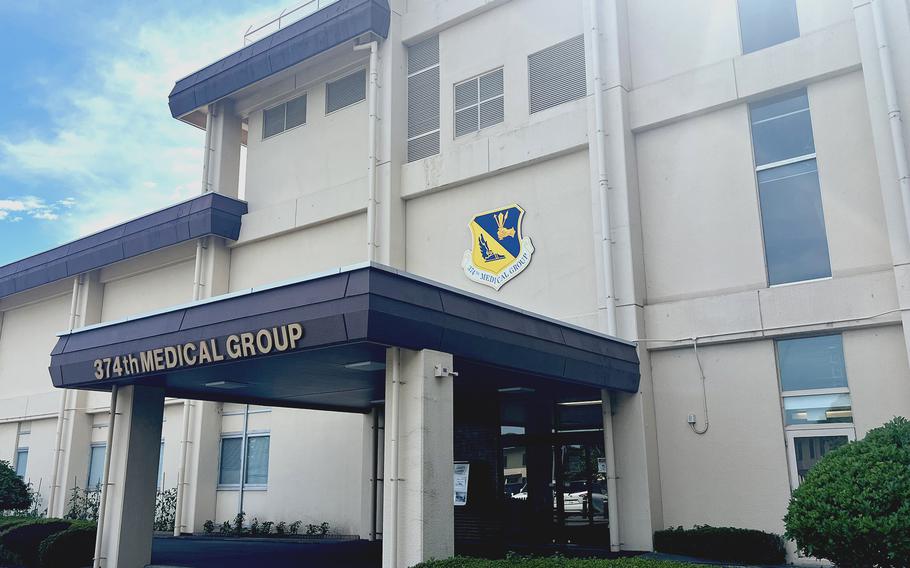 YOKOTA AIR BASE, Japan – Children of government civilian employees and contractors working at the largest U.S. military base in Tokyo will have to see Japanese doctors for most medical care under a policy announced this week.
"Due to changes in manning and mission requirements, the 374th Medical Group is adjusting appointment availability," according to an email Friday from 1st Lt. Danny Rangel, a spokesman for Yokota's 374th Airlift Wing, to Stars and Stripes.
Beginning Aug. 1, routine services and management of chronic medical conditions in Yokota's pediatric clinic will be limited to Tricare Prime enrollees, the statement said.
The changes will affect children aged 17 and younger who are not enrolled in Tricare Prime, the statement said. Tricare Prime is a health insurance program available to active-duty military personnel and their families.
Yokota is home to 12,000 people including 3,500 military members serving with the airlift wing, according to a fact sheet on the base's official website. Approximately 1,900 children are enrolled with Tricare Prime at the Yokota pediatrics clinic. The base doesn't track children who are not Tricare patients, he said. Yokota's hospital staff includes three pediatricians, a nurse and four technicians to work with youngsters.
The change is only taking place at Yokota; other U.S. bases in Japan have their own policies based on their resources and requirements, Rangel said in a follow-up email Friday evening.
Care to patients other than Tricare beneficiaries will be available when resources and manning allow, he said.
"We work hard to deliver appropriate services, and after evaluating our Tricare Prime beneficiary populations' needs and available resources, it was determined that improved access to pediatric care was needed," he wrote.
Access to other primary care clinics at Yokota, such as internal medicine and specialty clinics, is not impacted by the change, according to the statement.
"Yokota individuals not enrolled in Tricare Prime may still be able to access Pediatric same-day acute appointments, if available, by calling the appointment line after 1000," the statement said.
The urgent care clinic remains available for all beneficiaries requiring immediate attention and all confirmed appointments in the system will be honored, the statement said.
"There are several healthcare services available to you in Japan," according to Rangel's email. "Please review your healthcare plan options or contact your agency benefits counselor and/or your health insurance provider to learn more about available plan options to you as a federal civilian employee or contractor."
Information about health care in Japan is available on the Japan National Tourism Organization and the U.S. Embassy website, the statement said.
People with questions about their child's pediatric care should call Yokota's appointment line at DSN 225-8864 and leave a message for the pediatrics team. Information about Tricare insurance is available from the Tricare office at DSN 225-6478.
"We will continue to evaluate access to care and will keep the community informed on any updates or changes," officials said in the statement.
---
---
---
---