South Korea's top general says farewell to US forces
By
Stars and Stripes
June 16, 2022
---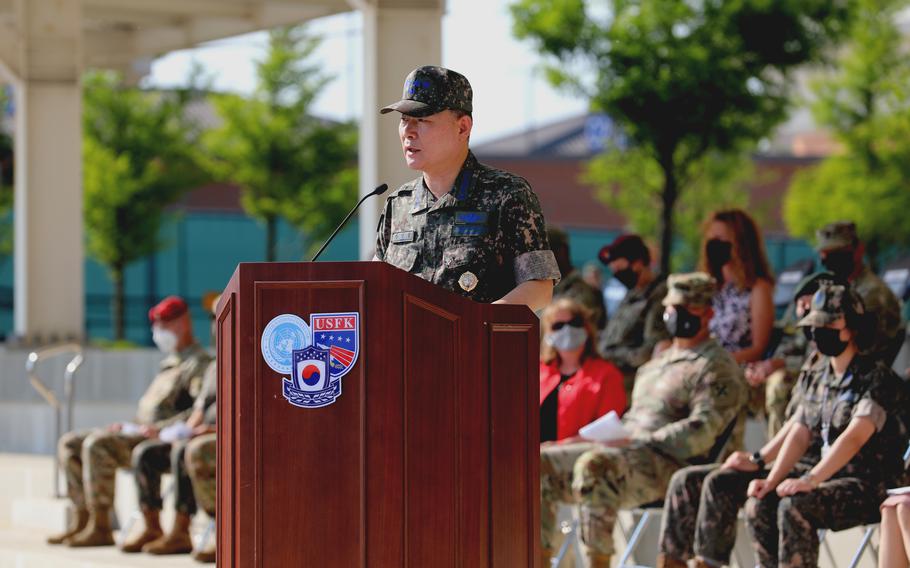 CAMP HUMPHREYS, South Korea — The top general officer of South Korea's military visited the headquarters of U.S. Forces Korea for the last time Thursday and said farewell to the U.S. troops who share in his country's defense.
USFK held a farewell ceremony for retiring South Korean air force Gen. Won In Choul, the chairman of the Joint Chiefs of Staff, at Barker Field, in front of the headquarters at Camp Humphreys.
USFK commander Gen. Paul LaCamera in a speech described Won as a "selfless patriot" and a "great friend of the alliance" between the U.S. and South Korea.
Won, in prepared remarks, said he had "profound respect" for those who took part in the defense of South Korea and described LaCamera as a "true brother in arms."
South Korean army Gen. Kim Seung Gyum, a former deputy commander of the South Korea-U.S. Combined Forces Command and President Yoon Suk Yeol's choice to succeed Won, is due for a confirmation hearing at the the National Assembly.
Won was selected to lead the Joint Chiefs in 2020 by then-President Moon Jae-in. He succeeded army Gen. Park Han-ki, who served in the position for roughly two years.
Increasing instability in North Korea deems it essential for the U.S. and South Korea to fortify their alliance, Won said.
He served as the director of the Korea Air and Space Operations Center in 2010. He commanded South Korea's Air Force Operations Command in 2016 and went on to serve as the air force Chief of Staff in 2019.
Won's military education includes the Combined Force Air Component Commander course at Maxwell Air Force Base, Ala. He is a former KF-16 fighter pilot with over 3,100 hours of flight. 
Roughly 28,500 U.S. troops are stationed on the Korean Peninsula. The majority of those troops are stationed at Camp Humphreys, the largest U.S. military base overseas.
---
---
---
---