US sailors in Japan recognized for April traffic crash rescue
By
Stars and Stripes
June 17, 2022
---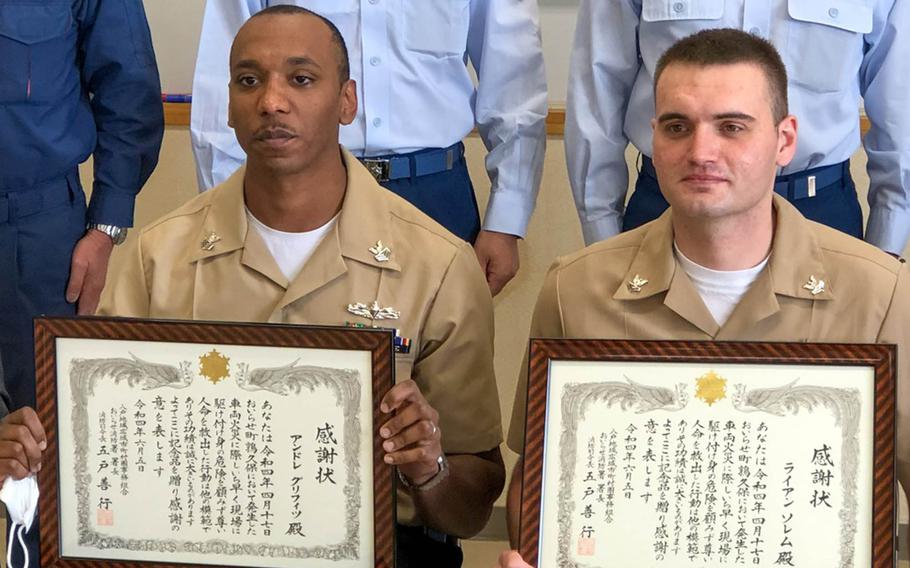 A pair of sailors at Misawa Air Base, Japan, were recognized recently for rescuing a local motorist in danger of suffocating in April.
Petty Officer 1st Class Andre Griffith, 29, and Petty Officer 2nd Class Ryan Sorrem, 26, received letters of appreciation and recognition June 9 from the Hachinohe Fire Department for their actions on April 17.
The two sailors rescued a Japanese driver who had crashed into a light pole that day in Oirase Town, about 8 miles south of the air base in northeastern Japan.
Griffith, a Navy electronics technician originally from Sunrise, Fla., heard what sounded like an explosion from the second-story window of his house in town and saw a fireball near his backyard, he told Stars and Stripes in a Facebook message Thursday. Griffith has since relocated to another duty station.
"My first thought was that whoever was in that car would need my help," Griffith said.
Sorrem, a gunner's mate from Wyoming, Minn., who works with the Naval security forces at the base, said he heard the explosion, too, as he grabbed a soda from a vending machine outside his off-base home, he told Stars and Stripes in an email Wednesday. He said he was the first on the scene. Griffith was not far behind.
"It was pretty scary to see first-hand," Griffith said. "But I rushed down and saw [Sorrem] there who was the only one doing anything, so I knew I had to help, as well."
The driver, who was not wearing a seatbelt, was left unconscious after the impact, with a minor laceration to his head from hitting the windshield, Griffith said. The driver's foot was still on the gas pedal, Sorrem said. They both saw the door was locked and the car was filling with black smoke.
"My immediate reaction was not so much on the fire but from removing the individual from the car as the interior was filling with smoke and unknown fluids were leaking from the vehicle," Sorrem said.
The driver regained consciousness and unlocked the door, allowing Sorrem to cut the engine, Griffith said.
Not knowing the extent of the driver's injuries, the two sailors cautiously removed him from the vehicle, they said. They immediately got him a safe distance from the car, administered first aid and stabilized him until the paramedics arrived.
Some local Japanese assisted and called the police. Another grabbed a fire extinguisher to attempt to put out some of the fire, Sorrem said.
He said he felt that his training as a first responder helped him recognize the situation and act. "I feel honored that the local fire department thanked me," he said.
Griffith said they took the right action but sees no need to boast about it.
"I don't think [Sorrem] and I did anything special to be honest," he said. "I'd like to think that anyone else that was in that situation would have done the same."
king.juan@stripes.com Twitter: @juanking_17
---
---
---
---