Iwakuni commander says farewell as COVID-19 duty ends
By
Stars and Stripes
June 16, 2022
---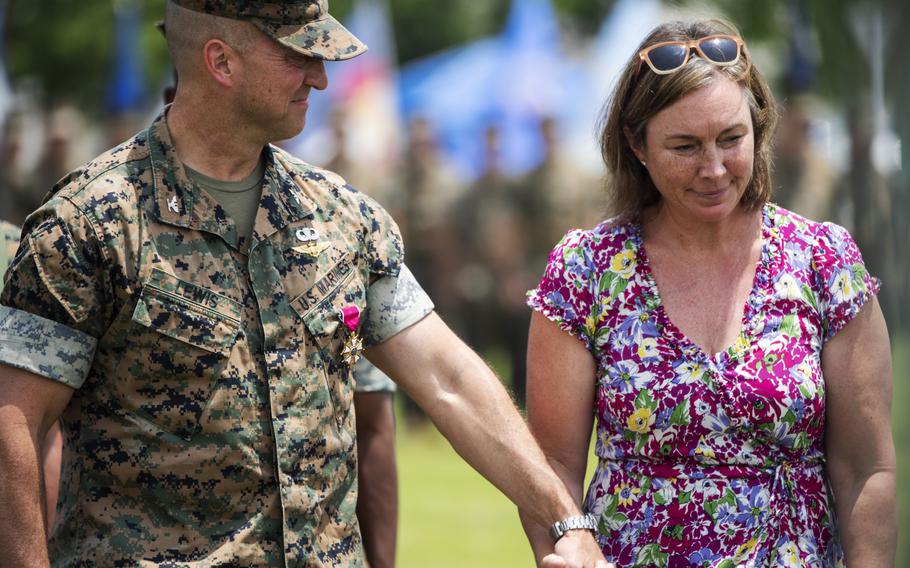 Stars and Stripes is making stories on the coronavirus pandemic available free of charge. See more stories here. Sign up for our daily coronavirus newsletter here. Please support our journalism with a subscription.
MARINE CORPS AIR STATION IWAKUNI, Japan — A week of rainy weather gave way long enough for Marine Col. Lance Lewis to relinquish command of this air station near Hiroshima to Col. Richard Rusnok during a ceremony Thursday on the parade deck.
Rusnok returns to Marine Corps Air Station Iwakuni, where he was commander of Marine Fighter Attack Squadron 121 from 2017 to 2019.
A native of Pittston, Pa., in June 2016 he flew one of the first F-35B Lightning II stealth fighters to cross the Atlantic Ocean from Beaufort, S.C., to Gloucester, England, according to the Pittston Sunday Dispatch in August of that year. He earned a bachelor's in history from the Naval Academy, then a master's from George Washington University after his commissioning as a second lieutenant.
He comes to Iwakuni from U.S. European Command in Stuttgart, Germany.
"This place is special and everyone in these stands knows it, Iwakuni has come to symbolize excellence across the Department of Defense, across the world," Rusnok said at the ceremony. "And a lot of that is due to what Lance Lewis did over the last three years."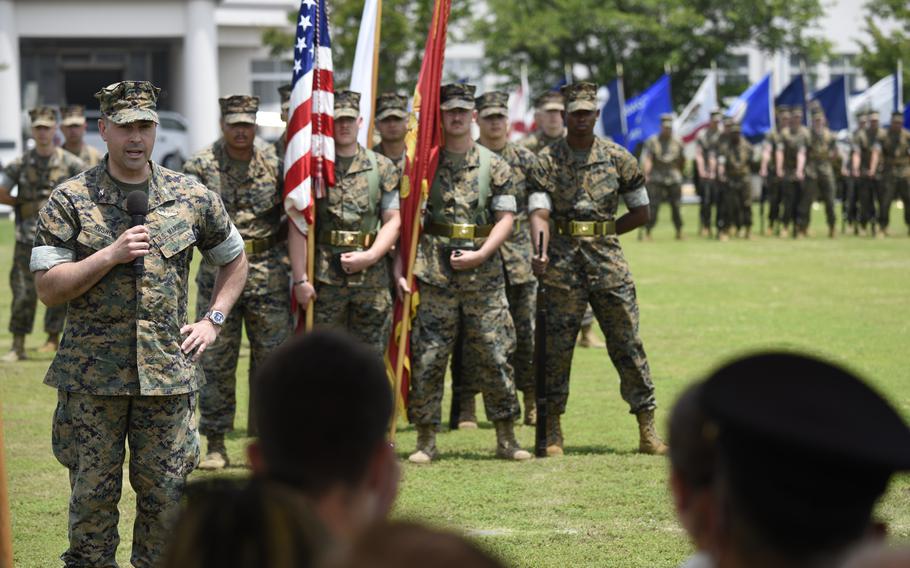 Lewis, who heads next to the Office of Naval Research at the Pentagon, took command of the station in August 2019, when construction at the base was finishing up.
"A lot of change had happened physically here and most of it basically ended right when I took command," Lewis told Stars and Stripes in an interview on June 9.
That put him in a position of incorporating those changes into the III Marine Expeditionary Force, the Navy's 7th Fleet and the Indo-Pacific Command. Iwakuni is home to two Marine fighter squadrons, one of air refuelers and the Navy's Carrier Air Wing 5, nine squadrons attached to the aircraft carrier USS Ronald Reagan.
In seven months, however, Lewis found himself juggling that mission with another, urgent priority: the onset of the COVID-19 global pandemic.
"Our operational mission went hand in hand with the pandemic mission, it certainly wasn't something that anybody expected or really wanted, but that was the fight we were given," Lewis said. "I don't think it changed our mission at all, but we really had to adapt because now we had this global crisis that we all had to adjust to while still executing our military mission."
The air station experienced a relatively low number of COVID-19 cases at first, 214 publicly reported between July 2020 and November 2021. The onset of the omicron variant in December 2021 produced 143 cases at MCAS Iwakuni that month, followed by nearly 1,000 in January. The omicron wave was more virulent than preceding waves but caused less severe symptoms, meaning few hospitalizations among U.S. forces.
"We got ahead of it before anybody else did, we could see them starting to tick up on base as well as off base and we quickly put measures in place," Lewis said, "and we were fortunate, because we've done something similar before with other spikes and we already had a plan ready to go."
Even with the dramatic winter spike in COVID-19, the air base never locked down during the entire pandemic the way Marine bases on Okinawa did, for example.
"I'm pretty proud of that, being part of a command that could pull that off," he said. He attributes that success to the strong partnerships with air base tenant units and everyone who lives and works there. 
Lewis also presided over the transition of Marine Fighter Attack Squadron 242 from the F/A-18 Hornets to the F-35B Lightning II stealth fighters. The squadron became fully operational in May. Both Marine fighter squadrons at Iwakuni fly the F-35B; the second squadron is the 121st, which arrived in 2017. The B model aircraft is capable of short takeoffs and vertical landings.
"It gives us more options to the MEF commander, 7th Fleet commander and the INDOPACOM commander and more both combat capability and capacity when you talk about fulfilling our treaty obligations to Japan," Lewis said. "We have to show that we are a credible military deterrent so our political leaders can negotiate from a position of strength."
In October, Marine F-35Bs at Iwakuni successfully demonstrated landings and takeoffs from the JS Izumo, a helicopter carrier of the Japan Maritime Self-Defense Force, the first time since World War II that fighter aircraft have flown from a Japanese vessel.
"The last couple years have been tough on folks but you gave me your trust and you gave me your confidence and you allowed me to lead you and I will never be able to repay that, thank you so much, Semper Fi," Lewis said at the ceremony.
---
---
---
---