Panel falls from Air Force F-16 Fighting Falcon during air show in Japan
By
Hana Kusumoto and Seth Robson
Stars and Stripes
June 7, 2022
---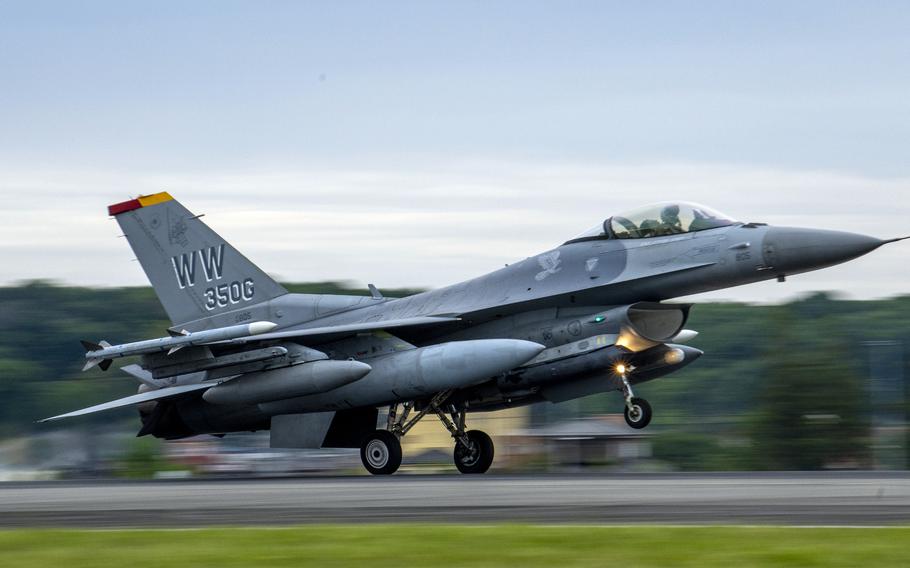 A small panel fell off an Air Force F-16 Fighting Falcon during an air show Sunday in Japan, according to American and Japanese officials.
The four-pound panel, measuring approximately 10 inches by 10 inches, fell from a fighter assigned to Misawa Air Base, home of the 35th Fighter Wing in northeast Japan, a Chugoku-Shikoku Defense Bureau spokesman told Stars and Stripes by phone Tuesday. Japanese government officials typically speak to the media on condition of anonymity.
The panel was missing during an inspection after the jet, from the 13th Fighter Squadron, made a demonstration flight during an air show at the Japan Air-Self Defense Force's Hofu Kita Air Base in Yamaguchi prefecture, the spokesman said.
The Defense Ministry has asked Misawa Air Base to investigate, inform the ministry as new information comes out and take preventative measures, the spokesman said.
"At this time there have been no reports of injury or property damage," wing spokesman Lt. Col. Cody Chiles said in an email Tuesday.
The incident is being examined by Air Force officials, Chiles said.
"Additional maintenance checks and preventative measures are being implemented to prevent a reoccurrence," he said. "Our F-16 demonstration team, along with all of the pilots and maintainers at Misawa Air Base, are dedicated to executing our mission safely."
---
---
---
---