Pool at US air base in Tokyo is a competitive swimmer's nirvana
By
Stars and Stripes
June 6, 2022
---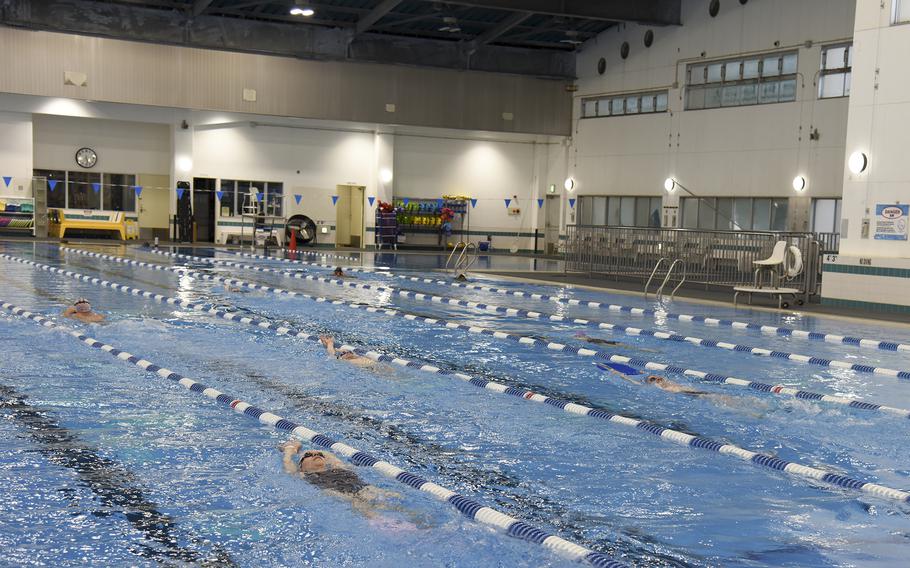 YOKOTA AIR BASE, Japan — Bright and early, when most people are still in their beds, the Fugu Floaters are swimming laps at the Yokota Natatorium, where they perfect their form while their coach observes and keeps time.
The Floaters are a master's class of competitive swimmers who hope to improve with some professional instruction, or simply want a low-impact form of exercise.
"In the military, other than the master class, there really are no base organizations across the Air Force that provide coached swimming that would be on a competitive level of swimming practice," Tech. Sgt. Lucas Hilmo of the 374th Aircraft Maintenance Squadron told Stars at Stripes on May 25.
Hilmo, 38, a Los Angeles native, grew up swimming and competed in high school, where he won the All-American and a state championship titles his senior year. He began swimming with the advanced team at Yokota at the end of 2020, and now coaches children ages 8 through high school four days a week.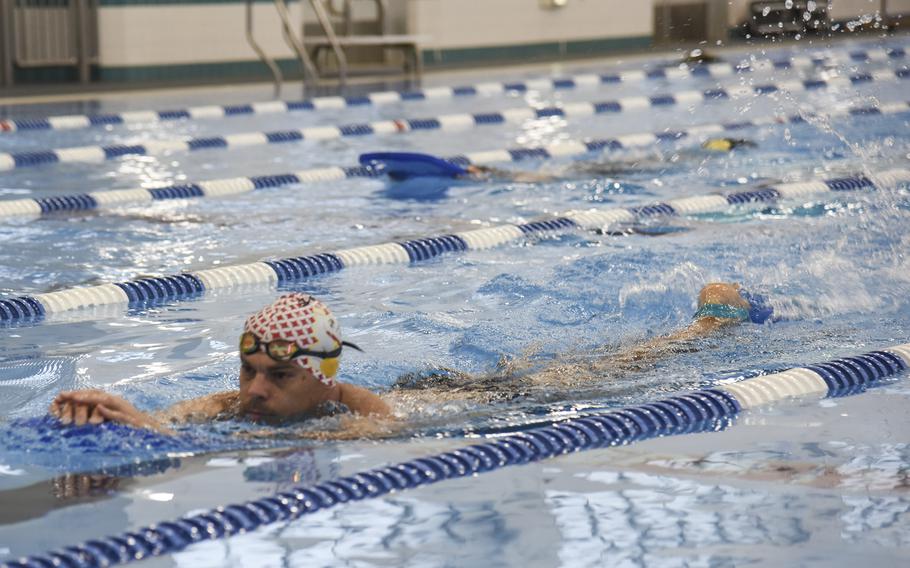 Hilmo said he likes the nostalgic feeling he gets when he swims, and the comfort of engaging in a comparatively low-impact fitness routine. He said he is back to his high school swim time — a 25-second lap in a 50-meter pool, which is the size of an Olympic-sized pool. For comparison, an average Olympic swimmer can swim a lap in 21 seconds, but that four seconds in swimming makes a huge difference, Hilmo said.
"Coming back to this, it is good for us older people to go back and revisit those feelings and emotions that you had when you were younger in sports," he said. "But we aren't going to hurt ourselves in the pool like older people playing football, basketball or soccer. With swimming you save the joints, and you can still do your cardio and build muscle."
Swimming coach and lifeguard Sho Shimazaki said he founded the master's program at Yokota. He has been swimming since age 6 and in 2017 placed sixth in the men's 100-meter breaststroke, his best performance, at the U.S. Open Swimming Championships at East Meadows, N.Y.
On a whiteboard each morning, Shimazaki lists the team's swimming exercises, which include the butterfly, backstroke and breaststroke. He times the swimmers to see how they are progressing, Shimazaki told Stars and Stripes on May 25.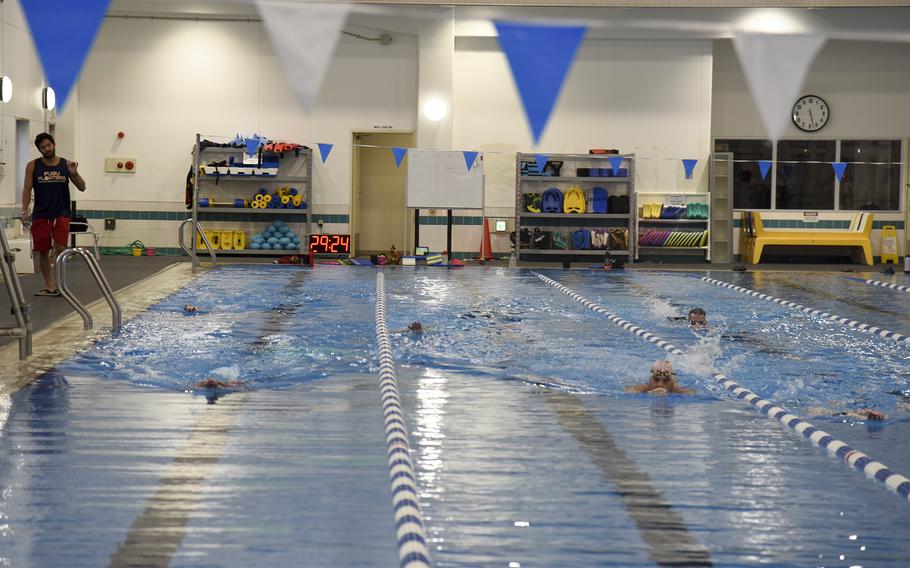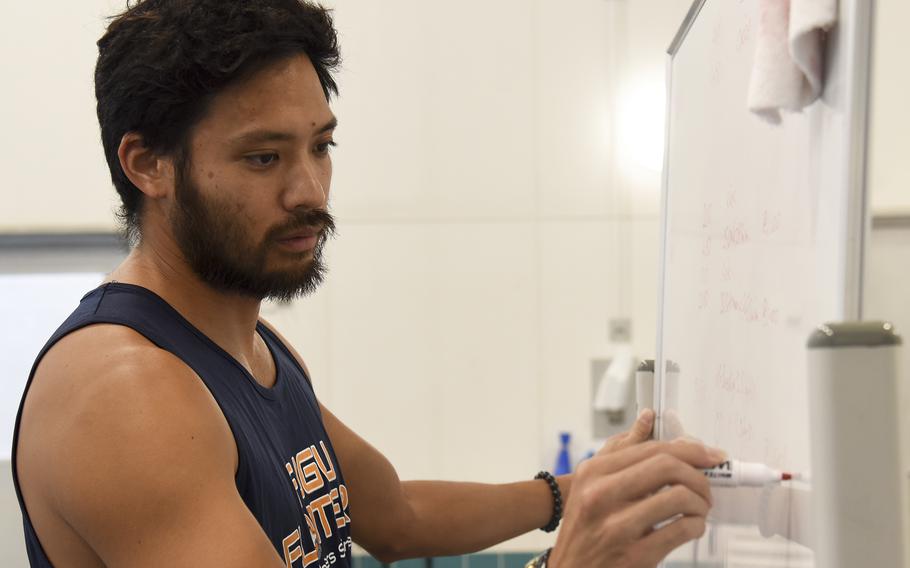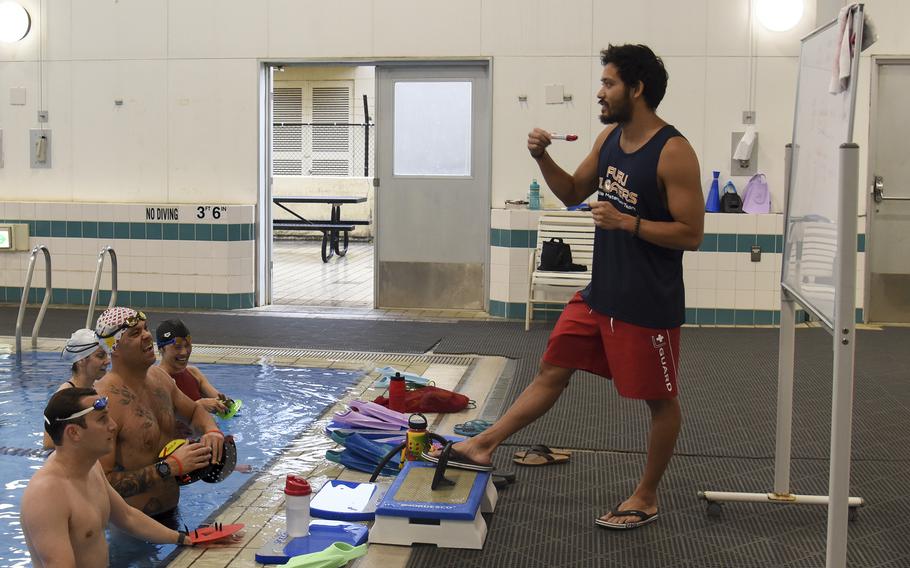 They also use flippers and a kickboard to practice their kicking techniques and hand boards to improve upper body strength, he said.
"I started the master class a year and a half ago and one of my students, Victoria Flores, started in the intermediate class and she did great," Shimazaki said. "So, she moved to the advanced class and got first place at a swim meet, it was so nice."
Flores won first at the Tokyo Masters Swim Meet March 18-19 at the Tokyo Tatsumi International Swimming Pool in Tokyo.
Shimazaki has coached 50 people at Yokota and plans on continuing to share his swimming skills with people who want to improve.
"I don't want to waste my skills and knowledge, so I want to give my knowledge to others," he said.
The Floaters have two divisions two classes: intermediate for those who are less experienced and want to improve their swimming skills, and advanced for people with competitive experience, Master Sgt. Chip Cothran, a pianist in the U.S. Air Force Band, told Stars and Stripes on May 25.
Cothran, 40, a native of Pensacola, Fla., is on the Floaters' intermediate team. He said he joined in July 2021 because his daughter Aurora, 13, is on the Yokota AquAvengers, the children's swim team on base.
"I wanted to help give her some extra motivation, so I was like 'Hey, I'm going to join the swim team and I'm going to get faster than you," he said.
Even though he is an experienced swimmer, Conthran prefers the intermediate team schedule. That team meets for practice 6-7 a.m. Monday, Wednesday and Friday. The advanced swimmers meet at 5-6 a.m. Monday through Friday.
"Everyone is great there; I never go there and feel out of place or like I don't fit in," Conthran said. "I love it. I will keep doing it as long as they let me."
---
---
---
---