China and Russia sent bombers near Japan as Quad leaders discussed security in Tokyo
By
Stars and Stripes
May 24, 2022
---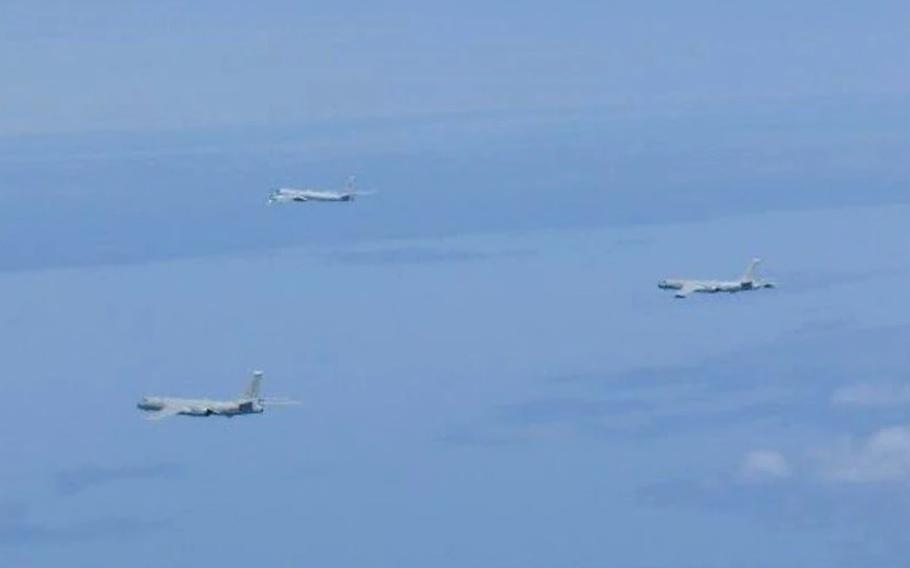 Japan scrambled fighter jets Tuesday in response to Chinese and Russian bombers flying near its airspace just as President Joe Biden met with leaders of the Quad grouping in Tokyo, Japanese Defense Minister Nobuo Kishi told reporters Tuesday.
On the same day, South Korea scrambled fighter jets as Chinese and Russian warplanes passed through its air defense identification zone several times, Reuters reported Tuesday.
Near Japan, two Chinese H-6 bombers flew from the East China Sea to the Sea of Japan, where they joined a pair of Russian TU-95 bombers, Kishi said in a statement posted on the Ministry of Defense's website. The Sea of Japan is also known as the East Sea.
The two Chinese bombers were later replaced by a second pair of warplanes believed to be Chinese, and the four aircraft then flew out toward the Pacific Ocean, Kishi said.
None of the aircraft entered Japan's national airspace, he said.
A nation's air defense identification zone, or ADIZ, is a broad territorial boundary over which it maintains air traffic control for the sake of national security. It is much more expansive than national airspace, an area over which a state exercises full sovereignty and into which foreign military aircraft cannot enter without permission.
Kishi characterized the bomber flights as a "provocation" timed with the meeting of the Quad nation's leaders.
Biden met with Japan Prime Minister Fumio Kishida, India Prime Minister Narendra Modi and Anthony Albanese, Australia's newly elected prime minister.
The four nations make up the Quadrilateral Security Dialogue, or Quad, a loosely formed security pact with a stated purpose of promoting "a free-and-open Indo-Pacific."
The cooperative is essentially a means of countering China's growing economic, political and military influence in the region, and the collaboration has not been welcomed by Beijing.
The China Ministry of Defense described Tuesday's sorties as "a joint aerial strategic patrol," in a statement posted online Tuesday.
"The militaries of China and Russia staged the joint aerial strategic patrol in accordance with their annual military cooperation plan," the statement said.
Kishi said this was the fourth long-distance joint flight between China and Russia around Japan since November.
A Russian IL-20 reconnaissance plane also flew over the "high seas" from the northern island of Hokkaido to the Noto peninsula on Japan's main island, Kishi said.
Meanwhile, four Russian and four Chinese warplanes entered South Korea's ADIZ on Tuesday, according to Reuters. The aircraft passed through the defense zone several times throughout the day, entering and leaving via the Sea of Japan, Reuters said in a report attributed to South Korea's Joint Chiefs of Staff.
The aircraft included fighter jets and bombers from both China and Russia, the report said.
This was the first reported excursion of Russian or Chinese warplanes into South Korea's ADIZ since South Korea's newly elected president, Yoon Suk Yeol, took office on May 10, Reuters said.
---
---
---
---