Work resumes to raise Japanese tour boat 1 month after sinking
The Japan News-Yomiuri
May 23, 2022
---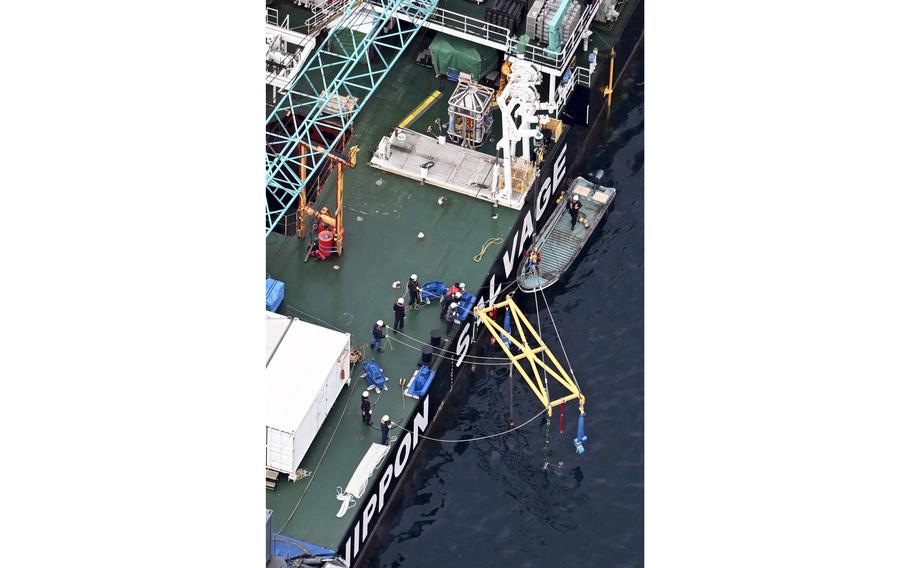 Monday marked the one-month anniversary of an accident in which a sightseeing boat sunk off the Shiretoko Peninsula in Hokkaido, Japan, with 26 people aboard.
To date, 14 people have been confirmed dead, while 12 others remain unaccounted for. The Japan Coast Guard and other authorities continue to search for those still missing.
The 1st Regional Coast Guard Headquarters on Monday announced that work had resumed to salvage the Kazu I, which lies about 115 meters deep on the seafloor. The headquarters is investigating the accident on suspicion of professional negligence resulting in death, and plans to scrutinize the boat's hull to identify the cause of the accident.
The Kaishin work barge — operated by a private company — raised the Kazu I to about 20 meters below the sea surface and will tow it to an area of shallow water, according to the JCG. It will then be lifted onto the barge, drained and moved onto dry land on Tuesday, at the earliest.
Searches conducted using underwater cameras and other devices have confirmed that the hull of the boat is largely undamaged.
Saturation divers began preparatory work to raise the vessel shortly before 9 a.m. on Monday morning. The divers removed the boat's antenna Saturday to ensure it did not interfere with the salvage operation. Work was suspended Sunday due to poor weather.
An acquaintance of Hokkaido boat-tragedy victim Yosuke Kawaguchi recently lamented his death, while praising his Yosakoi dance performances.
Kawaguchi, 40, was among 14 people who were confirmed dead after the Kazu I sightseeing vessel sank off the Shiretoko Peninsula in Hokkaido on April 23.
Kawaguchi, who lived in Marugame, Kagawa Prefecture, joined a team of city residents who enjoy Yosakoi traditional dancing about 10 years ago.
A team member recalled, "I was impressed because he was serious-minded and practiced hard without complaining."
In 2013, Kawaguchi and his colleagues participated in a Yosakoi festival in Kochi City. His friends affectionately called him "Gussan."
"He was a quiet person who didn't try to attract attention," the man said. "But he was a cool and handsome young guy."
As part of the August festival that year, Kawaguchi and his teammates performed about 50 times over two days. "Kawaguchi always had a smile on his face," the man added.
On the day of the accident, Shiretoko Pleasure Boat, the operator of the Kazu I, decided to sail despite a forecast of bad weather.
"I feel frustrated and sad," the man said. "Why was [Kawaguchi] deprived of his life?"
---
---
---
---