Teacher barred from grade school on Hawaii Army base over misconduct allegations
By
Stars and Stripes
May 14, 2022
---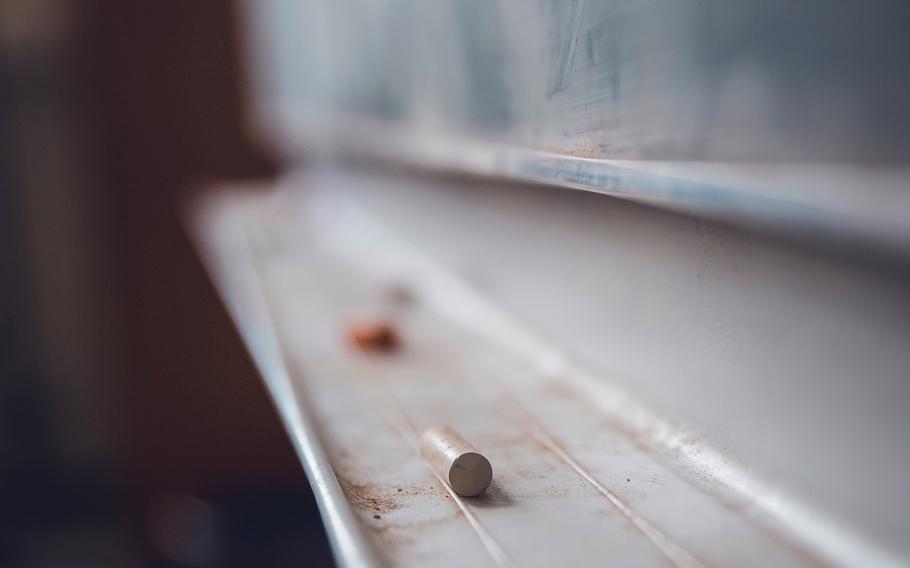 FORT SHAFTER, Hawaii — A teacher at an elementary school on a Hawaii Army base has been barred from campus after Army officials became aware of misconduct allegations against him, according to U.S. Army Hawaii.
Military police were called to Solomon Elementary School on Schofield Barracks on Thursday morning after parents arrived at the school intending to remove their children after learning of the teacher's return to the school, according to several parents involved.
"Allegations of an adult inappropriately touching students falls under mandatory reporting and there should have been an immediate criminal investigation," Jackie Martin, whose son attends Solomon, commented Thursday on a post about the incident on U.S. Army Garrison Hawaii's Facebook page. "This school and the Hawaii [Department of Education] had no right to keep this 'investigation' in house to brush under the rug without letting any parents know of the situation!"
She wrote that "more than a dozen" individuals had reported misconduct by the teacher.
The school's principal, meanwhile, says that the claims against the teacher were investigated and deemed "unsubstantiated" and that no child at the school is being put at risk.
U.S. Army Garrison Hawaii said in a Facebook post Thursday evening that base leaders had become aware of the allegations against the teacher only earlier in the day.
"The individual involved is not a U.S. Army Hawaii employee," the Army said. "We contacted our partners in [the Hawaii Department of Education] and they assured us that they are in the lead in this situation."
All schools in Hawaii, even those within military bases, are administered by the Hawaii Department of Education.
"As a first step, HI DoE determined, that in the best interest of all involved, this particular DoE employee will not be reporting to campus for the remainder of the school year," the Army said.
The school year ends May 26.
By Friday morning, the Army's Facebook post had garnered almost 200 comments, many by parents expressing frustration with the Department of Education over its handling of complaints about the teacher.
"Thank you U.S. Army Garrison Hawaii and [Army Criminal Investigation Division] for taking the initiative that the school system did not take in protecting our children," Martin said in her Facebook comment.
Many others expressed a preference that Solomon be operated under the Department of Defense Education Activity, or DODEA, which operates 160 schools on military installations in seven states, two territories and 11 foreign countries.
Solomon has about 750 students enrolled in kindergarten through fifth grade.
The school's principal sent a letter to parents and staff Thursday that seemed to be in response to those trying to disenroll their children.
"This letter is being sent home to address inaccurate allegations involving one of our employees being posted online and on social media," wrote Tee Swan.
"While the Department has a policy of not disclosing the details of personnel matters, Solomon Elementary needs to provide our community with accurate information," Swan wrote.
"Eight months ago, serious misconduct claims against one of our teachers were brought to our administration," he wrote.
The Department of Education's Civil Rights Compliance Branch conducted an investigation, during which the teacher was placed on administrative leave and law enforcement was notified, he wrote.
"After conducting fact finding and interviewing the complainant, defendant, and witnesses, the Department's investigation concluded that the claims could not be substantiated," Swan wrote.
The teacher subsequently returned to work at the school but in a "different position," he wrote.
Swan did not respond to a request for an interview on Friday. The Hawaii Department of Education did not return responses to written questions submitted by Stars and Stripes.
The Army was apparently not notified about the Education Department's investigation. A spokesman for U.S. Army Garrison Hawaii on Friday declined to elaborate any further on the matter.
One mother, Brittney Stohel, said in a Facebook comment Thursday that parents had not been notified the investigation was closed or that the employee was back on school grounds.
After getting no response from school officials, "we got loud about it," Stohel wrote.
In a Facebook message to Stars and Stripes, Stohel said Swan, the principal, "keeps calling the MPs on the parents" when they arrive on campus to ask questions or remove their children.
"The parents aren't doing anything aggressive," she said. "We're just taking our kids out of school and asking a lot of questions that they refuse to answer."
---
---
---
---