Hawaii Army commander implores soldiers to help curtail abandoned-vehicle blight
By
Stars and Stripes
May 11, 2022
---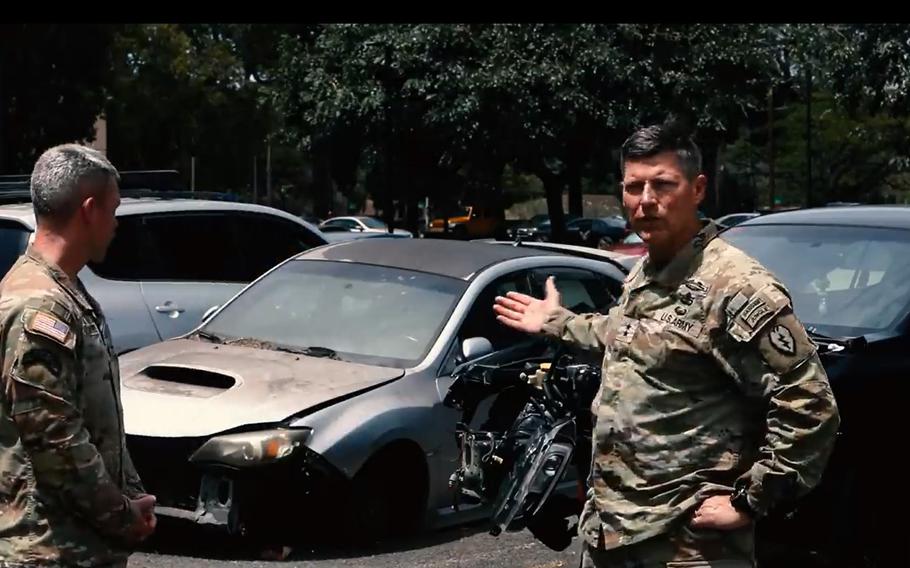 FORT SHAFTER, Hawaii — Army Garrison Hawaii is tackling anew the seemingly perpetual problem of abandoned vehicles on installations by kicking off the weeklong Operation Clean Sweep on Monday.
The goal is to remove 240 vehicles believed to be abandoned, primarily at Schofield Barracks in central Oahu, while providing soldiers greater ease in properly ridding themselves of autos when leaving the island in the future.
Seventy-four vehicles were towed away on Monday, the Directorate of Emergency Services and 8th Military Police Brigade said in a Facebook post.
The initiative has the backing of the garrison's big guns.
A clearly vexed Maj. Gen. Joe Ryan, commander of the garrison and the 25th Infantry Division, appears in a Facebook video posted Monday standing amid rows of dilapidated autos in a resale "lemon lot" on Schofield, accompanied by division Command Sgt. Maj. Robert Haynie.
"We're not in a junkyard," Ryan says. "We're not in an abandoned vehicle lot. We're in a used car resale lot. If you look behind me …" — the duo turn to gaze at a pair of vehicles missing wheels, one with the front end entirely crumpled and engine missing — "whoever left these two vehicles here, those are not going to sell in the used car resale lot.
"And it affects all your teammates because I'm using all my money and their money and our budget to pay to get this …" Ryan sputters as he thumbs the junker behind him "… heap of crap out of here."
Abandoned cars are a problem across Oahu, but the frequent coming and going of service members stationed on the island creates an especially acute problem for military installations here.
Last year, the Army instituted a policy requiring all soldiers, civilian employees and their family members to register vehicles that they drive onto Schofield, Wheeler Army Airfield, Fort Shafter and all housing owned or managed by the Army.
Any soldier out-processing from an Army installation is required to show proof of shipping, selling or disposing of registered vehicles under that policy.
The garrison said in a Facebook comment Monday that identifying a seemingly abandoned vehicle is just the start of a very long process of tracking down the registered owner. Under the required legal process, the garrison must contact each registered owner to verify a vehicle has in fact been abandoned.
"So what I'm asking you to do is be responsible for your vehicle, and don't abandon it," Ryan says in the video. "We've got a plan, and we're going to help you do just that."
Soldiers can simply drive an unwanted vehicle to the Schofield auto skills center, where the registration can be transferred and the auto left.
"It doesn't cost you a dime," Ryan said.
Can't get that junker started?
"Contact your chain of command," Ryan says. "We'll come get it for you. We'll tow it over there. We'll do what we need to do to get it there. Don't abandon your vehicle."
---
---
---
---