Okinawa governor makes case for peace and a reduced US military presence in Japan
By
Stars and Stripes
May 6, 2022
---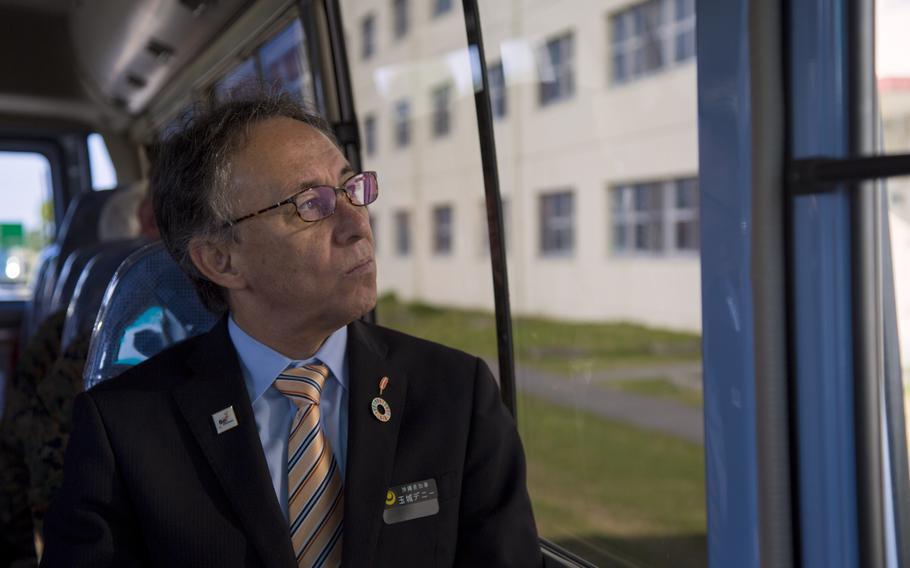 TOKYO – With war and talk of war familiar again on two continents, the world needs to pause and consider more peaceful methods to resolve its differences, the elected leader of Okinawa said Friday.
"Looking at the tragic events occurring in Ukraine at the moment, I feel that there is no other thing so cruel, indeed, as war is," prefectural Gov. Denny Tamaki said during an appearance before the Foreign Correspondents' Club of Japan.
Okinawa was the scene of World War II's last major battle, a three-month fight in 1945 that claimed hundreds of thousands of combatant and civilian lives. Today, Russia continues its 2 ½-month-old invasion of Ukraine while U.S. and Chinese warships keep pace with exercises on the seas not far from Okinawa.
"In order to make sure that the tragedy of the Battle of Okinawa is not repeated, a battle that is described as disastrous and having brought together all forms of hell, it is necessary to make use of the wisdom that humanity has gained at great cost," Tamaki, speaking virtually from Okinawa, said through a translator.
Okinawa is doing its part by providing displaced Ukrainians housing and other support, he said.
"It's moments like these that we really do need to have this mutual support that will lead to the mutual development of each of our countries, as well," Tamaki said.
He addressed the club ahead of the 50th anniversary of Okinawa's return to Japan by the United States, which administered the island prefecture for 21 years under the 1951 treaty that formally ended the Allied occupation of Japan. Okinawa reverted to Japanese authority on May 15, 1972.
However, the continued presence of U.S. military bases impedes the prefecture's development, Tamaki said. He objects to their scale and opposes the construction of a new airfield in the rural Henoko district to replace the Marine Corps air station in the heart of Ginowan city.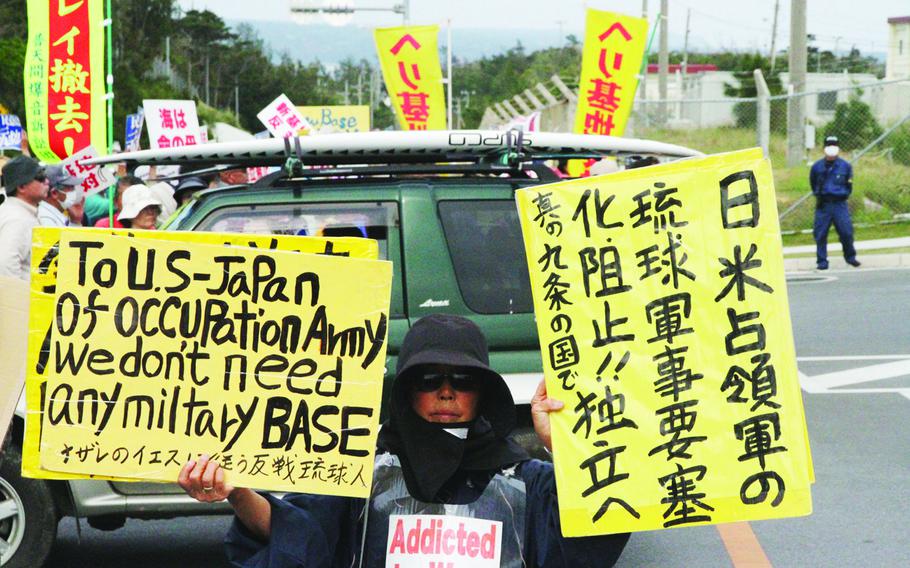 Japan's government backs the new airfield at Camp Schwab, a Marine infantry base in northern Okinawa. But Tokyo is also contributing $3 billion to build Camp Blaz, a new, nearly $9 billion Marine base on Guam where some units from Okinawa will be relocated.
Tamaki conceded that young Okinawans generally are less interested in the base issue, but said they were behind a referendum in 2019 that found substantial opposition to building the replacement airfield.
Results of a Kyodo News poll released Thursday found 80% of all Japanese surveyed believed Okinawa bore more than its share of the U.S. military presence.
Fifty years ago, Tamaki said, "Okinawa prefecture sought to become an island of peace and without bases. However, even today, despite the fact that Okinawa is a prefecture with only 0.6% of Japan's total land, it hosts 70.3% of the total area dedicated to the U.S. military."
That presence creates challenges, from aircraft noise to tying up property and labor that could benefit the Okinawa economy, he said. Personal income remains about 70% of that in Japan as a whole, and one in three children live in poverty, he said.
Reducing the base footprint would allow commercial development to triple the 5% of general revenue the U.S. presence provides, Tamaki said. Employment, too, would increase from the 9,000 jobs provided Okinawans by the U.S. military to about 80,000 jobs in other sectors, he said.
"Furthermore, more than 60 years have passed since the conclusion of the status of forces agreement, or SOFA," Tamaki said. SOFA outlines the rights and responsibilities of U.S. military forces and the accompanying civilians and families in Japan.
"And yet this has not been amended a single time in this period," he said. "This agreement does not meet the demands of today or the needs of the people in the context of a contemporary awareness of human rights and environmental issues."
Tamaki spoke for 10 minutes and answered questions another 50. He outlined plans for Okinawa as a digital hub in the Asia Pacific economy and spoke of Japan's general alignment with the United States on security issues and its support for the American presence over Okinawa's objections.
Japan, whose postwar constitution renounced offensive military power, relies on its 70-year-old alliance with the U.S. and its armed forces in the country as a safeguard against regional security threats. Although the pacifist section of Japan's Constitution is sometimes questioned, it remains essentially intact, despite Japan's record-level spending on its Self-Defense Forces.
Okinawa is close to the Miyako Strait, a key passage from the East China Sea into the Pacific Ocean. It's also less than 300 miles from the Senkakus, a cluster of uninhabited islets whose possession by Japan is challenged by China.
Okinawa is also less than 400 miles from Taiwan, which Chinese President Xi Jinping has said must one day be reclaimed by the mainland. The U.S. and, by extension, Japan, could be drawn into conflict over either territory.
"When we look at the tensions between the United States and China, this really must not be responded to only by deterrence," Tamaki said. "This is, indeed, why we need to have these new efforts in order to ease these kinds of tensions."
---
---
---
---