Gun ownership, an American tradition, has its own spin in Japan
By
Stars and Stripes
May 5, 2022
---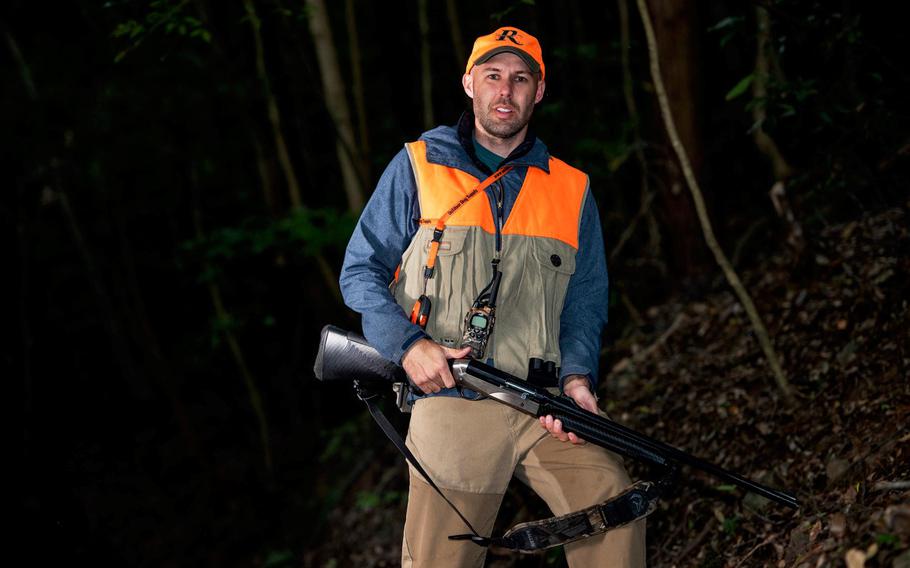 MARINE CORPS AIR STATION IWAKUNI, Japan — Gun ownership is tightly controlled in Japan, but it's possible for hunters and target shooters with the U.S. military to own a firearm after a lengthy, expensive process.
Andrew Neuville, a Marine Corps Community Services employee at MCAS Iwakuni, is an outdoor enthusiast and avid hunter who helps expats and individuals with the military navigate the system.
"If you're going to be here for only three years, you really need to think about if it's worth it," he told Stars and Stripes on April 17. "It's a lot of money and time invested, and if you miss one step your time here might be over."
The expense associated with firearm classes, health checks and shoot training comes to $538, and that doesn't include purchase of a shotgun and separate gun and ammunition lockers.
Handguns are illegal in Japan, Neuville said. Gun owners may apply to obtain a rifle after 10 years of owning a shotgun but are not guaranteed approval.
"I have a passion to help military and expats that will be here long term that want to hunt," he said.
Japan doesn't allow individuals to own firearms for other than hunting or target shooting, and there are no "sleeping guns," Neuville said, meaning that police will confiscate a gun if the owner doesn't use it for several years.
"First thing you need to decide is your purpose," he said. "Do you want a gun for target practice or hunting?"
The next step, one familiar to many American hunters, is a course on proper firearm handling and safety. The Iwakuni city police offer a one-day class, followed by the required test, in English, Neuville said.
In addition to the test, the applicant must pass a psychologist's evaluation and a background check that delves 10 years into their past. Then, the applicant receives a permit for a shooting trial at a trap range.
"You'll have two rounds of skeet, and you will need to hit three out of 25 in the second round to pass," he said.
If successful, applicants have 90 days to find the shotgun they want to purchase and install the gun and ammunition lockers, which must be anchored to walls in separate rooms. Police will inspect the setup, Neuville said.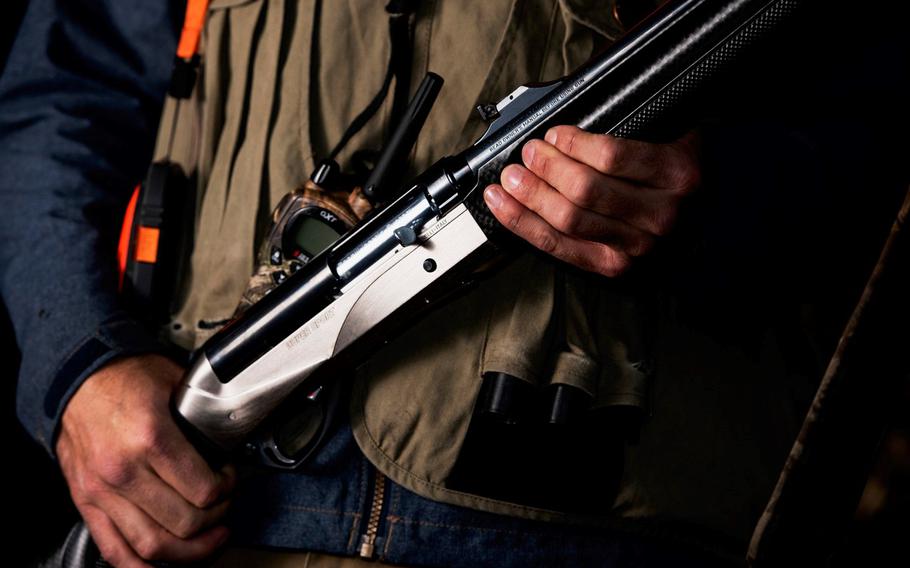 "One of the requirements of owning a gun in Japan is you have to store it in your house," so troops living in barracks cannot own one, he said.
Once the police approve the home setup, prospective gun owners apply for a "blue book" that allows them to receive the shotgun they purchased.
"You have 10 days to bring your gun to the police station. They will inspect the gun measurements according to your blue book," Neuville said. "Then you're finally good to have a gun."
A gun license in Japan expires after three years on the holder's birthday; renewal begins prior to the expiration date with an advance course in shooting.
"For hunting, there is a one-day class you have to attend in person through the Yamaguchi Forestry Office that is held once a year in November," Neuville said. "And Japan really needs hunters."
Wildlife caused about $123 million worth of crop damages between April 2020 and March 2021, according to Japan's Ministry of Agriculture, Forestry and Fisheries website.
Deer, boar and monkeys are to blame for about 70% of all crop damage, according to the ministry.
Hunting season in Japan runs from Oct. 1 to Jan. 31 in Hokkaido and from Nov. 15 to Feb. 15 in other areas.
However, the season may be shortened, so hunters need to check with prefectural offices, the website stated.
"Hunting costs about $292 a year," Neuville said.
In 2017, Japan issued 209,550 hunting licenses, according to the website for Dainihon Ryoyukai, a hunter's association. Hunters must register with the prefecture they want to hunt in and pay a hunting tax, according to the environment ministry website.
For expats or individuals who plan to retire in Japan, Neuville recommends going through the expensive process to own a gun and to hunt.
Stars and Stripes reporter Hana Kusumoto contributed to this report.
---
---
---
---