Navy pilots are returning to Iwo Jima for carrier landing practice as Japan preps alternate site
By
Stars and Stripes
May 4, 2022
---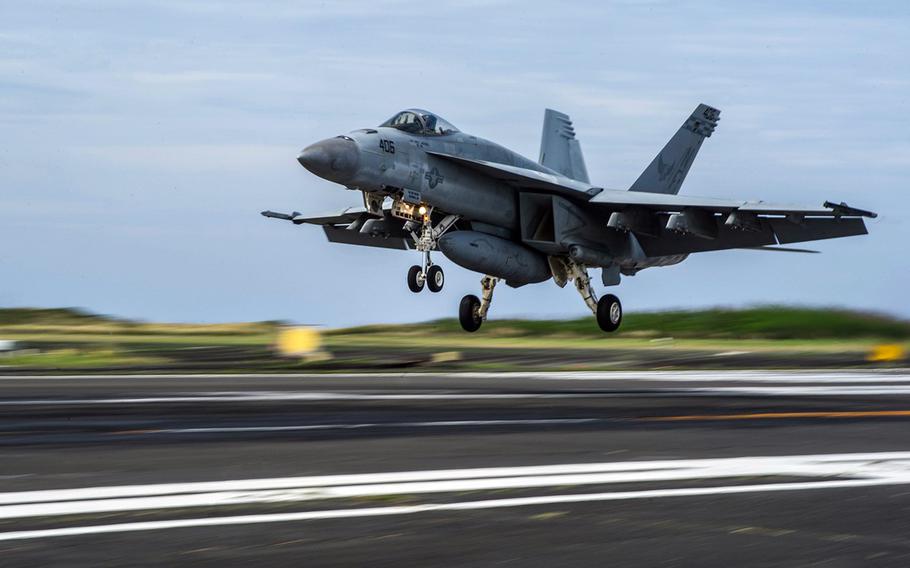 MARINE CORPS AIR STATION IWAKUNI, Japan — Navy pilots from Carrier Air Wing 5 will fly to Iwo Jima on Friday to sharpen their carrier landing skills before their next patrol aboard the USS Ronald Reagan, Naval Forces Japan announced Wednesday.
Pilots must be current on their carrier landing qualifications before heading to sea, and field carrier landing practice, or FCLP, as naval aviators know it, is a ritual.
At Iwo Jima, known as Iwo To in Japan, senior pilots will fly at least six sorties — three during the day and three at night — and complete seven to eight touch-and-goes during each one.
Junior pilots may complete 12 or more touch-and-goes per sortie.
Landing practice concludes May 16, according to the Navy news release Wednesday.
The pre-deployment training is the final step for aviators before the Ronald Reagan departs from Yokosuka Naval Base for its annual patrol. Landing practice takes place on the remote Japanese island where more than 25,000 U.S. and Japanese troops died in a grueling World War II battle in 1945.
The Navy has said Iwo Jima is not a suitable permanent location for touch-and-go training due to the difficulty of maintaining the remote facilities. If there's bad weather there, carrier landing trials move to other U.S. airfields in Japan.
"We have had to use alternate FCLP sites three times in the last decade," Task Force 70 spokesman Lt. Cmdr. Joe Keiley told Stars and Stripes by email Wednesday. "In the rare cases where we must use the backup sites, we modify our FCLP pattern over mainland Japan to higher altitudes."
The Japanese government has purchased a suitable replacement field on the island of Mageshima in Kagoshima prefecture; however, a local mayor came out last year against the plan to bring carrier landing practice there.
In February, ministry officials met with Nishinoomote city officials and have been discussing with local authorities the improvement work at the facility, a Ministry of Defense spokesman told Stars and Stripes by email April 21.
The ministry has allocated funds for the landing strip and tarmac in this fiscal year's defense budget, according to the spokesman.
The ministry also publicized a preliminary environmental impact assessment on April 20 for the public to review at local city and prefecture offices.
The assessment surveys the impact construction work may have on the island as well as what impact the exercises will have on the surrounding area, according to Kagoshima Television.
"Although it is hard to say the definite schedule of the assessment procedure now, we want to begin the work as soon as possible after the procedure is completed," the spokesman said.
Government spokespeople in Japan customarily speak to the media on condition of anonymity.
The spokesman said no schedule is set for moving carrier landing practice to the island, although the ministry is working to begin the operation as soon as possible.
Stars and Stripes reporter Hana Kusumoto contributed to this report.
---
---
---
---