US Air Force removes stockpile of depleted uranium rounds from South Korea
By
Stars and Stripes
April 14, 2022
---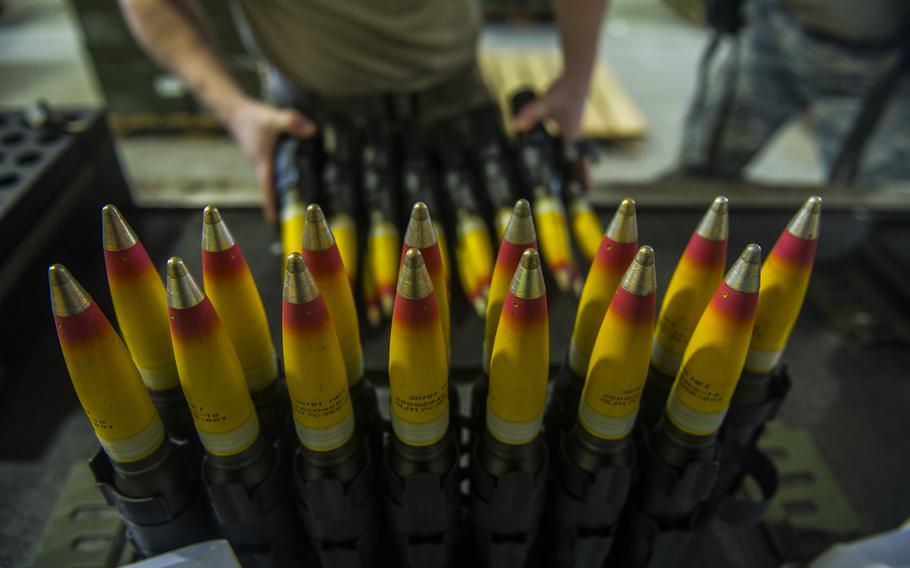 CAMP HUMPHREYS, South Korea — South Korea recently returned approximately 1.3 million rounds of armor-piercing ammunition made of depleted uranium to the United States, a welcomed departure, according to a South Korean legislator.
The rounds presented a risk to public health and safety, Kim Jin-pyo, a member of the National Defense Committee and the Democratic Party, said in an email to Stars and Stripes on April 5.
"If an explosion accident takes place at the ammunition warehouse, hundreds of thousands of people could be injured," Kim said. "I actively welcome this depleted uranium ammunition relocation."
The U.S. Air Force deemed the 30mm rounds "unserviceable due to an expired shelf-life," a 7th Air Force spokeswoman told Stars and Stripes by email Tuesday. The rounds should arrive in the U.S. sometime this month and will be destroyed according to routine procedures, said spokeswoman Lt. Col. Kelley Jeter.
The rounds were stored at a South Korean ammunition warehouse in Gyeonggi province, she said. The 30mm rounds are typically fired from cannons mounted on A-10 Thunderbolt II attack planes.
"The 7th Air Force munitions logistics and safety experts were involved in this decision and have no safety or environmental concerns," Jeter said.
The South Korean 10th Fighter Wing transferred the rounds to the 7th Air Force in March, a wing official told Stars and Stripes by phone on Friday.
Depleted uranium is 1.6 times more dense than lead, making it an ideal material for armor-piercing projectiles, according to the National Library of Medicine.
The U.S. employed depleted-uranium rounds during the Gulf War and as recently in 2015, when A-10s attacked hundreds of Islamic State vehicles in Syria, according to multiple news reports.
Long-term health impacts of exposure to depleted uranium are being studied by international organizations.
The health risks depend on several factors, including particle size and the amount of exposure, to the U.N. Environment Programme. However, "air, soil, water and vegetation can potentially be contaminated and affected" by depleted uranium, according to the U.N. program.
The International Atomic Energy Agency found the radiological risk "was not significant" where depleted uranium in small particles was found in impact areas, according to the U.N. Office for Disarmament Affairs.
However, there is "a potential risk of radiation effects" for anyone who comes into direct contact with depleted-uranium fragments or ammunition, according to the U.N.
In South Korea, the transferred rounds were part of "an endless debate" over their safety, Kim said. He cited a risk of leaked radiation, a heightened risk of leukemia and other harmful effects.
South Korea needs to update the Munitions Activities Gained by Negotiations Memorandum of Understanding, Kim said in his email. The agreement allows the Air Force to store munitions in South Korean military facilities.
The current agreement leaves South Korea liable for potential health side effects and absolves the U.S. military of any responsibility, even in the event of a problem at the ammunition warehouse, he said.
Under the agreement, the South Korean military was responsible for managing, storing, inspecting and maintaining the munitions.
---
---
---
---