Korean War hero who pushed for memorial's Wall of Remembrance dies at 96
By
Stars and Stripes
April 13, 2022
---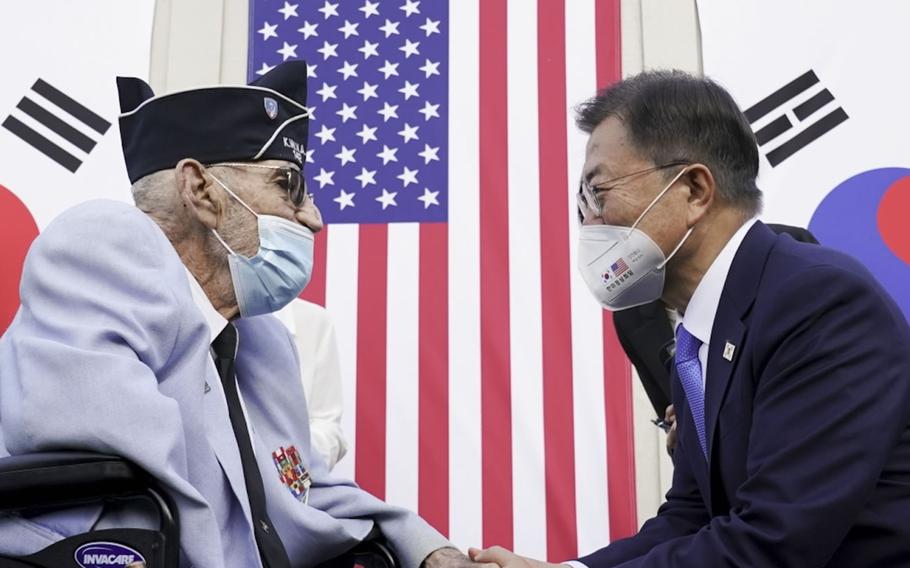 CAMP HUMPHREYS, South Korea — A decorated Korean War veteran known for his dedication to completing the Korean War Veterans Memorial has died at age 96.
Retired Army Col. William Weber died Saturday in his home in Maryland, according to a Korean War Veterans Memorial Foundation press release.
Born in Chicago, Weber enlisted in the Army in 1943 at age 17 and was assigned to the 11th Airborne Division, according to his obituary in the News-Post of Frederick, Md. He later graduated from Officer Candidate School and deployed to Korea in 1950 during the war.
Weber was attached to the 1st Marine Division when he was first wounded in September 1950. He went on to serve as company commander of 3rd Battalion, 187th Airborne Regimental Combat Team, and was wounded again in February 1951 during the defense of Wonju, roughly 50 miles east of Seoul. Weber lost his right leg and right arm as a result, according to his obituary.
Despite his injuries, Weber remained on active duty, one of the first double amputee Army officers to do so since the Civil War, according to his obituary. He retired as a colonel in 1980. His awards include the Distinguished Service Medal, Silver Star, Legion of Merit with an oak leaf cluster and Purple Heart.
He is survived by his wife of 48 years, Annelie Weber.
Weber was appointed by President Ronald Reagan to the advisory board responsible for constructing the Korean War Veterans Memorial in Washington, D.C. After the memorial was dedicated in 1995, Weber still believed it "was not complete," according to the Korean War Veterans Memorial Foundation.
Weber and others lobbied for the construction of the Wall of Remembrance that includes the names of over 36,000 Americans and 7,100 Koreans who died during the 1950-53 Korean War. The cost of the wall as well as renovations to the existing memorial were estimated to be around $22 million.
The wall is scheduled to be dedicated on July 27.
"Bill Weber's life was a testament to the promise of America," retired Army Gen. John Tilelli Jr. said in the release.
South Korean President Moon Jae-in offered his condolences to Weber's family, the presidential Blue House said in a statement on Monday. The two met during the groundbreaking ceremony for the Wall of Remembrance on May 21, 2021.
"We will continue to make efforts to ensure that the South Korea-U.S. alliance, which is formed by the blood and tears of U.S. veterans … continues," Moon said in the statement.
President-elect Yoon Seok-youl also offered his condolences in a separate statement and described Weber as a war hero.
"The South Korea-U.S. alliance is also a history of heroes who fought for freedom," Yoon said in a statement on Monday. "I will remember their patriotism and humanity."
---
---
---
---