Coronavirus cases are rising again on Okinawa as weather warms
By
Joseph Ditzler and Mari Higa
Stars and Stripes
April 11, 2022
---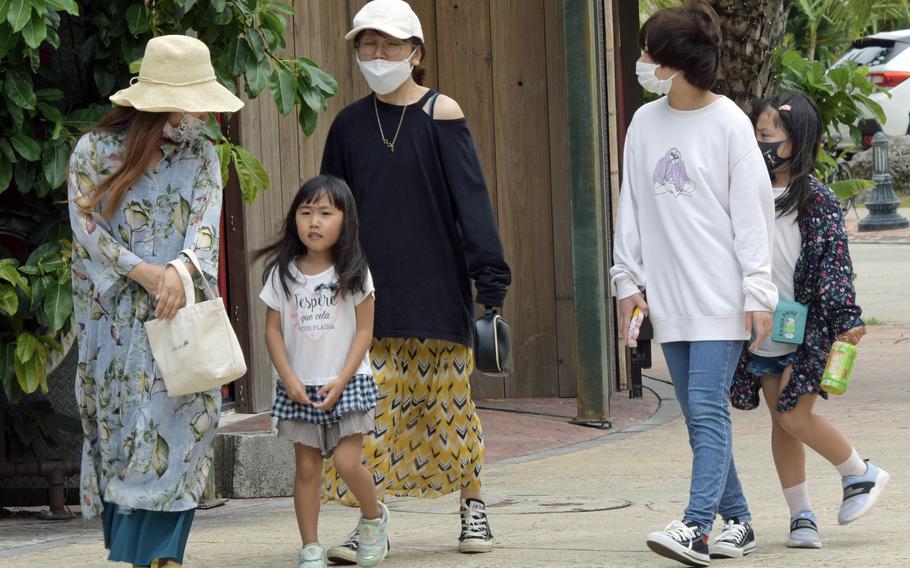 Stars and Stripes is making stories on the coronavirus pandemic available free of charge. See more stories here. Sign up for our daily coronavirus newsletter here. Please support our journalism with a subscription.
New cases of COVID-19 are rising again on Okinawa, but public health authorities are recommending little more than basic hygiene and common sense to prevent the disease from spreading further.
The coronavirus respiratory disease is infecting the very old and the very young in this latest surge, a spokesman for the Okinawa Department of Health and Medical Care told Stars and Stripes by phone Monday.
"There are many cases among children, teens and young people in their 20s," the spokesman said. "It is the time of the year that people become active in a new environment. I think there are a lot of opportunities for people to dine together."
The hospital bed occupancy rate increased from 24% on March 28 to 31.2% a week later, according to the Public Health Department.
"Also, we see cases are rising in elderly care facilities. Elderlies are at high-risk of hospitalization," the spokesman said. "That is why we see an increase in the hospital bed occupancy rate."
It's customary in Japan for some government officials to speak to the media on condition of anonymity.
People on Okinawa are urged to keep up basic prevention measures, such as washing their hands and wearing masks, and avoid contact with people at high risk of hospitalization, the spokesman said.
The prefecture last reported two deaths related to COVID-19 on March 31, according to the department.
Japan itself has seen new case numbers climb from about 45,600 on April 5 to nearly 52,629 on Saturday, with a high of 54,879 on Thursday, according to the Johns Hopkins Coronavirus Resource Center.
Tokyo's cases are climbing, too, exceeding 8,000 per day for five days, April 6 to Sunday, according to the metropolitan government.
Just 11 days into April, U.S. military bases on Okinawa had accumulated 554 new cases, more than half the number they counted in March, 809, according to the prefectural Public Health Department.
On Thursday, the Public Health Department reported 107 new cases from the U.S. military, the highest number from that quarter in more than two months.
U.S. Forces Japan reduced its daily reporting of new case numbers to weekly averages the past two weeks in March and only the number of hospitalizations in April. USFJ reported 68.4 new cases per day, on average, between March 22 and 28, according to its last public report of individual base numbers.
Kadena Air Base on Okinawa accounted for 13.6 new cases per day, third highest on the base list that week. On Friday, the base reported 168 active cases.
The U.S. military population on Okinawa comes to about 80,000 service members, primarily Marines, along with Defense Department civilians and family members.
---
---
---
---