I Corps looks for efficiency and agility with 'nodal' commands in Indo-Pacific
By
Stars and Stripes
March 28, 2022
---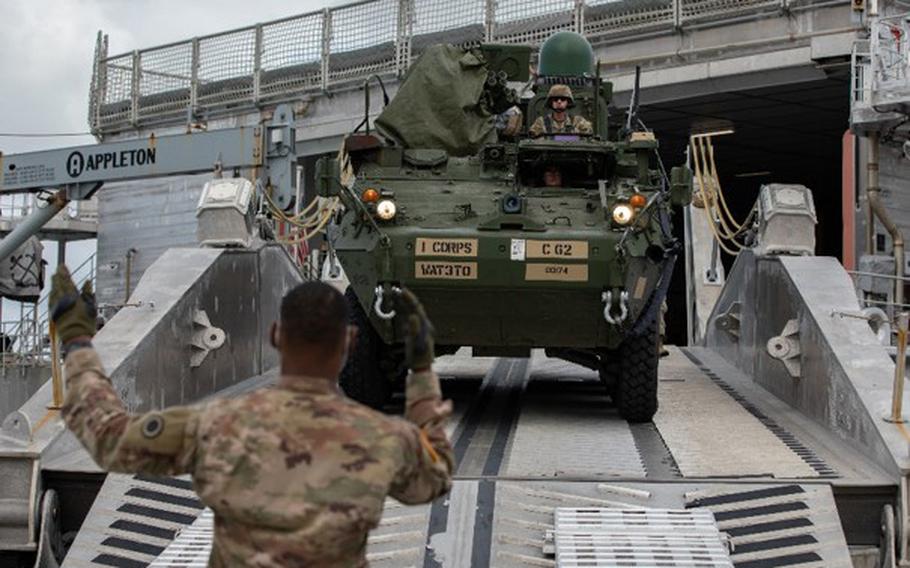 The U.S. Army's I Corps flew 20 soldiers and four Stryker armored vehicles from Washington state to Guam in February on two Air Force C-17 Globemaster IIIs to try out a new concept in warfare.
The object was to send a smaller, independent force, what the Army calls a "nodal command structure," to do the job of a force five times larger while taking advantage of all available transportation, communication and logistics networks, the I Corps chief of staff told Stars and Stripes recently.
I Corps, the Army's command responsible for 44,000 troops stationed across the Indo-Pacific region, from the U.S. Pacific Northwest to South Korea and Japan, views the smaller force model as a way to stay in the game in a new era of global competition.
"We did a bunch of work on how the Corps can contribute in the theater," chief of staff Brig. Gen. Patrick Ellis said in a Feb. 28 interview. "It's not just efficiency, necessarily, it's also survivability and it's agility."
I Corps is also reevaluating its role in the Indo-Pacific, a move that coincides with a similar, broader realignment by U.S. armed forces in the region. 
In the past, the I Corps traditionally deployed much larger forces – either for training or real-life missions – 600 or more personnel and accompanying equipment, Ellis said. With a much smaller team, the time required to get an operation underway can be shortened to days or even hours, depending on the situation, he said.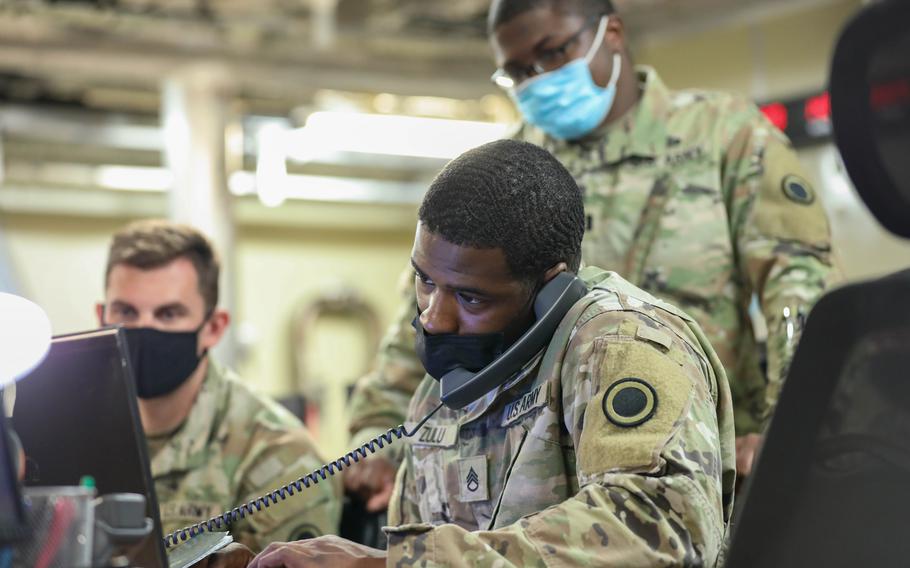 The concept relies on small, interconnected teams that can serve multifunctional roles, including communications, logistics and command. To accomplish this, I Corps took a new approach to transportation by using any means to move personnel, equipment and data. 
"'Transport agnosticism' is a new concept for us. We used to use an Army system to run our communications, but this time we also were able to use a Navy system," Ellis said. "We also did some experimentation with Starlink systems, which is a commercial system."
The Army has also used Starlink, a satellite-based internet service operated by American aerospace manufacturer SpaceX, closer to home. The 50th Expeditionary Signal Battalion out of Fort Bragg, N.C, recently started using Starlink to achieve faster data transfer, according to a Feb. 28 Army news release.
This new approach relies to a greater extent on cloud computing, for which the Army spent the past two decades developing new applications, Col. Elizabeth Casely, communications director for I Corps, told Stars and Stripes.
"We've established that we can easily pop in and pop out with all of our capabilities and sensors and exchange information freely," Casely said Feb. 28. "We then need to develop persistent information environments. Today, the technology that we're using to enable that is cloud computing."
The "nodal command" concept is similar to ideas that other U.S. service branches are employing in the Indo-Pacific.
The U.S. Marine Corps, for example, rebranded the 3rd Marine Regiment in Hawaii as a littoral regiment on March 4, one of three regiments expected to be redesignated by 2030. 
The move is part of the Marine Corps' strategy to be leaner and more mobile, and the littoral regiments are "specialized to deal with the rising threat of China," Gen. Eric Smith, assistant commandant of the Marine Corps, said during a news conference on March 1. 
Since 2019, the Department of Defense has designated the Indo-Pacific as its "priority theater," specifically in reference to as a response to mounting tensions between the U.S. and China over both the South China Sea and Taiwan. Beijing claims nearly all the former as its territorial waters and considers the latter as a breakaway territory to be brought back into its fold.
---
---
---
---