Underwater robot race returns to Yokosuka for first time since COVID-19 pandemic began
By
Stars and Stripes
March 24, 2022
---
YOKOSUKA NAVAL BASE, Japan — Middle school and high school students at the home of the U.S. 7th Fleet recently competed in the SeaPerch Challenge there for the first time in two years.
Students on 13 teams from Nile C. Kinnick High and Yokosuka Middle built and tested remotely operated vehicles that competed in an underwater obstacle course on Sunday in a pool at the Purdy Gym. The schools are part of the Department of Defense Education Activity–Pacific.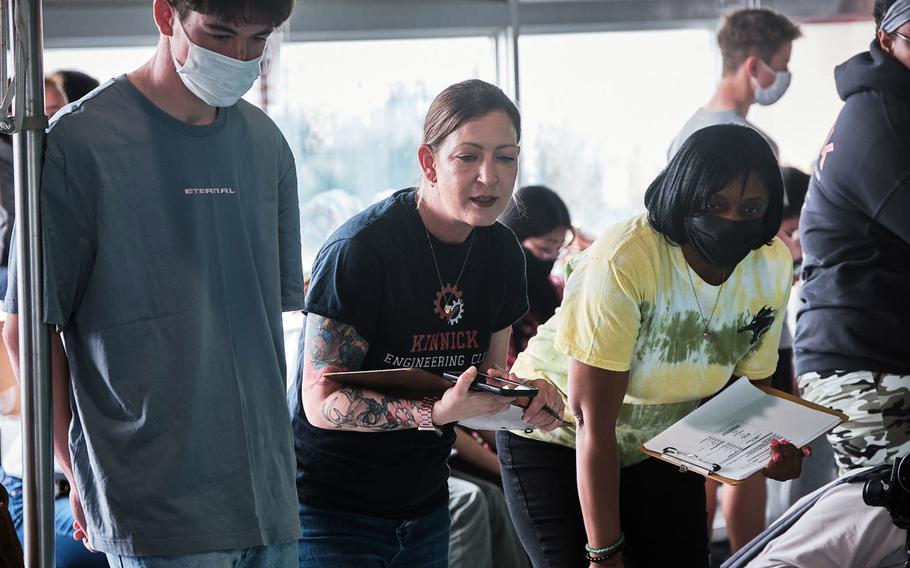 "These students learned so much science throughout this process," Angela Lewis, a biology teacher and sponsor for the Kinnick High School Engineering Club, told Stars and Stripes in an email Tuesday. "From soldering individual electronic components to creating the controller, to designing the body of the aquatic ROV, the kids used scientific methodology to problem solve and come up with the fastest and most aerodynamic body design."
SeaPerch organizes the competitive program and sells the ROV kits and materials to get students underway, according to its website. The program aims to address the problem of decreasing college enrollments in engineering and technical programs by introducing students to science and engineering through hands-on activities.
Each team, composed of students from both schools, had 12 minutes to complete the course.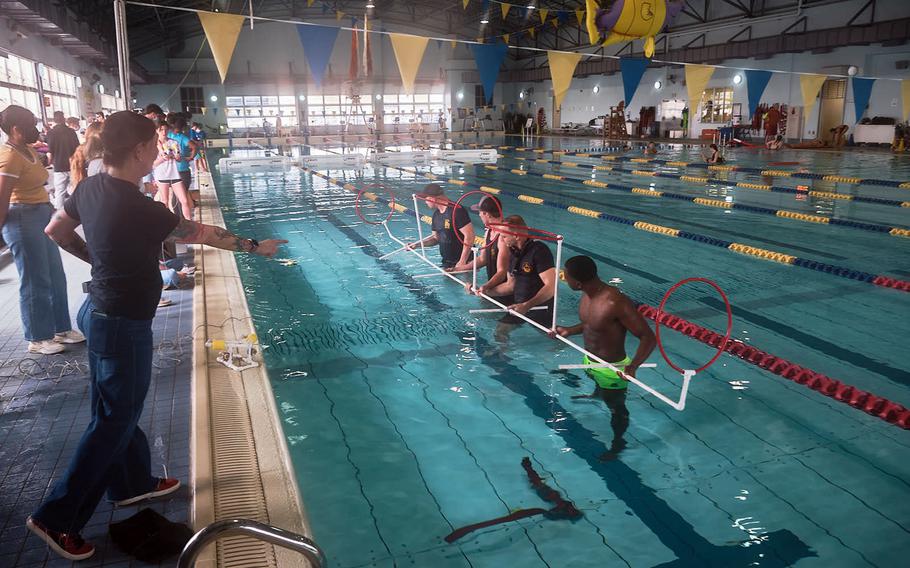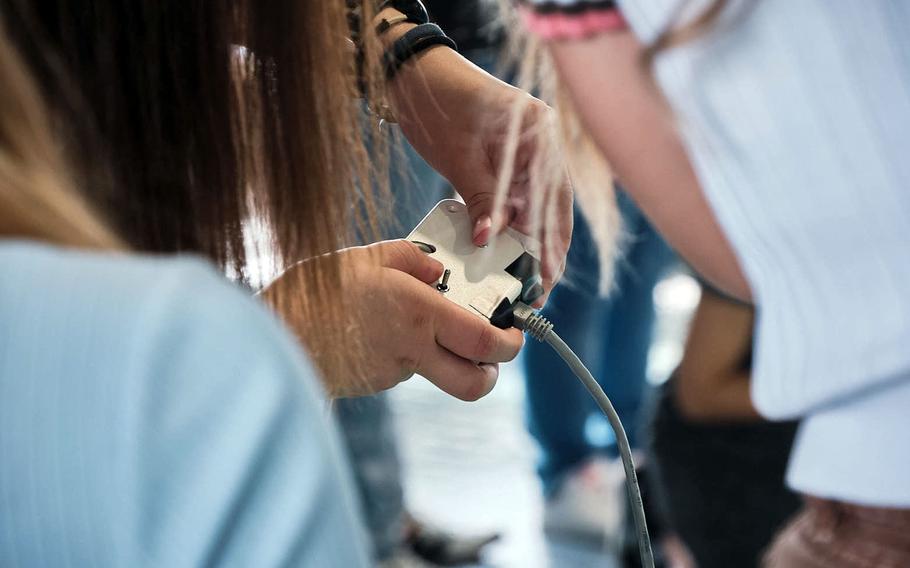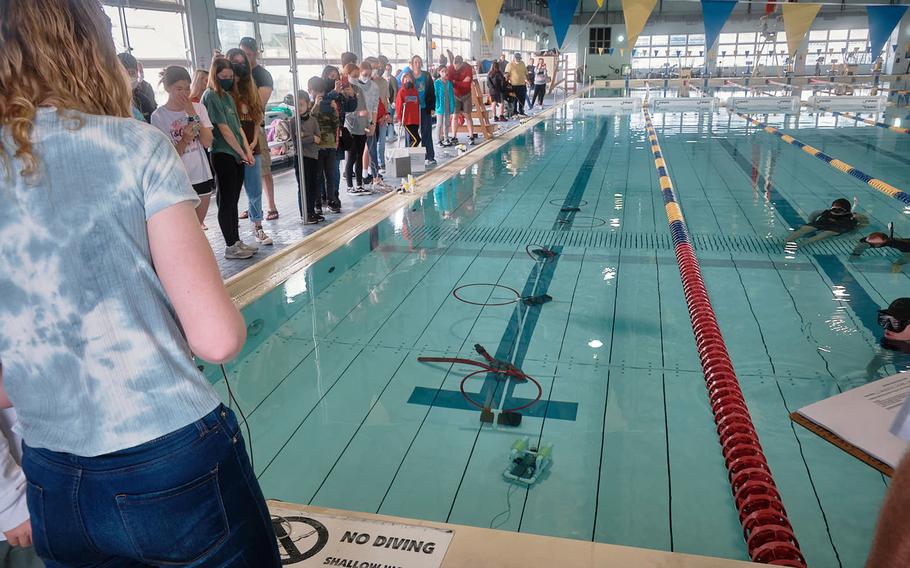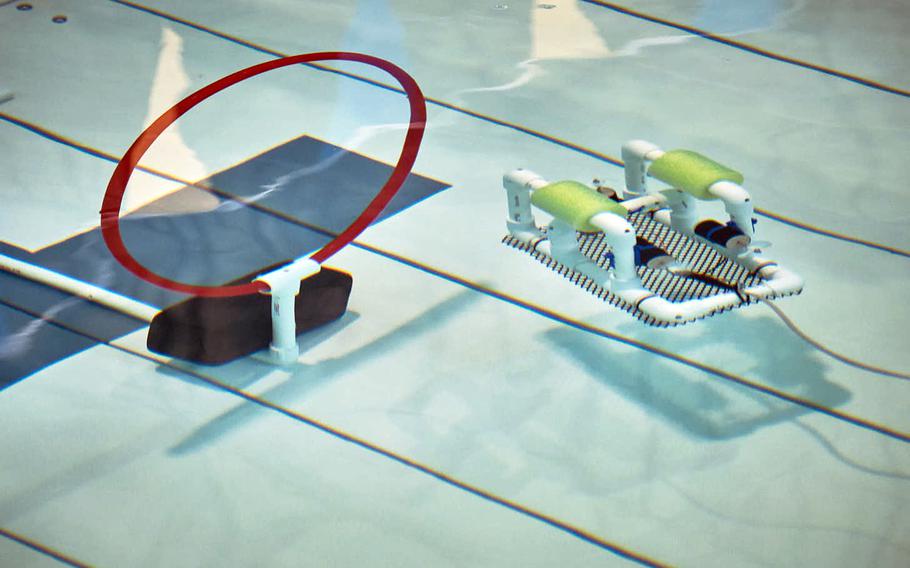 Team Iguana took first place with a time of 1 minute, 58 seconds. They won a $100 gift card and a bid to compete in June at the International SeaPerch Competition in Maryland.
The second-place team received $60, and third place won $40. The Engineering Club raised the prize money through fundraisers.
Volunteers from Naval Facilities Engineering Command and the Navy dive locker aided from inside the pool by setting up the obstacle course and assisting during the event.
The first SeaPerch Challenge at Yokosuka, born out of student interest, took place in February 2020. School budgets helped students field four teams that year, Lewis said.
The event was suspended in subsequent years due to the coronavirus pandemic. Lewis said she hoped to find more grants and fundraisers to keep the challenge going.
This year, Naval Facilities Engineering Command provided a grant through its program to support teachers of STEM subjects at Yokosuka, Lewis said. STEM is an acronym for science, technology, engineering and mathematics — subjects often lumped together as educational priorities.
Lewis said she obtained the grant to help pay for materials, the ROV construction process and their storage.
---
---
---
---