North Korea's latest launch may be a 'new type' of intercontinental missile
By
Stars and Stripes
March 24, 2022
---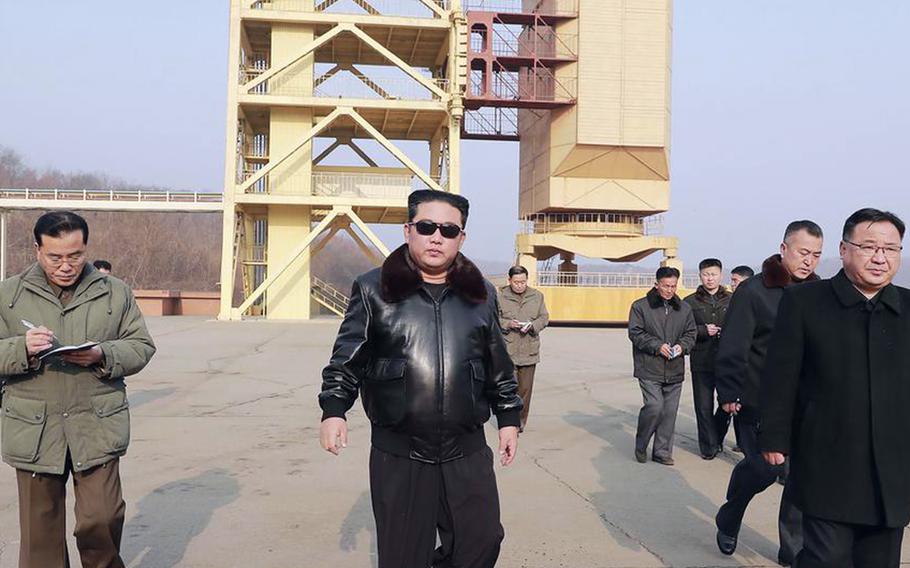 CAMP HUMPHREYS, South Korea — South Korea answered its northern neighbor's latest intercontinental ballistic missile test Thursday with a volley of its own as a show of force, according to the Joint Chiefs of Staff.
North Korea launched a single ICBM off its eastern coast at 2:34 p.m. Thursday, its first such test in nearly five years, the Joint Chiefs said in a message to reporters. It reached an altitude of 3,850 miles and traveled more than 671 miles.
At 4:25 p.m., South Korea fired several ground-to-sea missiles and dropped two bombs into the Sea of Japan/East Sea as a response to the North's ICBM test, according to a later message from the military.
The demonstrations, which included a Hyunmoo II short-range ballistic missile and two air-to-surface Joint Direct Attack Munition bombs, typically carried by aircraft, "showed our capabilities and will to react," the message said.
South Korean President Moon Jae-in met with national security officials following reports of the ICBM launch. Moon "condemned the launch strongly," according to a statement from the presidential Blue House.
"President Moon has strictly urged North Korea to immediately stop its actions that create tensions and swiftly return to the way of diplomatic solutions through dialogue," the statement said.
Japan's Ministry of Defense also confirmed a ballistic missile launch from North Korea, according to a ministry news release Thursday. 
Defense Minister Makoto Oniki said the missile, possibly of a "new type," flew for over 71 minutes before falling into the country's exclusive economic zone in the sea.
"The launch poses a serious threat to our country's security," Oniki said in the release. "The fact that it was shot within our country's [exclusive economic zone] without prior notification, we strongly condemn it as it is an extremely problematic and dangerous act from the standpoint of ensuring safety of aircraft and ships."
The exclusive economic zone is a band about 200 nautical miles wide extending from a nation's coast, beyond its territorial waters, over which it has rights to the area's resources.
Japanese Prime Minister Fumio Kishida described the launch as "unforgivable violence" during a televised news conference on Thursday.
Until Thursday, North Korea had conducted at least 10 rounds of missile tests so far this year. The communist regime is believed to have last tested a ballistic missile on March 16. South Korea's military deemed that launch to have "failed immediately." That missile apparently exploded at an altitude below 12.5 miles, according to news reports citing military officials. Photos reviewed by NK News indicated debris from the explosion fell on the North Korean capital of Pyongyang. On Sunday, North Korea fired an artillery barrage into the sea in an apparent test of a multiple rocket launch system, according to the South Korean Defense Ministry.
The United States warned in early March that North Korea would likely be "conducting a test at full range in the future." 
The U.S. believed the North's purported satellite program was a guise intended to test a "new intercontinental ballistic missile system," according to a March 10 statement by Pentagon press secretary John Kirby.
 "The United States strongly condemns these launches, which are a brazen violation of multiple United Nations Security Council resolutions, needlessly raise tensions and risk destabilizing the security situation in the region," Kirby said.
White House press secretary Jen Psaki in a statement Thursday condemned North Korea's launch of a "long-range ballistic missile."
"The door has not closed on diplomacy, but Pyongyang must immediately cease its destabilizing actions," she said.
Stars and Stripes reporters Hana Kusumoto and Yoo Kyong Chang contributed to this report.
---
---
---
---