Russia sends more warships through Japanese strait, halts peace treaty talks after sanctions
By
Seth Robson and Hana Kusumoto
Stars and Stripes
March 22, 2022
---
TOKYO – In a move Japan's prime minister called "totally unacceptable," Russia has halted talks over a post-World War II peace treaty with Japan and ended visa-free entry for former residents of four Russian-controlled islands.
Russia's Foreign Ministry announced the measures Monday while indicating it would also not proceed with joint economic activity on the disputed islands – an apparent response to sanctions imposed after Russia's invasion of Ukraine.
Japan and Russia never signed a peace treaty after WWII, and the status of four islands captured by the Soviets at the end of the war has been a sticking point for more than seven decades. Russia calls the islands north of Hokkaido the Southern Kurils and Japan refers to them as its Northern Territories.
"Russia's actions are extremely unreasonable and totally unacceptable," Japanese Prime Minister Fumio Kishida told a Diet committee session Tuesday, according to Kyodo News. "We strongly protest."
The halt to peace-treaty negotiations is a response to Japan's unilateral and unfriendly restrictions over the situation in Ukraine, the Russian ministry said in a statement reported by Kyodo.
Japan has imposed about a dozen sanctions on Russia in response to its invasion of Ukraine but the effort to hold them to account is ongoing, U.S. Ambassador to Japan Rahm Emanual told reporters Wednesday at Yokota Air Base in western Tokyo.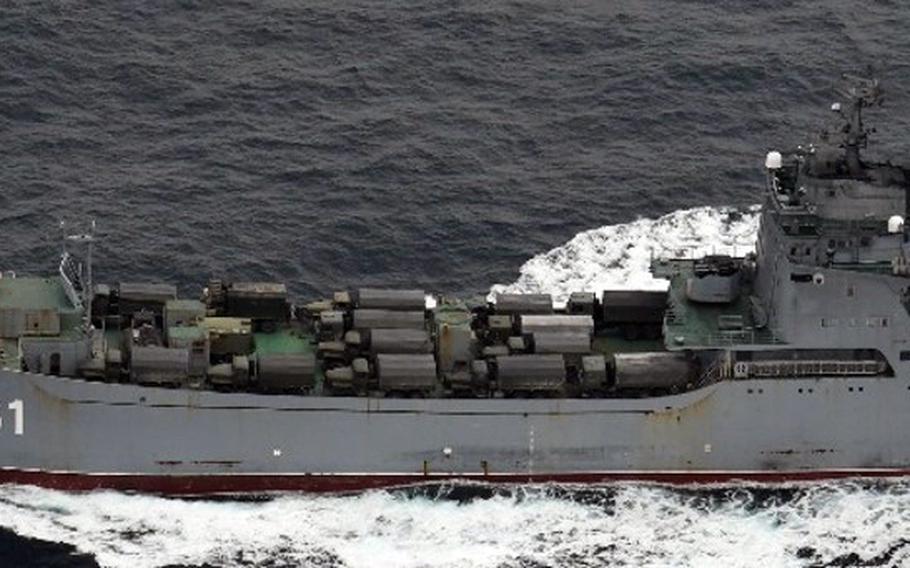 Emanual was there to see off a 38-ton shipment of nonlethal military supplies, including helmets and bulletproof vests, that Japan donated to Ukraine.
Japan has reported spotting numerous Russia warships on the move in international waters near its northern borders this month.
Most recently, four Russian amphibious ships, traveling in pairs, were spotted east-northeast of Japan's main island of Honshu on March 15 and 16, Japan's Joint Staff said in a news release last week.
The vessels included an Alligator IV-class tank landing ship, two Ropucha I-class tank landing ships and a Ropucha II-class tank landing ship, according to the release.
The ships, monitored by a Japanese surveillance plane and a destroyer, traveled west through Tsugaru strait — 12 miles wide at its narrowest point — to the Sea of Japan/East Sea, the release stated.
Photographs provided with the news release showed the ships loaded with military vehicles.
The vessels could be transporting troops and vehicles to Ukraine, Chief Cabinet Secretary Hirokazu Matsuno said during a news conference Thursday.
"We are closely observing movements by Russian forces with grave concern, including the situation in Ukraine," he said.
The Russians have been looking for ways to respond to sanctions, James Brown, an international affairs expert at Temple University's Japan campus, said in a telephone interview Tuesday.
The Russian flotillas spotted near Hokkaido earlier this month may have been a show of force, but the latest movements appear to be carrying equipment bound for Ukraine, Brown said.
"It indicates they are very much stretched as a result of the Ukraine invasion," he said.
The most significant action Russia has taken in response to Japan's sanctions is suspending visas for the disputed islands' former residents, Brown said. They have not been able to visit since the coronavirus pandemic began two years ago.
Visiting ancestral graves on the islands is important for the former residents, Brown said.
"In normal times they have about 20 trips each year," he said. "The average age of these former residents is 86. They will be thinking this is the end and they will never set food back on those islands."
---
---
---
---