Long-lost cheerleading megaphone from DOD school reconnects woman with her Okinawa past
By
Stars and Stripes
March 21, 2022
---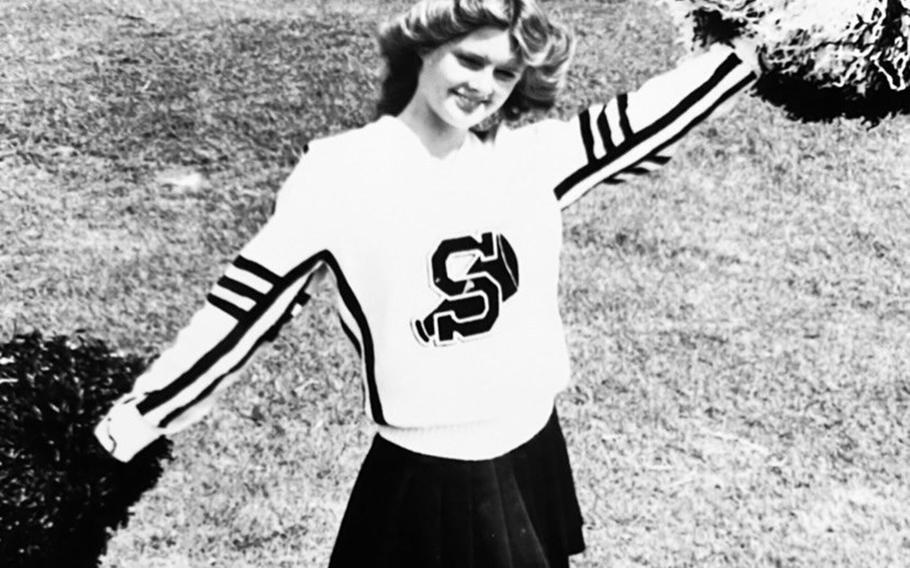 In the space of six months Debbie Mills survived two bouts of COVID-19 and a heart attack, she said, and thanks to a stranger's Facebook post rediscovered a piece of her life lost on Okinawa.
Nearly 40 years ago, Mills, who turns 56 on Wednesday, put aside her cheerleading megaphone from Kubasaki High School at Camp Foster. She graduated in 1984 and returned to the United States with her Air Force family, she recently told Stars and Stripes by phone and Instagram.
Mills attended New Mexico State University on a Miss America Pageant scholarship after winning the local Otero County pageant. She then attended Saddleback College in Mission Viejo, Calif. She began a 30-year career as a medical technician and then operated her own in-home hospice care business.
Meanwhile, the friends she made at Kubasaki remained her friends, and eventually served as a support network during her illnesses in late 2020 and early 2021.
"My classmates just rallied around me and prayed for me," Mills said. "It's a family bond that you can't put your finger on; it's rare."
Mills said she first contracted COVID-19 in December 2020 after a shopping trip near her home in Big Bear, Calif. She recovered but in January 2021 fell ill and tested positive again for the coronavirus respiratory disease.
"I got reinfected, and the second time around was worse," she said. "I couldn't walk. I couldn't talk. I had brain swelling. I didn't know if I was going to make it."
On top that, Mills said, she suffered a heart attack on Jan. 20, 2021. Altogether she spent 10 months recovering.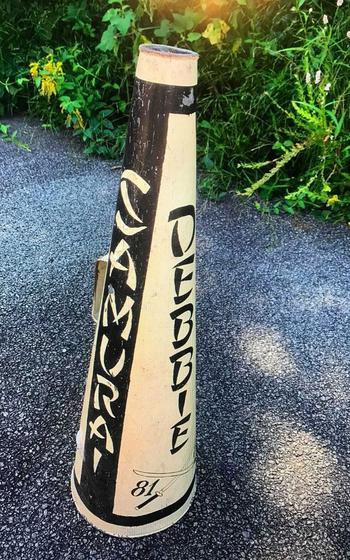 And then, in February, Emily Bishop in Washington, D.C., found a Kubasaki cheerleader's megaphone stenciled with Debbie Mills' name. Thinking the original owner might like to have it, Bishop took to Kubasaki's alumni group on Facebook and announced the find.
"I just found it last week in the back of my closet at my parents' house," she posted on Feb. 9 in the private group. "The original owner might love to have it as a reminder of their time in Okinawa."
Almost immediately her post received dozens of comments and nearly 100 reactions, many from friends of the white-and-black megaphone's former owner.
"Yes! its Debbie Mills! from our Samurai football team! Awesome times!" wrote Kubasaki alumnus Pat McGale.
"Awww! My Samurai Sister, Deb!!! She will LOVE this! We cheered together in 82-84. I had one of those with my name on it too so if you ever see it let me know!" wrote Leslie Nease, another alum.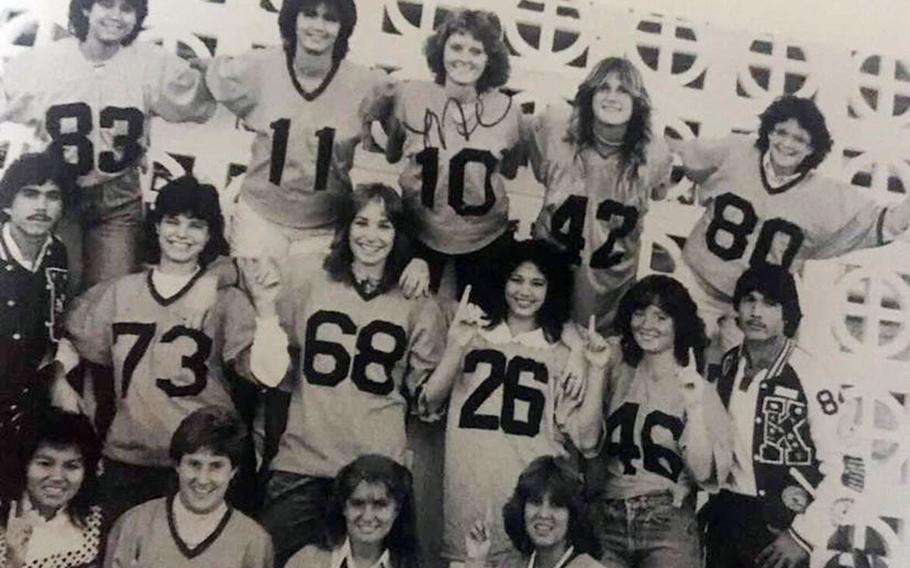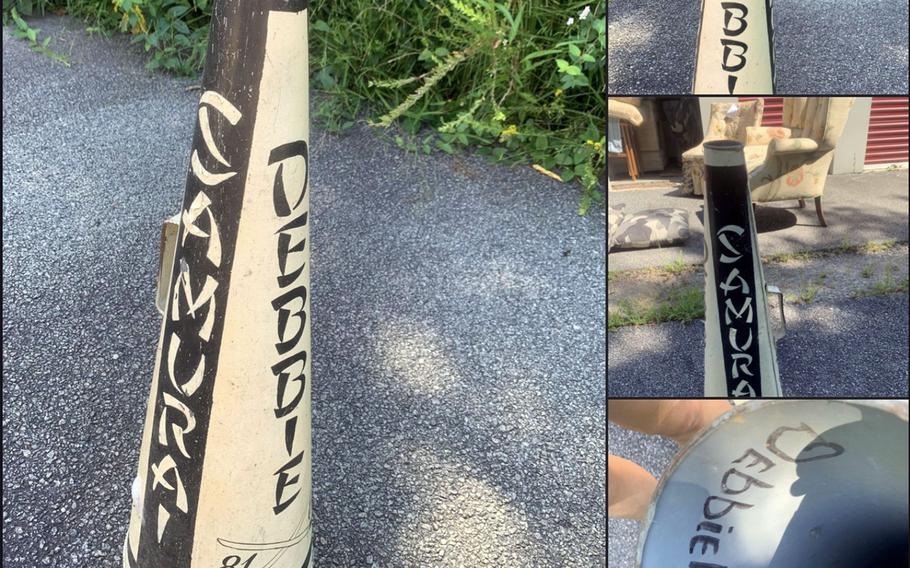 Several classmates contacted Mills about the megaphone.
"When I graduated, I came home with a sweater and tambourine, but I left the megaphone behind because we had only so much room on the plane," Mills told Stars and Stripes. "To be honest I thought I would never see it again. I thought it would be painted over."
A year after Mills left Okinawa, a then-11-year-old Bishop began a new life on the island when her Marine father was stationed at Camp Foster. She attended sixth grade at Zukeran Elementary, then Kubasaki as a seventh-grader the following year.
"The details of the how I acquired the megaphone are kind of fuzzy," Bishop told Stars and Stripes via Facebook Messenger on Friday. "But I'm pretty sure it was right at the end of my seventh grade school year."
It may have been given to her by a teacher who was cleaning out a storage locker. Bishop said she "totally looked up to the upper classmen" and wanted to be cool like them.
The megaphone traveled with Bishop when she and her family returned to the States in 1987. It sat in the corner of her bedroom in Rhode Island and eventually settled in the back of her parents' closet in Washington, D.C., waiting to be rediscovered decades later.
"It's funny I used to love that megaphone, because it was a physical reminder of my time in Okinawa, but when I saw [Mills'] name and was like – I wasn't even a cheerleader … and here is her name! So, I took it to the Internet."
Bishop said she plans to mail the megaphone to Mills once she is back at her parents' house, a two-hour drive from her home in Virginia.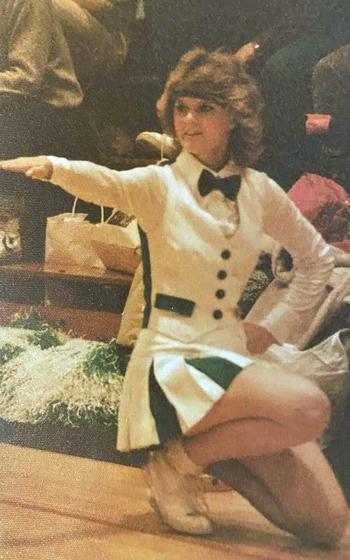 Mills, recuperating at home and posting inspirational videos on TikTok as @MountainSoulSista323, said the upside of her pandemic ordeal was reconnecting with her past as a student at a Defense Department school.
"Living in Okinawa, Japan, for me was the best time of my entire life," she said. "I'm not kidding. I can't even explain the friendships that I have to this day, 38 years later. They are my family."
---
---
---
---