Airport in Japan may become landing site for Dream Chaser commercial space plane
By
Stars and Stripes
March 17, 2022
---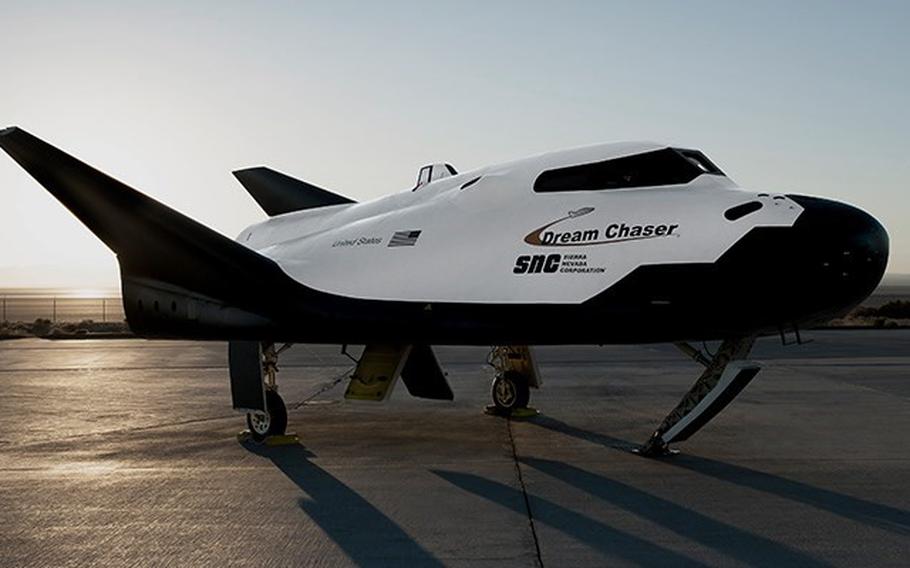 A U.S. space plane operator with a NASA contract to resupply the International Space Station is considering an airport in southwestern Japan as an alternate landing site.
The unmanned Dream Chaser, developed by Sierra Space Corp. of Broomfield, Colo., is designed to carry up to six tons of cargo and crew to destinations in low-Earth orbit, including the ISS.
The plane, which rides a rocket into space, will launch from the Kennedy Space Center in Florida, according to a NASA blog posted in November 2019.
Sierra Space, a privately held company, is partnering with Kanematsu Corp. of Tokyo and Oita prefecture to provide an alternate landing site for the space plane at Oita Airport, according to recent statements from Sierra Space and Kanematsu.
Sierra Space chose the airport for its 1.9-mile-long runway and the prefecture's position as a tourism and economic hub, The Mainchi newspaper reported March 1. Talks between the three about use of the airport started around May, according to the report. It said the plane could land there in 2026 if the site is officially chosen.
"Through this project with Oita prefecture and Kanematsu we can envisage a future where the Oita Space Port is a hub for Dream Chaser landings, enabling returning space missions to land in Japan as part of our growing global network of landing sites," Sierra Space CEO Tom Vice said in a press release Feb. 26.
Sierra Space, privately held by billionaires Fatih and Eren Ozmen, Turkish immigrants now based in Sparks, Nev., is worth $4.5 billion, according to CNBC in April. In addition to the reusable Dream Chaser, the company is also developing Orbital Reef, a space station, with Blue Origin, the commercial space company founded by Amazon billionaire Jeff Bezos, CNBC reported in November.
Its developers describe Orbital Reef as a "mixed-use business park,"a commercially owned and operated space station in low-Earth orbit for research, industrial, international and commercial customers, according to OrbitalReef.com. It may be in operation by 2030, when NASA expects to retire the ISS.
NASA contracted in 2016 with Sierra Space to resupply the ISS at a minimum of seven missions carrying critical supplies like food, water and science experiments, starting in 2023, according to the Sierra Corp. website. The contract also includes return and disposal service for the space station.
"We are pleased that Oita prefecture and Kanematsu Corp. have joined forces through the Space Port Japan membership network to discuss the possibility of establishing a landing site in Asia for Sierra Space's Dream Chaser spaceplane," Space Port Japan director Naoko Yamazaki said in a press release Feb. 26.
Sierra Space is working on multiple international landing sites, including Spaceport Cornwall in the U.K., according to the company website.
---
---
---
---