North Korea: US and its allies are 'root cause' of Russia's invasion of Ukraine
By
Stars and Stripes
March 2, 2022
---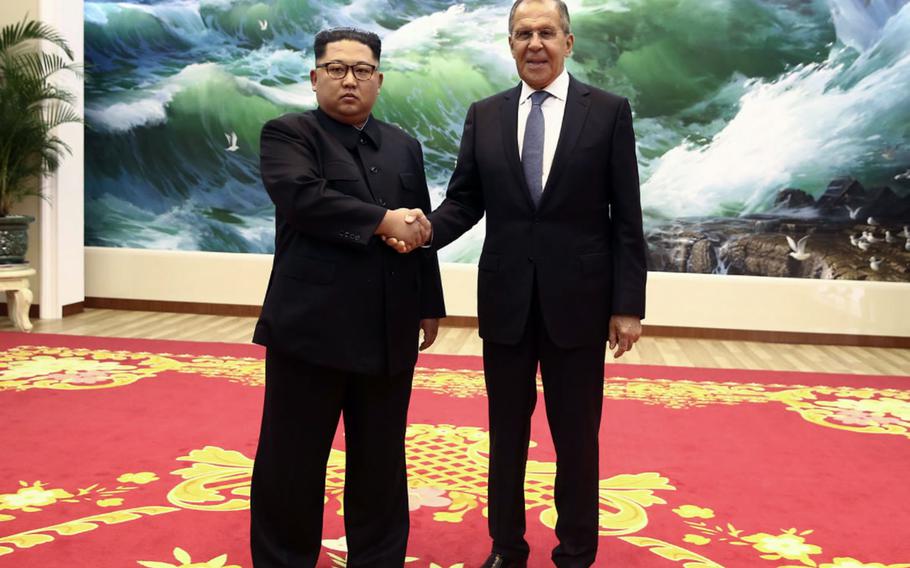 North Korea identified "the hegemonic policy" of the United States and its allies as the "root cause" of Russia's invasion of Ukraine, according to a Monday statement from the communist regime's Foreign Ministry.
North Korea through public statements defended Russia's motives throughout the weeks leading up to the large-scale operation on Feb. 24. It's pronouncement Monday came five days after Russian President Vladimir Putin sent Russian troops into Ukraine.
"The U.S. and the West, in defiance of Russia's reasonable and just demand to provide it with legal guarantee for security, have systematically undermined the security environment of Europe by becoming more blatant in their attempts to deploy attack weapon system while defiantly pursuing NATO's eastward expansion," said the Foreign Ministry statement published by the state-run Korean Central News Agency.
The "greatest danger the world faces now is high-handedness and arbitrariness" from the U.S., whose "unilateral and double-dealing policy" remains a barrier to world peace, the statement said.
Russia aligns itself with North Korea and lends diplomatic influence to the regime. Russia and China previously lobbied the U.N. Security Council to lift sanctions against Pyongyang, according to multiple news reports.
World leaders have denounced Russia's assault on Ukraine, which by Tuesday had claimed 536 civilian casualties, including 136 killed, according to the U.N. human rights office.
U.N. Secretary-General António Guterres, in a speech during an emergency meeting of the Security Council last week, urged Putin to "stop your troops from attacking Ukraine" and "give peace a chance."
"In the name of humanity bring your troops back to Russia," Guterres said. "In the name of humanity to not start what may be the most devastating war since the start of the century."
The U.S. imposed its own sanctions on Russia following the invasion and lobbied other countries for more, including those targeting Russian banks and oligarchs with ties to Putin's inner circle.
The European Union on Monday froze assets belonging to Putin and Russian Minister of Foreign Affairs Sergey Lavrov, and imposed sanctions against Russia's finance, energy, technology and transportation industries. The union also placed a ban on Russian flights over its airspace.
"With these additional sanctions, we are targeting all who are having a significant economic role in supporting Putin's regime, and benefit financially from the system," EU High Representative for Foreign Affairs and Security Policy Josep Borrell said in a press release Friday. "These sanctions will expose the wealth of Putin's elite. Those who enable the invasion of Ukraine will pay a price for their action."
President Joe Biden's administration also expanded his sanctions against Russia. The Treasury Department announced Thursday it would target Russia's two largest financial institutions, Sberbank and VTB Bank, to "drastically" affect "their fundamental ability to operate."
During his State of the Union address Wednesday, Biden announced the U.S. was banning Russian flights over the country's airspace.
"I am announcing that we will join our allies in closing off American airspace to all Russian flights, further isolating Russia and adding an additional squeeze on their economy," Biden said.
choi.david@stripes.com Twitter: @choibboy
---
---
---
---