That's good yogurt: Army veterinarians can inspect and keep expired food on commissary shelves
By
Matthew M. Burke and Frank Andrews
Stars and Stripes
March 2, 2022
---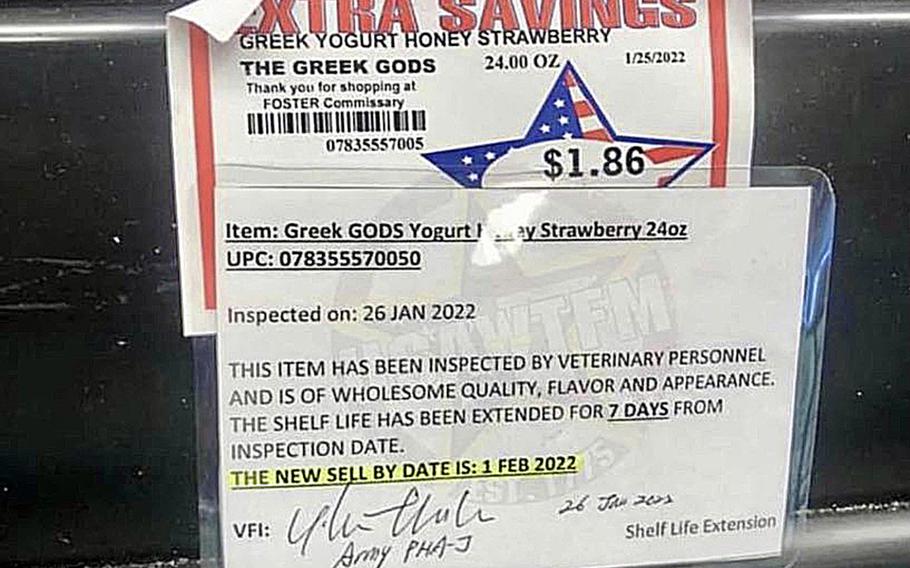 CAMP FOSTER, Okinawa — Shoppers looking for yogurt at the Foster commissary one day in late January were met with a notice posted above the Greek Gods brand in the dairy case.
The shelf life for the honey strawberry flavor in 24-ounce plastic containers was about to expire.
"This item has been inspected by veterinary personnel and is of wholesome quality, flavor and appearance," the paper read.
Veterinary personnel? The notice caused a minor stir on social media.
Army veterinarians care for military pets and working dogs, but they are also food safety experts capable of extending the life of food products on commissary shelves. A veterinary food inspector extended the expiring yogurt's shelf life at the Foster commissary by one week.
Enlisted personnel are generally split between animal care and food safety, but officers in the U.S. Army Veterinary Corps are trained and licensed to do both and often take on supervisory roles at their installations.
"Veterinary Services only extend the shelf life of food products that are safe and of the highest quality," Col. Matthew Levine, commander of Public Health Activity-Japan, told Stars and Stripes in an email Monday. "Our stringent inspection and assessment programs only allow us to extend the shelf-life if it poses no health risks to our community."
Food inspections have been routine duty for the Veterinary Corps in Japan since World War II. Army veterinary food inspectors came ashore in the invasion force, according to a unit history on the health activity website.
Veterinary inspectors — U.S. soldiers and Japanese employees overseen by Army warrant officers — are involved with Defense Department food supplies from the warehouse to the commissary. They check product temperatures, food handling practices, cleanliness, expiration dates and product recalls, senior food safety officer Chief Warrant Officer 3 Marques Walker wrote in the same email.
They inspect imported food at Defense Department warehouses before it reaches commissary shelves. Then they make food safety and quality assurance inspections and daily walk-throughs in those commissaries.
Enlisted veterinary food inspectors receive eight weeks of advanced training at the U.S. Army Medical Center of Excellence in San Antonio, Walker said. They also study food microbiology, chemistry, deterioration, preservation and packaging technology.
Levine did not say how often an inspector has extended a product's shelf life in Japan, but he said the practice is routine. Still, some shoppers won't touch expired food.
"No, I would not feed my children anything that's shelf life has been extended," Marine Cpl. Bryannah Gray, a California native and mother of two infants, told Stars and Stripes while shopping at Foster on Friday.
Petty Officer 1st Class Patrick Glenn, 25, of Tenino, Wash., said Tuesday he doesn't really buy much dairy except for coffee creamer, which lasts "months," but if a product still tastes good, he is not going to let it go to waste.
"Being a fleet sailor, sometimes, what we got is what we got, right?" Glenn said.
---
---
---
---