Bechtel Elementary on Okinawa next up for multimillion dollar '21st Century' makeover
By
Stars and Stripes
February 24, 2022
---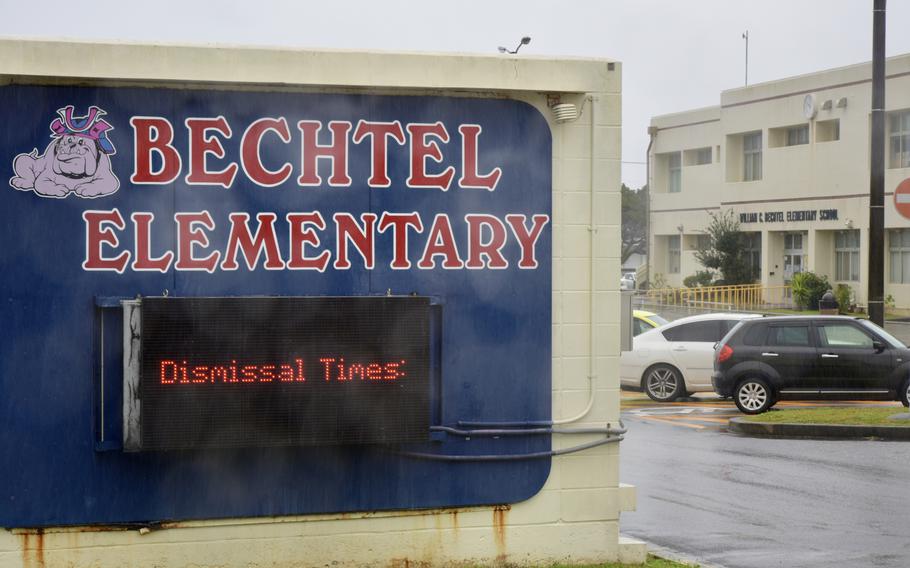 CAMP MCTUREOUS, Okinawa — A major makeover for William C. Bechtel Elementary School on Okinawa will bring it into the 21st century, according to the Department of Defense Education Activity-Pacific.
DODEA is spending $94.85 million on the renovation project at the school on this Marine Corps base. The project is scheduled to begin in summer 2023.
During construction, Bechtel's approximately 670 students will be bused to schools at Kadena Air Base, 6 miles away, until the work is finished, according to a Feb. 4 news release from DODEA-Pacific spokeswoman Miranda Ferguson. Some students will be relocated in the school year that begins Aug. 22.
Bechtel Elementary is the latest school for military dependents in Japan to undergo improvements under DODEA's "21st Century" facilities' program designed to prepare students for tech-focused jobs.
The upgrades include an open floor plan that removes walls and doors to create a peer-to-peer learning atmosphere. There will also be new furniture, including bouncing balls for chairs; laptop docks, smartboards; and water-bottle stations.
The Bechtel makeover will include renovations to the main building; a new, 81,000-square foot-building; new furnishings; and playground improvements, according to the release.
"The planned renovations and new construction at Bechtel Elementary School will provide our students residing on camps Courtney and McTureous, as well as the off-base attendance area, with an updated facility that promotes collaboration and supports the needs of 21st century learners," Jackie Ferguson, the acting superintendent for DODEA-Pacific South, said in the news release.
Three other DODEA schools in Japan, including one on Okinawa, were upgraded in 2021.
Renovations at Bob Hope Elementary at Kadena totaled $75 million. A pair of schools at Misawa Air Base in northeastern Japan were renovated and consolidated into one school, Edgren Middle/High School, at a cost of $33 million.
In preparation for Bechtel's planned renovation, the district will relocate approximately 150 students to Ralph Stearley Primary School and Amelia Earhart Intermediate School at Kadena Air Base for the 2022-23 school year, according to the DODEA news release. That group includes students living off-base south of McTureous.
After Bechtel Elementary closes for construction, all remaining Bechtel students will be sent to Ryukyu Middle School at Kadena until work is complete, according to the DODEA statement.
Those students' families will be contacted via email by the student transportation office this summer with information regarding new bus schedules, according to a letter from Bechtel principal Scott Tefft on Feb. 3. Bus stop locations will remain the same, he wrote.
"While times of transition can be difficult, I am confident this project will ensure Bechtel Elementary continues to proudly serve military-connected students and their families for many more years. Please reach out to our office if you have any questions," Tefft said.
The school's namesake, William C. Bechtel, was a Marine stationed on Okinawa during World War II. He returned to the island as a DODEA administrator and school principal. Bechtel elementary, home of the Bulldogs, was built in 1987 and serves pre-kindergarten through fifth grades.
---
---
---
---