'Just a prank': Prohibited photos of North Korean leaders found at market south of Seoul
By
Stars and Stripes
February 23, 2022
---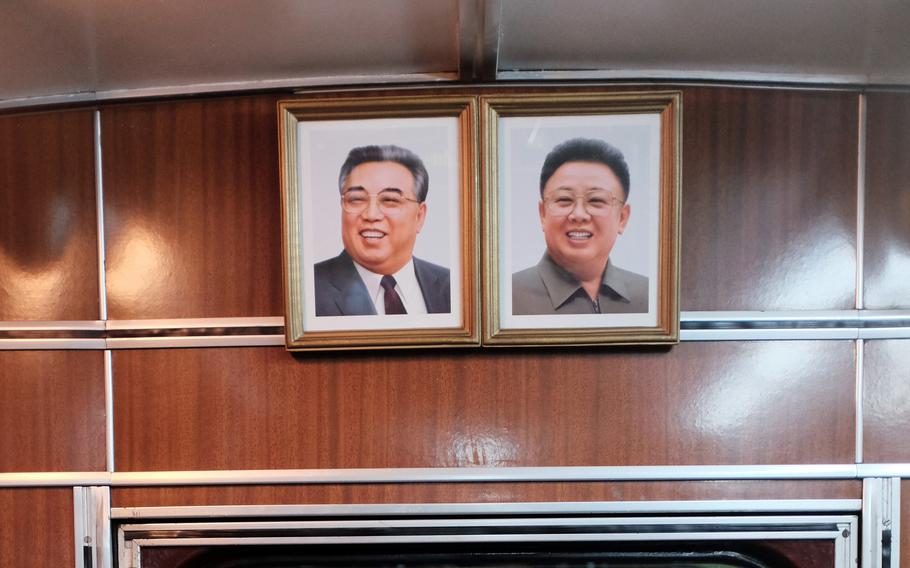 Forbidden photographs of three generations of North Korean leaders that were discarded at an outdoor market in South Korea were traced to two perpetrators, according to police.
The two men, friends in their 20s or 30s, won't be charged for leaving framed photographs of Kim Jong Un, Kim Jong Il and Kim Il Sung at Moran Market, a Seongnam city police officer told Stars and Stripes on Tuesday. It's customary in South Korea for some government officials to speak to the media on condition of anonymity.
South Korean law prohibits certain depictions of North Korea and its leaders, and also restricts access to television broadcasts from the communist regime.
Someone on Friday reported finding the photos at the outdoor venue that sells a range of household goods. Using closed-circuit television cameras in the area, police identified two suspects, one who purchased the frames and printed the North Korean leaders' photos and another person who received them.
The two took part in an "exchange of useless gifts," the police officer said. The gag gift exchange is typically held during the Christmas season and has grown in popularity after social media users displayed their items on online forums.
The person "who received the frames with the pictures looked for a way to throw them away and dumped them in Moran Market recently," the officer explained.
Gyeonggi police closed the case without filing charges; "it was just a prank," the police officer said. He released no further details.
Kim Jong Un, the current ruler of North Korea, came to power following the death of his father, Kim Jong Il, in 2011. Kim Jong Il ruled North Korea after the death of his father, the nation's founder, Kim Il Sung, in 1994.
South Korea's National Security Act says that a person who "manufactures, imports, reproduces, holds, carries, distributes, sells or acquires any documents, drawings or other expression materials" with an intent to promote an anti-government organization and "endanger the existence and security of the State or democratic fundamental order" can be jailed for up to seven years, according to the Ministry of Government Legislation.
Stars and Stripes reporter Yoo Kyong Chang contributed to this report.
---
---
---
---