US Navy completes training complex for Thai border patrol amid drug-trafficking surge
By
Stars and Stripes
February 23, 2022
---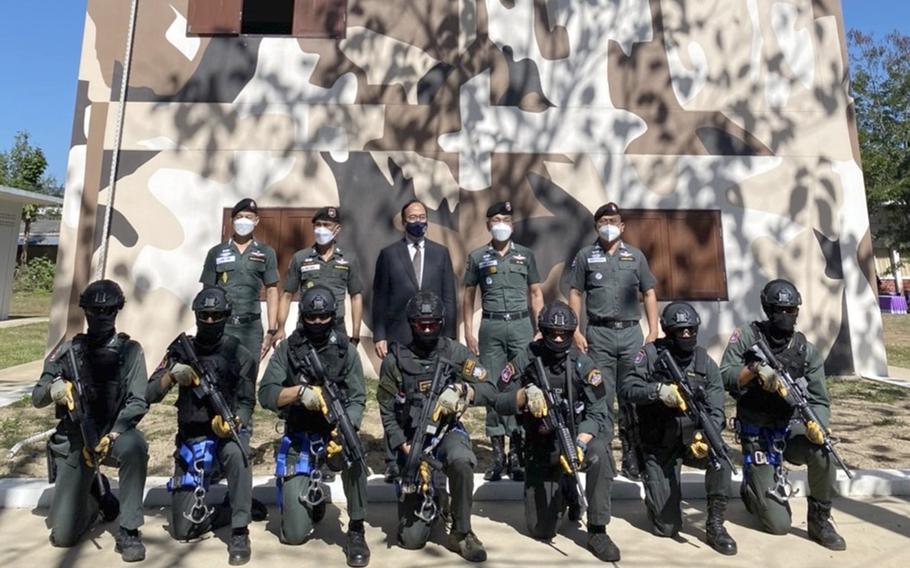 The U.S. Navy has finished building a training facility for Thailand's Border Patrol Police, providing a venue for realistic training scenarios as the country grapples with a surge in drug trafficking.
The facility unveiled Jan. 28 in Mae Taeng, Thailand, features weapons ranges, a mock village, a three-story tactical training building and new equipment for the border patrol, according to a Feb. 11 news release from Naval Facilities Engineering Systems Command Pacific. The site is about 40 miles south of the border with Myanmar.
The $600,000 project was funded through U.S. Indo-Pacific Command's Joint Interagency Task Force West, an anti-trafficking organization composed of approximately 166 personnel representing the armed forces and federal and international law enforcement agencies.
Built alongside an existing training camp in Mae Taeng, the new facility will enable the Border Patrol Police to train for real-world scenarios and operations, spokeswoman Krista Cummins of Naval Facilities Pacific told Stars and Stripes on Feb. 16.
"The longstanding U.S.-Thai cooperation to combat illicit trafficking is a cornerstone of our partnership," she said by email. "This training complex is a concrete example of the United States and Thailand's mutual commitment to leading that fight."
Drug smuggling and drug seizures are on the rise in Southeast Asia. The U.N. Office on Drugs and Crime reported that law enforcement in Laos, Thailand and Myanmar seized approximately 90 million methamphetamine tablets and 4.8 tons of crystal methamphetamine last month, Reuters reported on Feb. 2.
Thai authorities seized 520 million methamphetamine tablets between October 2020 and September 2021, or 70% more than the 361 million in the previous 12 months, according to the report.
Political instability in Myanmar accounts in part for the increase in drug trafficking and seizures in the area, Jeremy Douglas, the Southeast Asia regional representative for the U.N. Office on Drugs and Crime, was quoted by Reuters as saying.
In February 2021, Myanmar's military leaders initiated a coup d'état that ultimately installed Senior Gen. Min Aung Hlaing, the head of Myanmar's army, as the country's leader.
wilson.alex@stripes.com Twitter: @AlexMNWilson
---
---
---
---