Trump: North Korea's recent missile tests 'would never have happened if I were president'
By
Stars and Stripes
February 14, 2022
---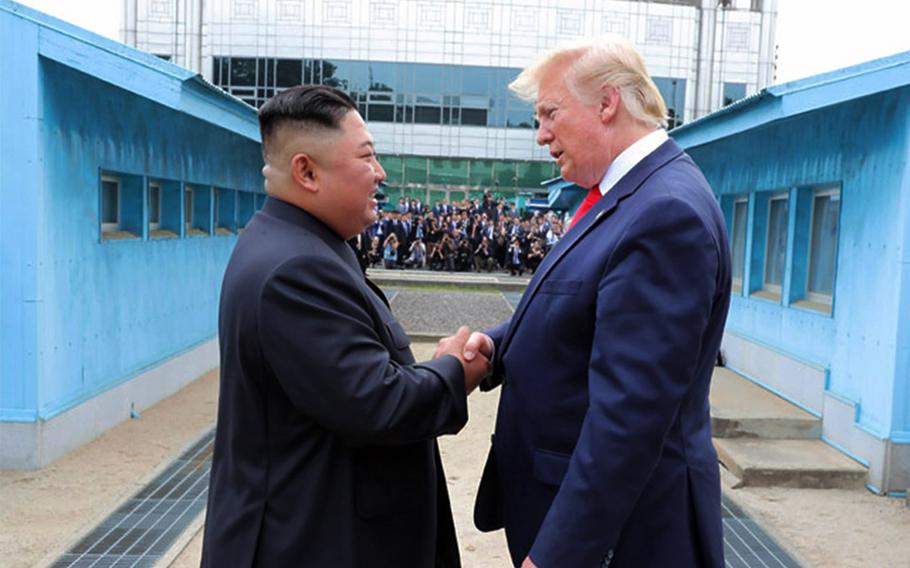 Former President Donald Trump, in a pre-recorded speech Sunday, encouraged North Korea to refrain from "any actions that could endanger the unique opportunity that we worked so hard to create together."
Trump, in a nine-minute video to a religious gathering in Seoul, touted his "bold new diplomacy" with North Korean leader Kim Jong Un and contrasted his tenure with President Joe Biden's leadership at the White House.
"Over the past several months, we have seen a concerning return to escalation, including a number of missile tests," Trump told World Summit 2022: Summit for Peace on the Korean Peninsula. "Chairman Kim does not respect or trust the leaders of the United States. Well, everyone knows that this would never have happened if I were president."
North Korea has conducted seven rounds of missile tests so far this year. Those tests included an intermediate-range ballistic missile capable of reaching the U.S. territory of Guam; it may be the longest-range missile test conducted by the communist regime since 2017, according to missile researchers.
Trump and Kim "got along" and "we liked each other a lot," the former president said in his speech.
"He pledged to me that he would cease all long-range missile and nuclear testing," Trump said.
Trump met with Kim in 2018 in Singapore, the first sitting president to meet with a North Korean leader. The two followed that up in 2019 with meetings in Vietnam and in the Demilitarized Zone between North and South Korea.
Although the Trump White House heralded the summits as a success, foreign policy experts remain skeptical, citing broad statements by both leaders and a lack of specific steps toward the denuclearization of North Korea.
"Both sides failed, however, in the eight months following Singapore to make progress on the summit declaration due to disagreements over the definition of denuclearization and the sequencing of the steps that would be taken to fulfill the promises made in the joint statement," Sue Mi Terry, a former CIA senior analyst, and Lisa Collins, a fellow at the Center for Strategic and International Studies, wrote in an analysis published by the Washington, D.C.-based think-tank in 2019.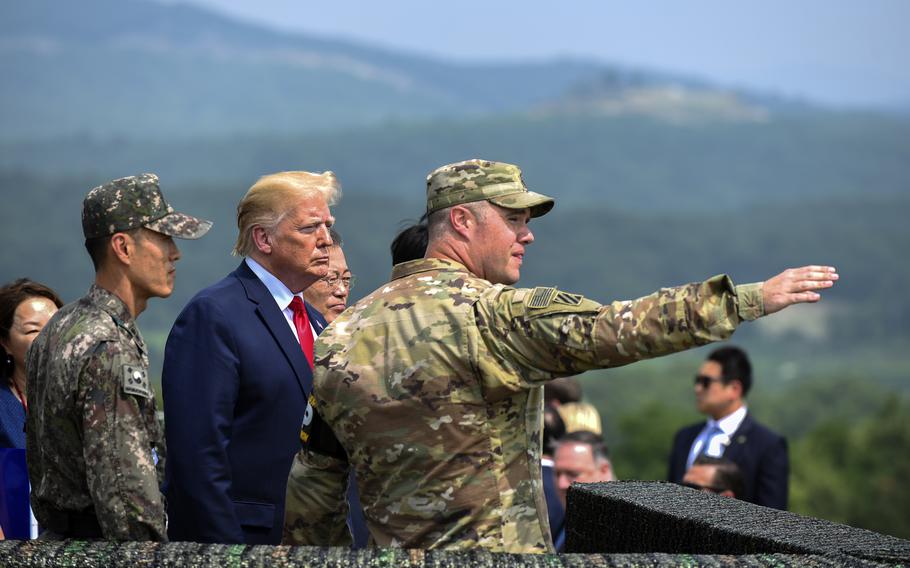 North Korea on Jan. 19 signaled it may resume long-range ballistic missile and nuclear weapons tests after calling for the immediate "bolstering" of "more powerful physical means."
The regime defended its weapons tests as a response to the "hostile moves" posed by the United States. North Korea opposes the decades-long stationing of the 28,500 U.S. troops in South Korea and denounces the joint military exercises between the U.S. and Seoul.
Soo Kim, a policy analyst for Rand Corp. and an adjunct instructor at American University, scrutinized Trump's latest speech and said his "comments seem par for the course."
"We should question the basis of his comments," Soo told Stars and Stripes in an email Monday. "I would also add that Kim's resolve to develop and keep his nuclear weapons program is not contingent upon changes in U.S. leadership. His commitment to nuclearization cannot be swayed, so long as he remains convinced that it's the only way to guarantee his survival."
Trump and Kim made no substantive pledges and the North Korean leader eventually "resumed his hostile rhetoric and missile tests" following the summit meetings, Soo said.
Former Vice President Mike Pence also spoke at World Summit 2022 and also cast an unflattering portrayal of the Biden administration's policy toward North Korea.
"We proved that peace follows strength, but weakness arouses evil," Pence said during a speech on Friday. "And resurgence of missile tests and provocations from Pyongyang … are a testament to this truth."
World Summit 2022 was hosted by the Cambodian government and the Universal Peace Federation, which describes itself on its website as "an international and interreligious network of individuals and organizations … dedicated to achieving world peace."
The federation was founded by the late Rev. Sun Myung Moon, a self-proclaimed messiah and former leader of the Unification Church, and Hak Ja Han, who describes herself as the "mother of peace."
---
---
---
---