Okinawa-based airman helps Japanese vegetable farmer escape burning truck
By
Stars and Stripes
February 14, 2022
---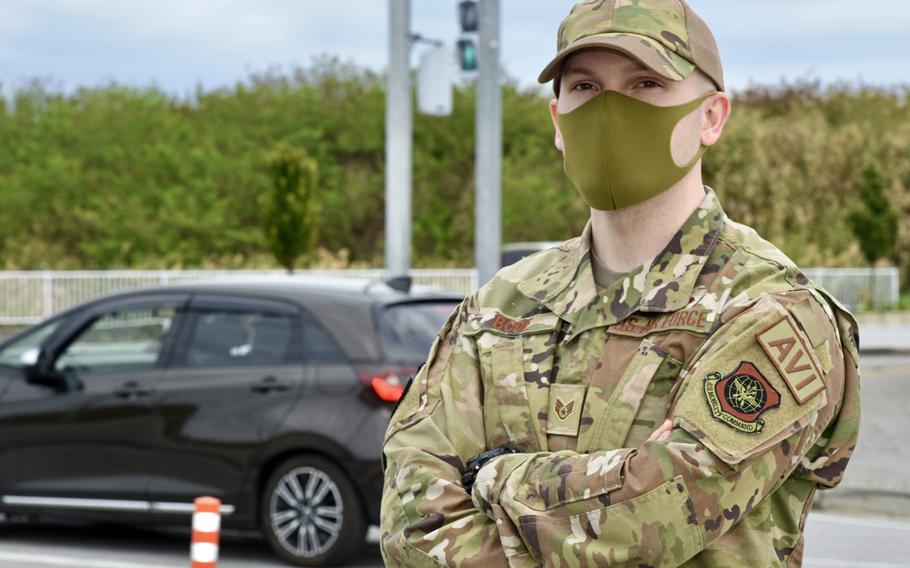 YOMITAN, Okinawa – An Air Force staff sergeant on a grocery run with his wife helped a Japanese farmer escape a burning truck last month, an act that earned the airman his unit's recognition.
Staff Sgt. Garrett Bodie, 32, and Ashley Bodie were walking to a neighborhood store in Yomitan village at about 11:30 a.m. Jan. 22 when a Japanese mini-truck drove past trailing smoke and flames, Garrett Bodie told Stars and Stripes on Friday.
Bodie gave chase and caught up to the idling vehicle at a red light, flames and black smoke billowing from its undercarriage, he said. Standing in front the truck, Bodie waved his arms and in his limited Japanese tried to explain to the driver that it was on fire.
Stopped by the "foreigner," the driver, Seiki Higa, 85, of Yomitan, exited the burning vehicle, a spokesman for the Yomitan Fire Department told Stars and Stripes by phone Wednesday. At the time, Higa was heading home from his vegetable farm, he told Stars and Stripes by phone Feb. 8.
"I was surprised when the American man came to me, saying something," Higa said.
"Everything happened so quickly," he said later. "When I realized, he was already gone, and I couldn't even say thank you."
Two Japanese passersby stopped to help, one with a fire extinguisher from a nearby convenience store; the other looked after Higa, Bodie said. No one was injured in the incident, the fire department spokesman said.
"[Bodie] was so kind. He even bought a bottle of water from the convenience store and gave it to the one who was extinguishing the fire. They coordinated really well. It was an impressive teamwork," the spokesman said.
On the next workday, Bodie who serves as a support non-commissioned officer in charge with the 733rd Air Mobility Squadron at Kadena Air Base, was recognized at a staff meeting. Later in the week, he received a challenge coin from Chief Master Sgt. Ronnie Woods, the 18th Wing command chief.
"My advice is to trust your instincts," Bodie said Friday. "And try to do the absolute best thing in the moment and treat people the way you want to be treated. Don't pass a problem without attempting to fix it."
Stars and Stripes reporter Mari Higa contributed to this report.
---
---
---
---