Just in case: Airmen prepare for emergency landings at airlift hub in Tokyo
By
Stars and Stripes
February 10, 2022
---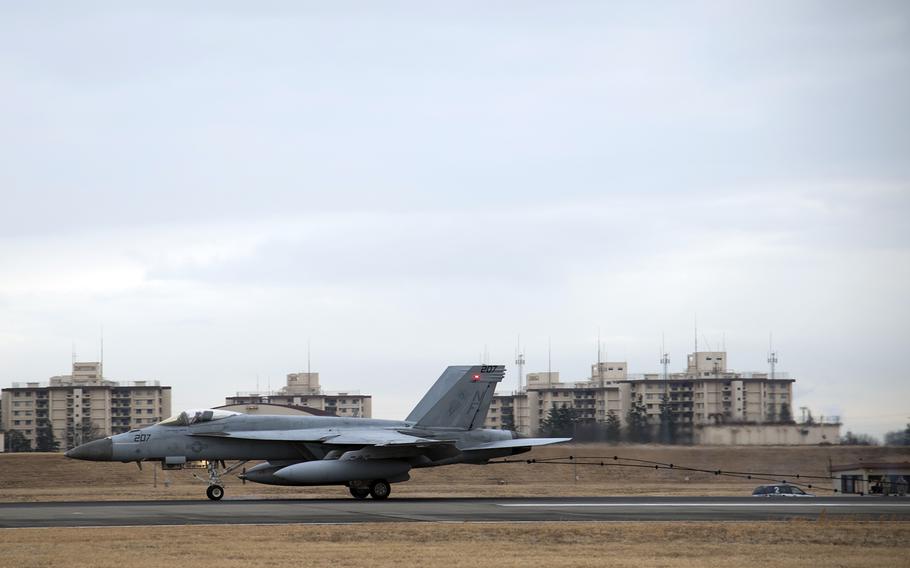 YOKOTA AIR BASE, Japan – Once a year, at least, this Air Force installation in western Tokyo acts like an earthbound aircraft carrier.
Two Navy F/A-18 Super Hornets visited Yokota on Friday to test the airfield's aircraft arresting system, which operates like the systems used routinely aboard carriers.
Each fighter in turn made one pass down the runway — one from the north and the other from the south — dropped its tailhook and grabbed a cable stretched across the runway. The cable spooled out and slowed the fighter to a stop, just like it would aboard a carrier.
At Yokota, the arresting cable isn't a routine piece of equipment; it's a lifesaving option for pilots who must make an emergency landing, Tech. Sgt. Justin Frodge of the 374th Civil Engineer Squadron told Stars and Stripes by email Tuesday.
"The Aircraft Arresting Systems are ultimately here to save a pilot's life," he said. "In the event of an in-flight emergency, being able to stop a fighter either on takeoff or landing while the aircraft is malfunctioning is critical to the pilot's safety."
The system is tested and certified ready for use each year, Master Sgt. Aaron Woods, deputy airfield manager with the 374th Operations Support Squadron, told Stars and Stripes on Feb. 3.
Woods said Yokota's arresting system can be a benefit to pilots from Misawa Air Base, an Air Force installation in northeastern Japan; or Marine Corps Air Station Iwakuni near Hiroshima; and Kadena Air Base on Okinawa, along with many others.
"It is so important to this base because we are a primary divert for the fighter aircraft in this region," he said. "Yokota base doesn't have fighter aircraft that are assigned to it, but we have a lot at our surrounding units at Misawa, Kadena, Iwakuni, and when carriers are in the area. In the event they have an emergency they can divert here and land safely."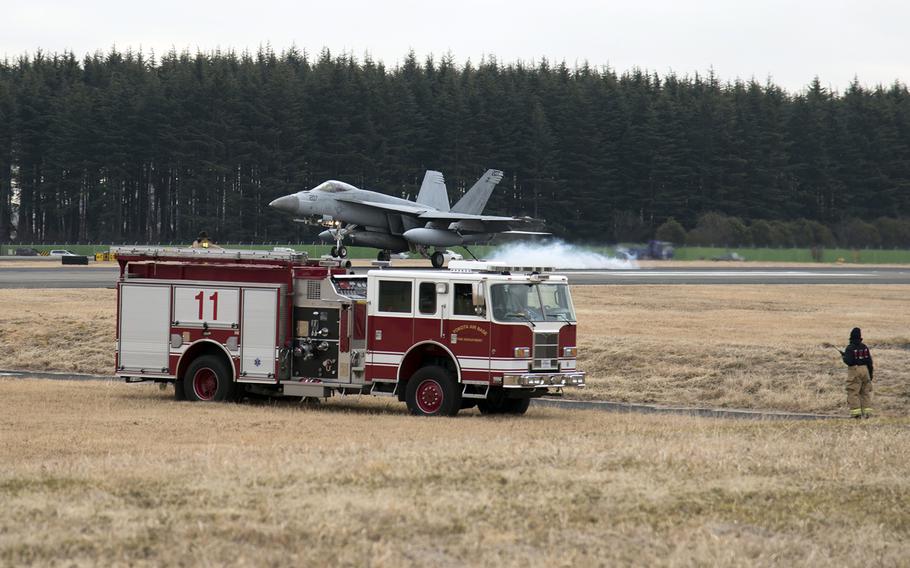 Super Hornets flown by pilots from Navy Strike Fighter Squadron 27 based at MCAS Iwakuni conducted the brief, successful tests at Yokota. Air Force F-15 Eagles and F-16 Fighting Falcons are also equipped with tailhooks for such an emergency.
Located at both runway ends, an arresting cable is attached to over 1,000 feet of high-strength nylon tape on reels. As the tape reels out, it causes the hydraulic brakes of the arresting system to quickly slow and stop the aircraft safely, Frodge said in his email.
Beside the annual test, the aircraft arresting system is checked frequently to ensure it's always ready in case a pilot needs to make an emergency landing, Frodge said.
"The Barrier Maintenance crews are physically checking the systems every day, as well as following a strict operations and maintenance schedule," he said. "This is to ensure that the system is available on short notice to catch an aircraft any time it's needed."
---
---
---
---