Possible deployment of US Reaper drones irks residents of city in southern Japan
By
Seth Robson and Hana Kusumoto
Stars and Stripes
February 9, 2022
---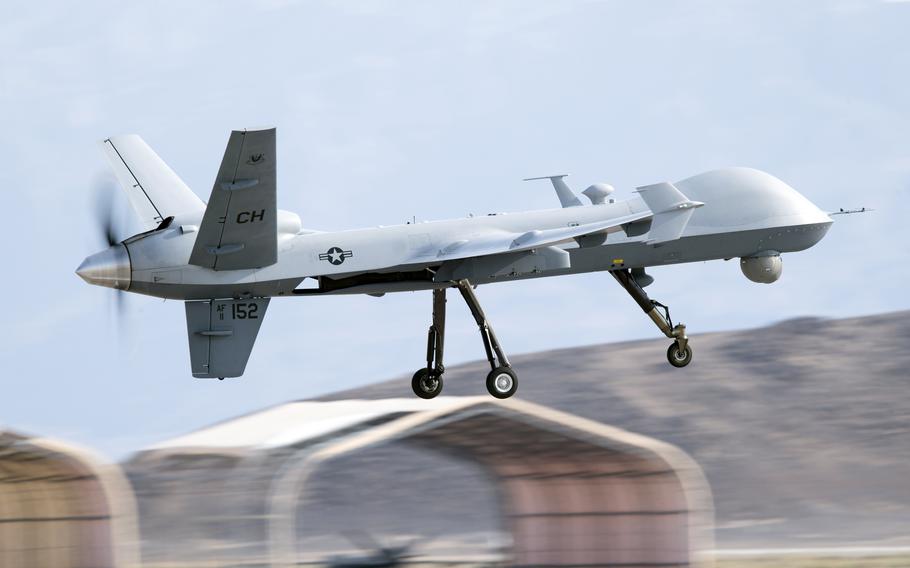 TOKYO – People living near a Japanese military base in Kagoshima prefecture have urged local officials to oppose a plan to send U.S. hunter-killer drones there.
Japan and the United States are considering a temporary deployment of MQ-9 Reaper drones to improve the alliance's monitoring and surveillance capabilities, Japanese Defense Minister Nobuo Kishi told reporters Jan. 28.
The Reapers could fly out of Kanoya Air Base, he said, but a survey must be done before a decision is made on where to station the drones.
U.S. Forces Japan did not respond this week to telephone and email queries about the possible deployment.
Local opponents of the drones urged Kanoya city officials on Feb. 3 to oppose the deployment, a residents' group leader said.
"It is unavoidable that [the deployment] will threaten peace, safety and security of the lives [of the residents], so the city should adamantly oppose [the plan]," Tokuji Matsushita, leader of Article 9 Association Osumi, told Stars and Stripes by phone Monday.
Japanese media reports say as many as 100 U.S. service members may deploy with the drones, raising concerns about off-base accidents and incidents, Matsushita said.
The city's position could be factored into any decision by the U.S. and Japanese governments about the drones. Kanoya is waiting for more information before taking a position, local officials said Monday.
The Defense Ministry plans to survey the base in spring, Takuya Wakita, head of the city's policy promotion division, told Stars and Stripes by phone Monday.
"We told them that we have not received any specific explanation, so we want to wait to hear the details before we make the decision," Wakita said.
Kanoya has been visited in recent years by increasing numbers of U.S. military aircraft from Okinawa and Marine Corps Air Station Iwakuni, but the proposed drone deployment is different, Wakita said. They will be used to monitor and collect data on China, which could make Kanoya a target, he said.
"It is a weapon, which directly links to war," he said.
Kanoya Air Base is already home to P-3C Orion maritime surveillance planes and UH-60J Black Hawk and SH-60K Seahawk helicopters from the Japan Maritime Self-Defense Force. U.S. aircraft such as Marine Corps KC-130 tankers and Osprey tiltrotor aircraft visit the base during training.
The Reapers, made by General Atomics of San Diego, can carry 3,000 pounds of ordnance and first saw combat in Afghanistan in 2007 and Iraq the following year. The U.S. has employed them on numerous missions throughout the Middle East and Africa.
The Air Force exercised its Reapers in September 2020 from Point Mugu, Calif., putting them through a number of tasks, including search and rescue, intercepting ships at sea and coordinating attacks.
Airmen involved in the exercise wore a patch depicting an MQ-9 Reaper drone flying over China, spurring a retort from the state-run Global Times newspaper that described it as an "extremely arrogant provocation."
The drones could come in handy at sea, Lt. Col. Brian Davis, commander of the 29th Attack Squadron at Holloman Air Force Base, N.M., told Stars and Stripes for a report on the 2020 exercise.
"We are just as capable [at sea] without changing our weapons in any way," he said. "I think you are going to see the MQ-9 utilized in other locations."
---
---
---
---