Drone company DJI obscured ties to Chinese state funding, documents show
By
The Washington Post
February 1, 2022
---
Chinese dronemaker DJI, a leading supplier of drones to U.S. law enforcement, obscured its Chinese government funding while claiming that Beijing had not invested in the firm, according to a Washington Post review of company reports and articles posted on the sites of state-owned and -controlled investors, as well as analysis by IPVM, a video surveillance research group.
The documents show that four investment bodies owned or administered by Beijing have invested in the popular drone brand in recent years, including a state asset manager that has pledged to play a key role in promoting partnerships between private enterprises and the Chinese military.
Brendan Carr, the senior Republican on the Federal Communications Commission, which authorizes DJI's equipment for use on U.S. communications networks, labeled reports of the links as "deeply concerning" in an interview. The FCC proposed changes last year that could severely limit access to U.S. markets for companies deemed a national security risk.
Scrutiny of DJI comes as the company is already facing action by U.S. regulators over its ties to Beijing's security apparatus. DJI was among eight Chinese companies added to a U.S. investment blacklist by the Treasury Department in December over sales of its drone equipment to police in Xinjiang, where U.S. officials said it has been used to surveil ethnic Uyghurs. In 2020, the company was added to the Commerce Department's Entity List, restricting its access to U.S. components.
The Defense Department clarified last year that its 2017 ban on the purchase of DJI drones remains in place except under very limited circumstances. The Pentagon previously said the Chinese drones pose a national security threat due to "an increased awareness of cyber vulnerabilities."
DJI still accounts for the majority of consumer drones used in the United States. As of 2020, DJI held 77% of the American hobby drone market, while a Bard College study showed DJI drones accounted for around 90%t of the drones in its database used by public safety agencies in the United States, including state and local police, as well as fire and emergency services.
The company is not publicly traded and its Hong Kong ownership structure means its full list of investors is not public — highlighting the broader challenges that investors and governments face in uncovering links between private Chinese tech firms and Beijing, according to the Bethlehem, Pa.-based IPVM, which first surfaced some of the financing links between DJI and Chinese state investment funds.
DJI did not comment on questions about whether Chinese government controlled funders were investors in the company, but maintained it had not received "direct" investments from the Chinese government.
"DJI is privately held. The company is solely managed by and majority-owned by the founder team. Shareholders other than the founders do not participate in the company's management and operation," said Adam Lisberg, a DJI spokesman.
The funds that list DJI as an investment include China Chengtong Holdings Group, which is directly administered by Beijing's state-owned Assets Supervision and Administration Commission (SASAC), a ministerial-level organization tasked by China's State Council to manage the country's state-owned enterprises.
"If SASAC isn't the PRC [People's Republic of China] government, I don't know what is. If SASAC has invested in you, that means the Chinese government has invested in you," said Charles Rollet, the IPVM analyst who uncovered the links between DJI and China Chengtong, which invested in DJI through an emerging technologies fund, according to company documents.
"It directly contradicts what [DJI] have been touting to allay concerns around the Chinese government," Rollet said. "DJI has been saying they have no Chinese government investments. This evidence directly contradicts that."
Other funds that list DJI as an investment include the Shanghai Venture Capital Guidance Fund, which is administered under the Shanghai Municipal Government. Guidance funds in China mix state assets with private funds to advance Beijing's industrial development goals in emerging industries.
A Chinese language S&P global report released in March 2021 says that state-run Guangdong Hengjian Investment Holding invested in DJI alongside SenseTime, which was also added to a sanctions list in December by the Biden administration over alleged rights abuses in Xinjiang.
SDIC Unity Capital a fund administered by the State Development & Investment Corporation (SDIC) a state-owned investment holding company approved by China's State Council, also lists DJI as an investment on its website.
The four state funds did not respond to requests for comment.
- - -
While Americans and most federal and local agencies are not restricted from purchasing DJI drones, further regulatory action could threaten the company's tight hold on the U.S. market.
"One of the independent bases that we have for taking action at the FCC is the lack of candor, so separate and apart from any national security concern, if you lack candor that contributes to our assessment of whether you are qualified to get FCC authorizations or FCC licenses," said Carr, the FCC commissioner.
Carr has called for DJI to be added to the FCC's Covered List, which bans access to federal Universal Service Fund (USF) subsides that are available to companies for the upkeep of telecommunications infrastructure. Current firms on the list include the Chinese telecommunications giants Huawei and ZTE.
DJI is not directly eligible for USF subsidies and funding, given it is not a telecommunications provider, said Carr, but the FCC proposed changes last year that would ban equipment authorizations for companies on the Covered List, a move that would mean DJI equipment could not operate legally on U.S. communications infrastructure if it were added to the list.
In November, President Joe Biden signed into law the Secure Equipment Act, which requires the FCC to adopt such bans for companies on the Covered List before the end of the year.
The FCC has signaled it will take a tougher stance on regulating national security threats, but a spokeswoman wouldn't comment directly on DJI.
"The FCC has also just asked its national security and law enforcement partners to determine whether updates are needed to the agency's Covered List in light of new evidence of cyberthreats," FCC spokeswoman Paloma Perez said.
DJI, founded in 2006 by CEO Frank Wang when he was a student at Hong Kong University of Science and Technology, is one of just a few Chinese technology brands to claim global dominance in high-end consumer hardware over the past decade.
That success is also what has attracted state-owned and -administered investors, according to information posted on the websites of the funds.
China Chengtong invested in DJI through a government fund worth $55.3 billion, according to a 2018 company report. It's not clear how much the fund invested. The fund was authorized by China's State Council and SASAC in 2016 and is headed by China Chengtong's chief Zhu Bixin.
An October 2019 article posted on China Chengtong's website confirms the funding and shows images of the fund's deputy party secretary visiting a DJI facility in Shenzhen with a team to "conduct special research" on the investment.
"DJI adheres to the guidance of Xi Jinping thought on socialism with Chinese characteristics for a new era," the article said, referring to China's president.
The tour took place almost exactly a year before DJI posted a "myth busting" blog on its English-language website, saying it received no Chinese government funding amid rising pressure from U.S. regulators.
"DJI did not receive any Chinese government investments, but American venture capital firms invested more than $100 million," the blog said.
China Chengtong did not respond to emailed requests for comment, but it says on its website that its goals are to "to mainly serve the innovation and development of central enterprises . . . and increase capital support for major national strategies such as the Belt and Road project and military-civilian fusion."
Military civilian fusion is a Chinese policy that was elevated to a national-level strategy in 2015 and is designed to remove barriers between the country's private high-tech enterprises and the People's Liberation Army.
- - -
While national security concerns landed DJI on the U.S. Commerce Department's Entity List in 2020, it's the company's ties to Xinjiang security operations that have brought the firm under increased scrutiny in the past year.
Cooperation between DJI and Xinjiang's Public Security Department was previously disclosed in a 2017 agreement reported on by Bloomberg News. More recent contracts uncovered by IPVM, the research firm, show that Xinjiang police and other local authorities continue to purchase DJI's technology.
The Post reviewed documents collected by IPVM outlining seven procurement orders for DJI technology by separate Xinjiang police public security departments since 2019, with a combined value of almost $300,000.
They include a procurement document issued in December by police in Xinjiang's Aksu region that requests $132,000 worth of DJI drones, which can conduct advanced 3-D mapping, according to product specifications. In September, in the northern Xinjiang region of Karamay, the police ordered several advanced DJI drones worth $75,000.
The purchases highlight the ongoing use of DJI's technology in the Xinjiang region, where experts say over a million ethnic Uyghurs have been detained in recent years as part of a vast crackdown assisted by China's private surveillance industry.
Four other documents outline $47,000 worth of tenders issued by Xinjiang Production and Construction Corps (XPCC) units for DJI drones. Added to a sanctions list by the U.S. government in 2020 over human rights abuses, the XPCC is a state paramilitary organization that oversees the administration of several cities and regions in Xinjiang.
The Washington Post's Christian Shepherd and Pei Lin Wu in Taipei and Lyric Li in Seoul contributed to this report.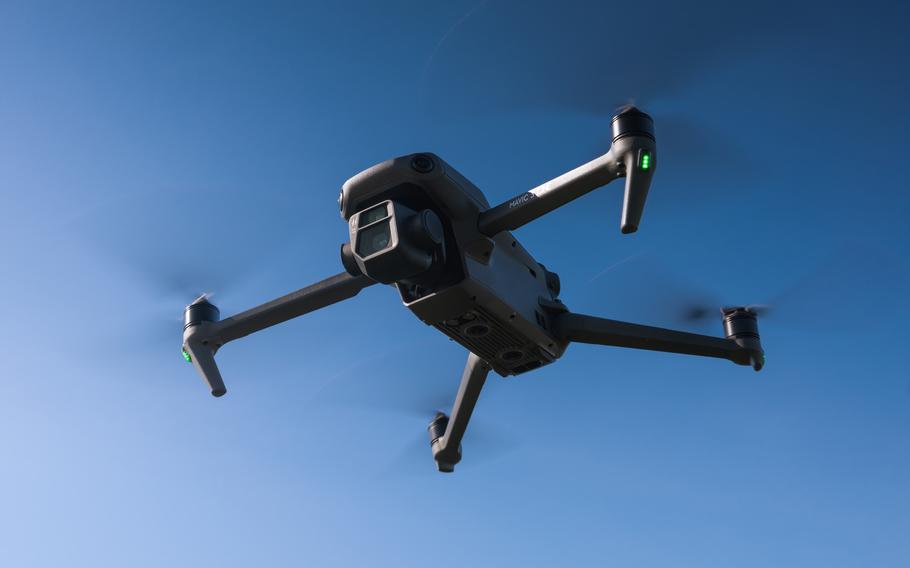 ---
---
---
---