Tourist passport waiver expires soon for official travel to Germany, Japan, South Korea
By
Stars and Stripes
January 25, 2022
---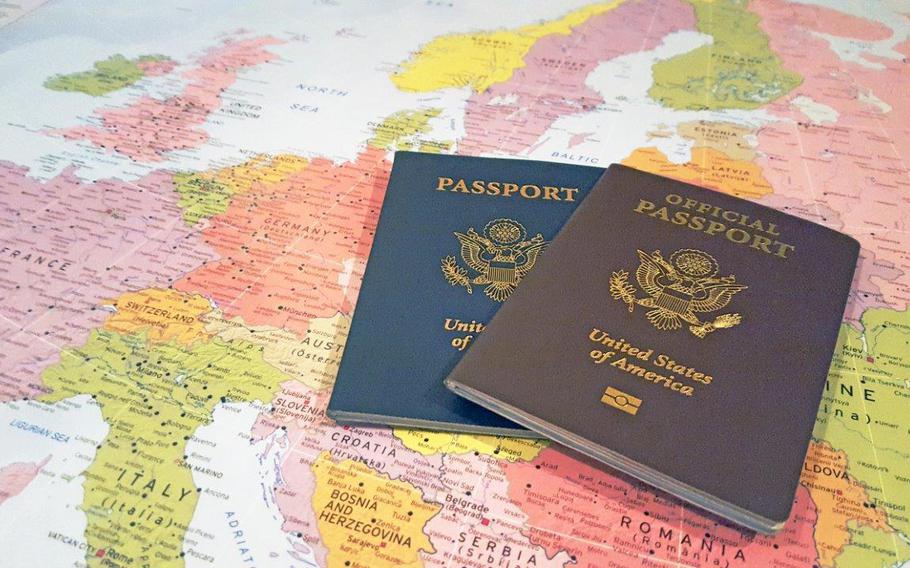 Special issuance passports will soon be the only option for Defense Department civilians and dependents boarding Patriot Express flights bound for Germany, Japan and South Korea.
A waiver allowing tourist passport holders to take the government-contracted air service for a permanent change of station, or PCS, ends March 31, according to an update last year to the DOD's Foreign Clearance Guide. After that, no-fee official passports will be required.
Active-duty personnel are still able to board flights without a passport and enter those countries with just their military ID and travel orders.
Blue-covered tourist passports had for years been acceptable for military family members' PCS travel. Official passports, which fall under the special insurance category, have also been an option for DOD civilians, their family members and contractors.
To obtain a waiver, an application for a no-fee passport must be submitted to the applicant's base passport office, according to Lisa Williams, a passport agent at Joint Base San Antonio-Lackland, Texas.
The change came into place largely because of the coronavirus pandemic, Air Mobility Command spokeswoman Lindsey Wilkinson recently wrote in an email to Stars and Stripes. The DOD twice delayed the deadline for ending the tourist passport waiver, first in June and again in September, to alleviate travel delays and to give the department more time to make the change.
Dependents traveling by commercial airlines may also face difficulty without an official passport or waiver, said Brittany Nelson, spokeswomen for the Army Installation Management Command.
"Dependents may be turned away at the airline or experience other travel delays if they are identified as traveling on official government travel for a PCS without having the appropriate documentation for travel," she told Stars and Stripes by email on Jan. 14.
If dependents enter Germany via commercial air with a blue tourist passport and without the waiver, they may face deportation after 90 days, Williams said.
"The passports you purchase will allow you to stay in the country for 90 days, and after 90 days the country has the option to tell you to leave at your expense," she told Stars and Stripes by phone Jan. 8. "The no-fee passport will allow you to stay in the country for the duration of the assignment."
For entry into Japan, civilian travelers affiliated with the U.S. military just need any valid passport and their other required documents, U.S. Forces Japan spokeswoman Lt. Col. Brooke Brander told Stars and Stripes by email on Wednesday.
"In Japan, SOFA status is verified at the immigration control point upon entry to Japan and each category of SOFA status personnel has a different documentation requirement for entry," she said.
The no-fee passport requirement for the Patriot Express is expected to cause a high volume of requests at base passport offices during peak PCS season May through August, according to a legal services representative at Marine Corps Air Station Iwakuni, Japan.
"What we are seeing from our office when we send it out, because it does have to be processed back to the States to when it comes to us, it's taking about four weeks," Catherine Clawges recently told Stars and Stripes by phone.
Passport processing times will vary by location, according to the Marine Corps' Pentagon-based Security Programs and Information Management Branch. Applicants should allow six to eight weeks for their no-fee passport to be issued.
Military dependents who are not U.S. citizens are not eligible for a special issuance passport, Williams added.
"Dependents would need to have a passport from their country of birth," she said.
---
---
---
---