Carrier-landing mishap injures F-35C pilot, six sailors in South China Sea
By
Stars and Stripes
January 24, 2022
---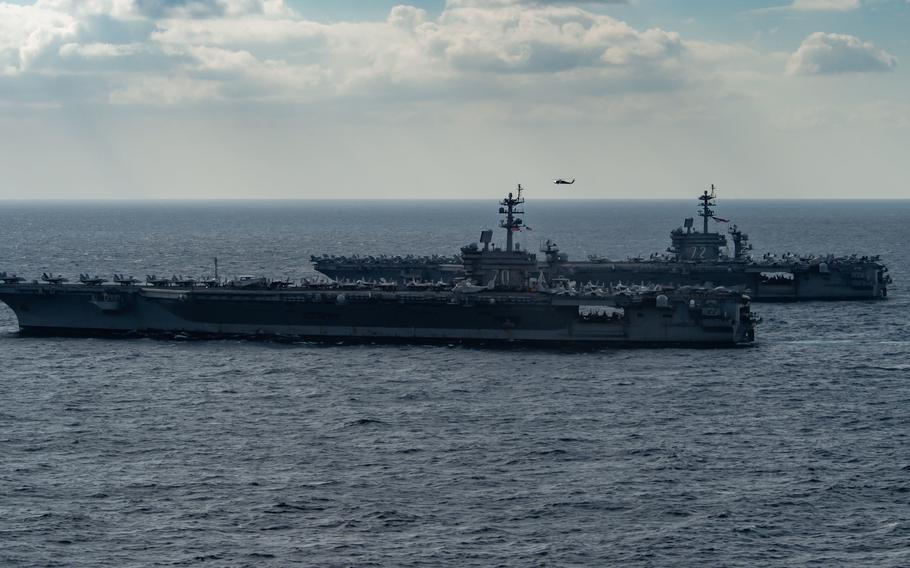 An F-35 pilot is in stable condition after ejecting from the aircraft during a landing mishap on the deck of an aircraft carrier Monday in the South China Sea that injured six other sailors, the Navy said Monday.
The F-35C Lightning II fighter jet, assigned to Carrier Air Wing 2, was landing on the USS Carl Vinson during routine flight operations, the Navy said in a statement. The pilot ejected and was recovered by a U.S military helicopter.
Six other sailors were injured during the crash, said the Navy, which did not provide details on how they were injured or where they were during the mishap.
"There were seven total Sailors injured; three Sailors required MEDEVAC to a medical treatment facility in Manila, Philippines, and four were treated by on-board medical personnel," the Navy said. Three of those treated on board have been released.
The sailors who were evacuated are listed in stable condition, the Navy said.
The cause of the crash is under investigation, the Navy said.
The Carl Vinson and Abraham Lincoln Carrier Strike Groups began dual-carrier operations in the South China Sea on Sunday, according to a Navy news release.
The planned joint operations include "enhanced maritime communication operations, anti-submarine warfare operations, air warfare operations, replenishments-at-sea, cross-deck flight operations and maritime interdiction operations," the Navy said.
Among the nine squadrons of Carrier Air Wing 2 embarked on the Carl Vinson is the F-35C Strike Fighter Squadron 147, known as the Argonauts.
---
---
---
---