Former child actor in South Korea who joined US Army takes new role at UN Command
By
Stars and Stripes
January 24, 2022
---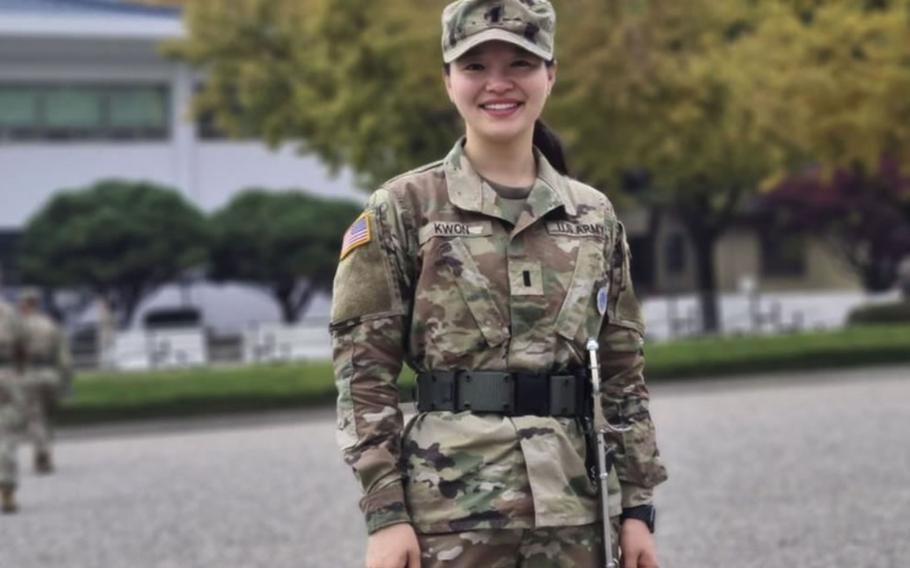 CAMP HUMPHREYS, South Korea — An American child actor who played an important role in a critically acclaimed South Korean film is now stationed in the country her grandparents emigrated from in the 1970s.
"Because of them, I'm here now," Army 1st Lt. Kirsten Kwon told Stars and Stripes earlier this month. "They're the reason why I'm an American citizen."
Kwon, 28, is the executive officer of the U.N. Command Honor Guard Company, roughly 50 service members who carry out the command's ceremonies, such as dignified remains transfers, and provide security for high-ranking officers.
The U.N. Command, established in 1950 to fight the war with North Korea, remains in place 68 years after the shooting stopped. Led by a U.S. general since its inception, the command continues to provide security on the Demilitarized Zone between North and South Korea.
"I do feel grateful that I'm here because I'm in my home country," Kwon said. "I speak the language — so it feels like I'm coming back home."
After the Korean War, Kwon's grandparents left the peninsula to pursue the "American dream," she said.
"I thought that if I can defend their freedom until the end, I will do that," Kwon said.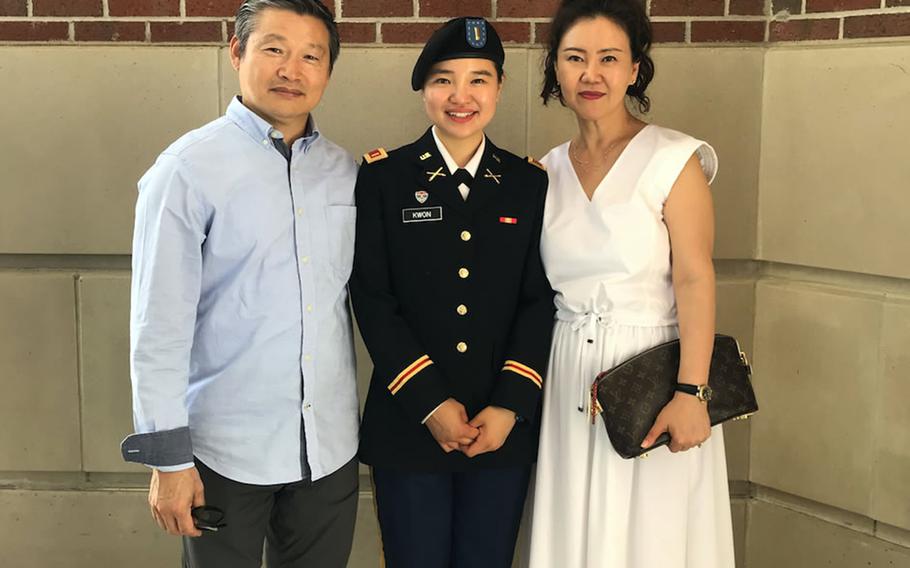 Kwon did not plan for an Army commission despite growing up on U.S. military bases. She was born at Fort Leonard Wood, Mo., and at age 4 moved with her family to South Korea, where her father, Tae Kwon, a Korean American and a noncommissioned officer in the Army, was posted to Yongsan Garrison in Seoul.
While Kwon was raised in the U.S. military community at Yongsan, living in South Korea presented her and her younger brother with opportunities beyond the garrison's gates. The bilingual children starred in various kids shows in South Korea and gained a "little bit of acting experience," she said.
Kwon's film career began at age 10 when a South Korean casting director heard her speaking English and asked her parents if they were interested in a role for her in an upcoming movie.
That film, "Sympathy for Lady Vengeance," featured a star-studded cast and was directed by Park Chan-wook, who is described as "the man who put Korean cinema on the map," according to a New York Times Style magazine column from 2017.
Park also produced "Snowpiercer" in 2013 and directed 2003's "Oldboy," a film that prompted director Quentin Tarantino to label him "one of the most exciting action cinema directors out there," Variety reported.
Released in 2005, "Sympathy for Lady Vengeance" is a psychological thriller about a woman enacting revenge against a man who framed her for murdering a boy. Kwon played Jenny, the English-speaking daughter of the protagonist played by Lee Young-ae.
"I didn't know [it] was a high-profile movie so I took it very lightly," Kwon said. Working with a cast that included Song Kang-ho of "Parasite" and Choi Min-sik of "Oldboy," at times was intimidating, she said.
Following the movie, Kwon played guest roles in several South Korean dramas but focused primarily on her education.
After graduating from the now-shuttered Seoul American High School in Yongsan, she studied political science at the University of California, Berkeley, and graduated in 2016.
Kwon considered joining a research firm or working for a nonprofit agency but ultimately decided the Army was the best route to start her post-college career. She was commissioned through the Army's Officer Candidate School in 2019 and went on to her first duty assignment in South Korea the following year.
"It's such a selfless job that you can have," Kwon said. "Being in the military … it felt like a very noble job."
---
---
---
---