North Korea fires two short-range projectiles, days after its latest 'hypersonic' launch
by
Seth Robson
Stars and Stripes
January 14, 2022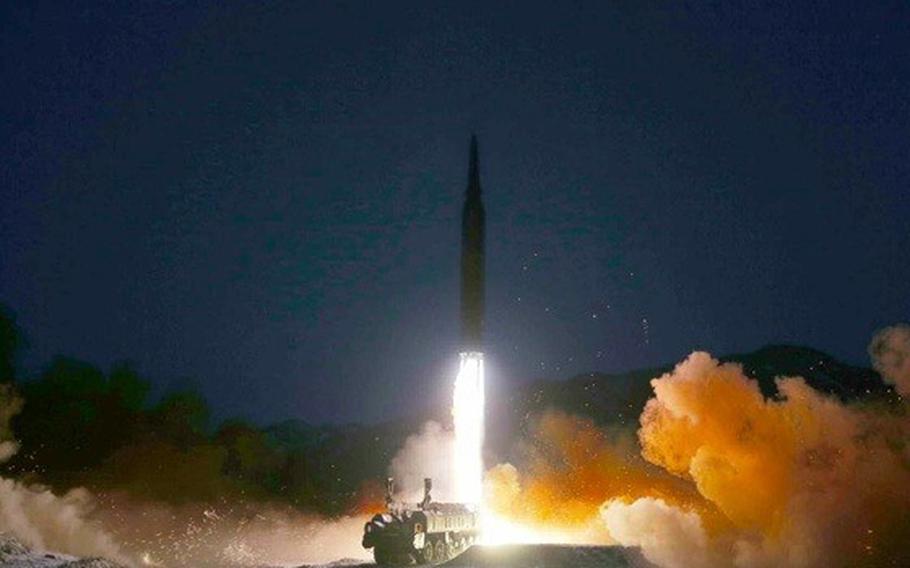 North Korea fired a projectile eastward on Friday, its third such launch in just over a week, according to the South Korean military. The Joint Chiefs of Staff did not offer further details in a message to reporters on Friday afternoon.
North Korea fired two more projectiles into the sea off its eastern coast on Friday, its third and fourth launches of the new year, according to the South Korean military.
The projectiles, fired at 2:41 p.m. from Uiju in North Pyongan province, are presumed to be short-range ballistic missiles, the South's Joint Chiefs of Staff said in a series of messages to reporters Friday afternoon.
They reached a peak altitude of 22 miles and flew over 267 miles, according to the joint chiefs. U.S. and South Korean intelligence authorities were "conducting a detailed analysis" on the missiles' specifications, they said.
"Our troops are maintaining their readiness posture and tracking and monitoring relevant moves in preparation for the North's additional launch," the joint chiefs said.
Meanwhile, Japanese Prime Minister Fumio Kishida ordered officials to analyze launch reports so they could provide information to Japanese citizens, secure the safety of aircraft and ships and be prepared for unexpected situations, according to a post on his office's website.
Days earlier, North Korean leader Kim Jong Un was present when his country test-fired a "hypersonic" ballistic missile off the eastern coast, according to the state-run Korean Central News Agency.
That missile, launched at 7:27 a.m. Tuesday, reached speeds of Mach 10, or 10 times the speed of sound, and was more advanced than one test-fired Jan. 5, South Korea's Defense Ministry said. Tuesday's missile reached a peak altitude of 37 miles and flew over 435 miles.
President Joe Biden's administration sanctioned five North Korean officials in response to those launches. The Treasury Department announced Wednesday it was penalizing the officials for helping to obtain equipment and technology for Pyongyang's missile programs.
The recent launches are a message to the Biden administration,
According to Kim Hyun-wook, an American studies professor at Korea National Diplomatic Academy in Seoul.
North Korea wants sanctions relief and a halt to U.S.-South Korean military exercises on the peninsula, he told Stars and Stripes by phone Friday.
Kim Jong Un "wants to change the Biden administration's posture to North Korea," he said.
The North Koreans are taking advantage of strategic competition between the U.S. and China and assume China will back them up, Kim said, noting that Beijing did not condemn the North's recent missile tests.
The launches are also a display of the regime's power to the North Korean people, who are facing economic hardship due to flooding and the impact of sanctions and the coronavirus, Kim said.
Stars and Stripes reporter Yoo Kyong Chang contributed to this report.
---
---
---
---