From Navy ship to sales: Officer creates a squared-away look for uniform nametags
by
Kelly Agee
Stars and Stripes
January 5, 2022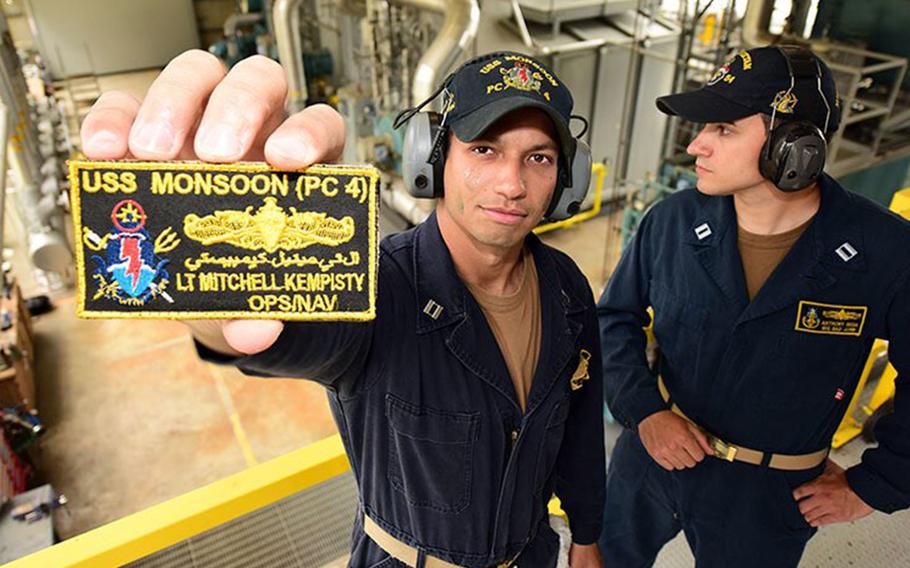 Navy Lt. Mitchell Kempisty, in 2018 a surface warfare officer aboard the patrol ship USS Monsoon, was bothered by the untidy appearance his name tag made on his coveralls.
It kept wrinkling and curling, he said, and looked totally "unsat" on his otherwise neat Navy working uniform.
"I was annoyed with the name tags and just wanted to make something for myself and my ship that would protect the name tags from getting beat up," Kempisty told Stars and Stripes by phone Monday.
Three years after his tour on the Monsoon, Kempisty's improved name tag protector is available for purchase across the Navy. A mainstay maker of military insignia, Vanguard, is marketing his design, dubbed The Enforcer, online at Vanguardmil.com with plans to get it on shelves at Navy Exchanges.
"We saw his idea and thought it had great merit," Michael Harrison, chief operating officer of Vanguard, told Stars and Stripes by phone Monday. "We have a distribution network that the lieutenant does not have, so it is beneficial for all parties.
Kempisty said he saw a learning opportunity in the path from an idea to a patented product.
A native of Laurel, Md., and a Naval Academy graduate, Kempisty bought a basic 3D printer, learned computer-aided design and cranked out a prototype of the nametag protector.
His invention is a backing board attached to the name tag, with Velcro that attaches the board to the uniform, keeping the nametag neat and straight. The board keeps the name tag stiff, so no more wrinkles or curls. It keeps name tags neat not just on coveralls but on flight suits and other uniforms, too.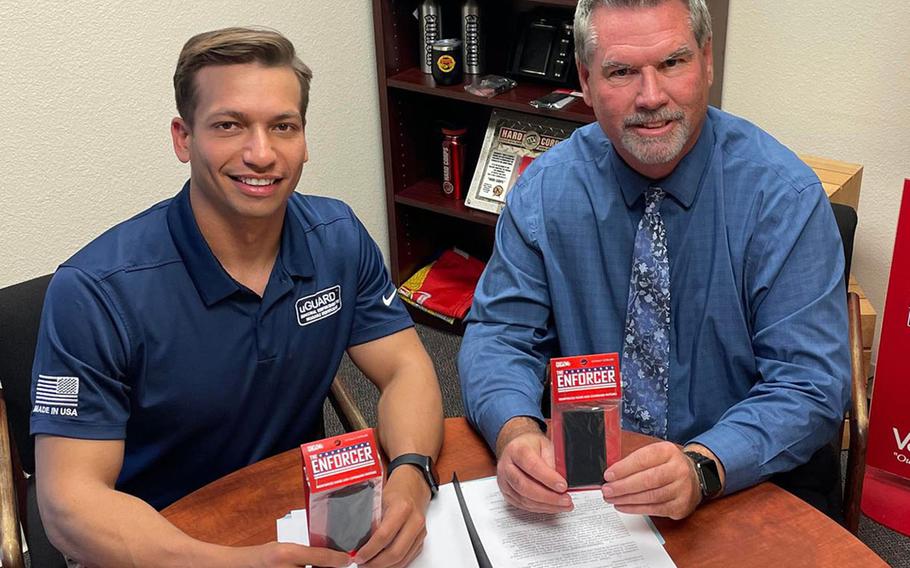 Kempisty's prototype proved resilient, standing up to repeated wear and being constantly pulled from the uniform by its Velcro backing.
Next, he patented his invention, a process that took 1 ½ years from submitting a proposal to approval by the U.S. Patent and Trademark Office. After that, he worked with a manufacturer to produce them in quantity under the name uGuard.
Kempisty's big break came when Vanguard approached him in May after the Navy Times reported on Kempisty's invention.
Vanguard renamed the invention and started to manufacture it.
"This product is important if you just want to stand out from your peers a bit," Harrison said. "It gives a great overall appearance and enhances the detail of your name identification badges on various styles of military uniforms."
Kempisty said he licensed his patent to Vanguard and receives royalties for the invention. Over the past three years, the project has cost him about $5,000, including research and development.
Kempisty said his drive to build a better name tag taught him many lessons.
"To get this on the shelves taught me that I can take any 'shower thought' and turn it into an invention with only drive and effort," he said. "I had a lot of things working against me over the years, and a lot to learn from scratch about modeling, 3D printing, patents, manufacturing and licensing. I did not know any of that stuff when I started. I spent my personal time just figuring it out and working with the right people to help."
---
---
---
---