South Korea welcomes back New Year's concerts. But with no singing along, please.
by
Min Joo Kim
The Washington Post
January 1, 2022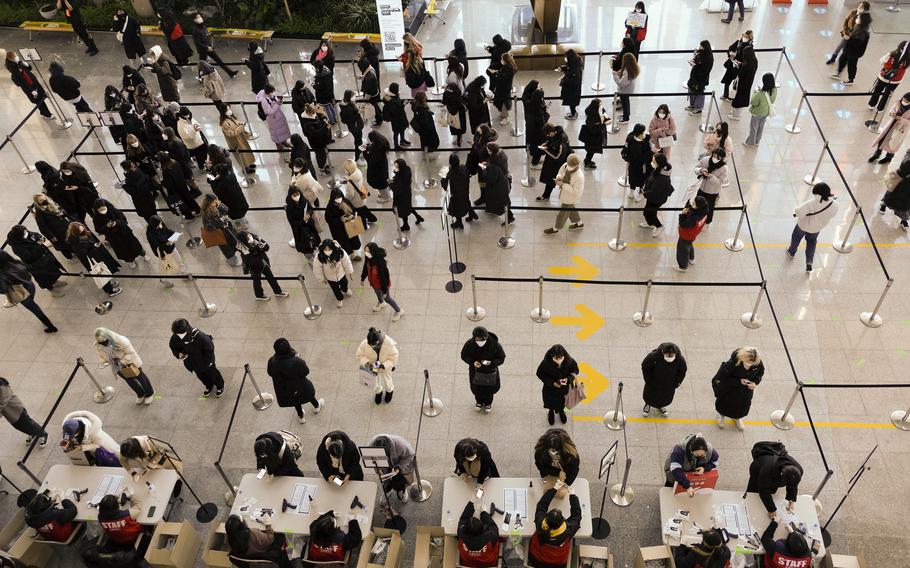 GOYANG, South Korea - No singalongs, no high-fives with the band, and please try to keep the squeals of joy to yourself. A strange new reality greeted live audiences at a New Year's Eve concert in Seoul after a long pandemic hiatus.
"Did you all miss us?" said glitzy lead dancer of K-pop supergroup Seventeen to a muted crowd in the Seoul suburb of Goyang. Conspicuously absent was the familiar explosion of cheers. A "no shout" warning was beamed throughout the half-full venue.
Live music cautiously resumed in November under South Korea's "living with covid-19" reopening plans, but concerts were quickly scrapped in December amid a spike in hospitalizations and concerns about the omicron variant. For New Year's Eve, some shows went ahead, but under strictly enforced rules on social distancing, masks and the disorienting quiet from the audience - which is normally belting out the tunes along with the bands. In Goyang, the crowd size was trimmed from about 5,000 to 2,700.
It was a sobering message that the pandemic is still holding tight in 2022. Last summer in Japan, similar no-cheering hush was contemplated for the Olympics before organizers decided to run the Tokyo Games with largely empty venues.
"Clap for us at least? . . . It's our first in-person concert in such a long time," said Hoshi, a member of boy band Seventeen. "If you've missed us, clap, clap, clap, clap until you set your hands on fire."
And fans also waved light sticks synced by Bluetooth to flash along to the music. A statement from the concert organizers - management agency HYBE, the Seoul-based K-pop powerhouse that manages popular acts including BTS - said it hoped to prevent the "physical distance from resulting in a psychological distance between fans and artists."
"It's disappointing, but I think I am more excited just to be able to see them," said Mikaela Hayes, a 25-year-old international schoolteacher who traveled from South Korea's southern Jeju Island to attend her first concert since the pandemic began.
The concert brought some of HYBE's main acts such as Seventeen, Tomorrow X Together, Enhypen and fromis_9. But mega-band BTS did not make an appearance after announcing an "extended period of rest" starting December.
Three members of BTS have been diagnosed with covid-19 last week after returning to South Korea from the United States, where the group had its first concerts in two years.
The Goyang concert was live-streamed across more than 100 countries. The K-pop stars at the New Year's Eve concert shared their wishes for 2022 to cap off the night.
"The biggest wish for the new year is to have far more opportunities like tonight's to be together with our MOAs," said Soobin, leader of boy band Tomorrow X Together, referring to the name given their fan base. Earlier during the pandemic, the quintet gave a teenage account of how the coronavirus restrictions took a toll on their generation in a song called "We Lost The Summer."
"From a cultural perspective, resumption of live music is desirable but we are still concerned about infection risks," said Choi Jong-hyun, a Goyang city government official who inspected the venue ahead of the concert. "We are trying to strike a fine balance here."
---
---
---
---