Pentagon streamlines process for deploying National Guard in DC
by
Wyatt Olson
Stars and Stripes
December 31, 2021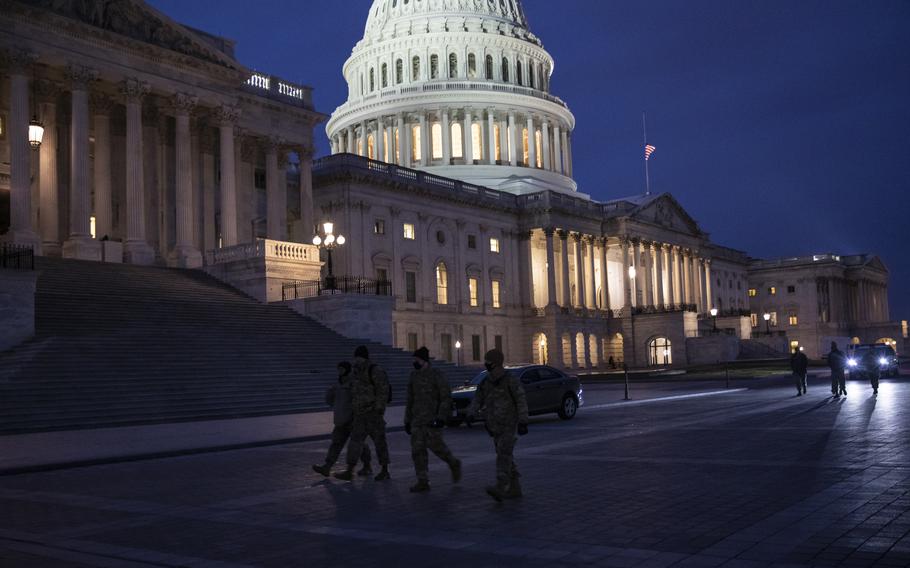 The Defense Department on Thursday streamlined the process for activating District of Columbia National Guard troops to assist local law enforcement by establishing a single point of contact within the Pentagon.
The change comes almost a year after the Jan. 6 insurrection in Washington, D.C., during which rioters stormed the U.S. Capitol and sent lawmakers into hiding.
Questions swirled in the aftermath about the delay in sending in National Guard troops to quell the riot and assist the Capitol Police, who were vastly outnumbered and overrun by supporters of then-President Donald Trump seeking to stop the certification of President Joe Biden's electoral win.
In the spring, Defense Secretary Lloyd Austin ordered a review of how the Defense Department handles requests for support in the National Capital Region, "including approval authorities, request processes, planning, available forces, command relationships, staff support, and training exercises," Pentagon press secretary John Kirby said in a statement Thursday.
Austin issued a memo Thursday to Secretary of the Army Christine Wormuth establishing an executive secretariat as the single entry point for federal and local requests for National Guard assistance "for both pre-planned and time sensitive events," Kirby said.
"The Secretary of Defense is now the single approval authority for all requests that would involve District of Columbia National Guard personnel participating directly in civilian law enforcement activities or that require the deployment of [D.C. National Guard] personnel within 48 hours after receipt of the request," Kirby said.
---
---
---
---