Abrams' remarks on China challenge 'very surprising' to South Korean military
by
David Choi
Stars and Stripes
December 28, 2021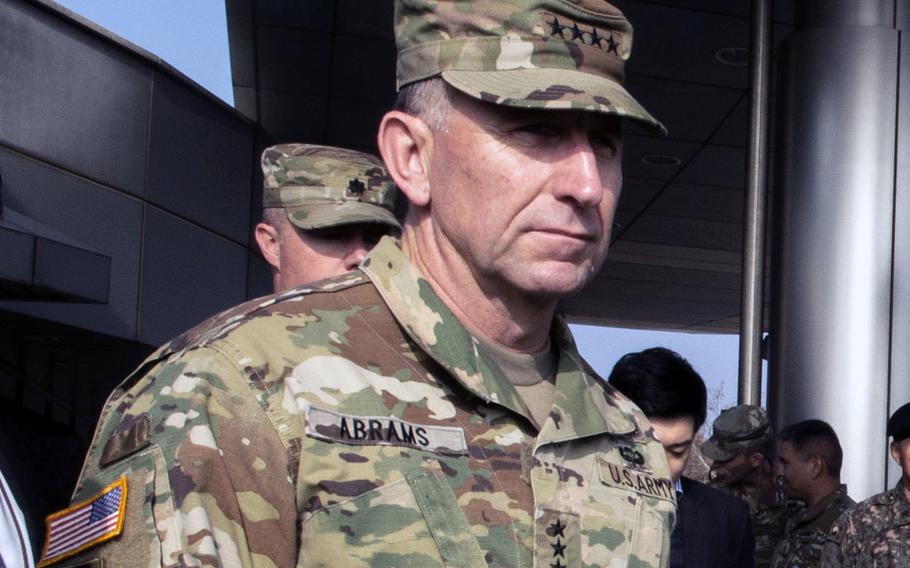 CAMP HUMPHREYS, South Korea — South Korea's Ministry of National Defense on Monday pushed back against remarks by a former commander of U.S. Forces Korea who said wartime plans against North Korea must account for China's militaristic influence in the region.
North Korea's weapons testing demonstrates that it persists as a threat, but the Chinese military also has "to be accounted for in the war plan," retired Gen. Robert Abrams, who led USFK and U.N. Command until July, said on Voice of America on Saturday.
"It's not a secret that they have increased their presence in and around the Korean Peninsula since 2010," Abrams said, referring to China's military.
"These are indications of things that have to be accounted for in the war plan that the current [guidance] does not contain," he said.
Abrams was talking about the next version of the Strategic Planning Guidance, a joint U.S.-South Korean military plan for a potential war with North Korea.
However, South Korean Ministry of Defense spokesman Boo Seung-chan on Monday described Abrams' remarks as his "personal opinion" and his reference to China as "very surprising."
During a news conference, Boo recalled that Defense Secretary Lloyd Austin and Defense Minister Suh Wook agreed to update the decade-old war plan to address emerging threats and situational changes.
In his VOA interview, Abrams referenced the many times in which Chinese aircraft entered South Korea's air defense identification zone — a buffer between a country's airspace and international airspace in which approaching aircraft are expected to identify themselves.
Two Chinese and seven Russian military aircraft flew into the South Korean zone on Nov. 19, prompting South Korea to scramble fighter jets and a refueling tanker, according to a statement from the country's Joint Chiefs of Staff at the time.
The Defense Department has described China as its "pacing challenge" and in February launched a 15-member China Task Force to assess the U.S.'s current strategy.
"China is seeking to overturn the current rules-based structure, which has benefitted all nations in the Indo-Pacific region," the Defense Department said in a news release Feb. 10. "The United States and its allies seek to continue the free and open environment in the region. China is using all elements of national power to bend the nations to its will."
South Korea continues to balance its diplomatic relationship with neighboring China and its longtime ally in Washington, D.C. Envoys from South Korea are still in discussions with China, North Korea and the U.S. over a possible declaration to formally end the 1950-53 Korean War.
South Korean President Moon Jae-in on Dec. 13 said the three countries have agreed "in principle" to formally end the war and that he hoped it would generate "significant dialogue momentum." choi.david@stripes.com Twitter: @choibboy
---
---
---
---