Rationing begins as McDonald's Japan is struck by holiday french fry shortage
by
Alex Wilson
Stars and Stripes
December 23, 2021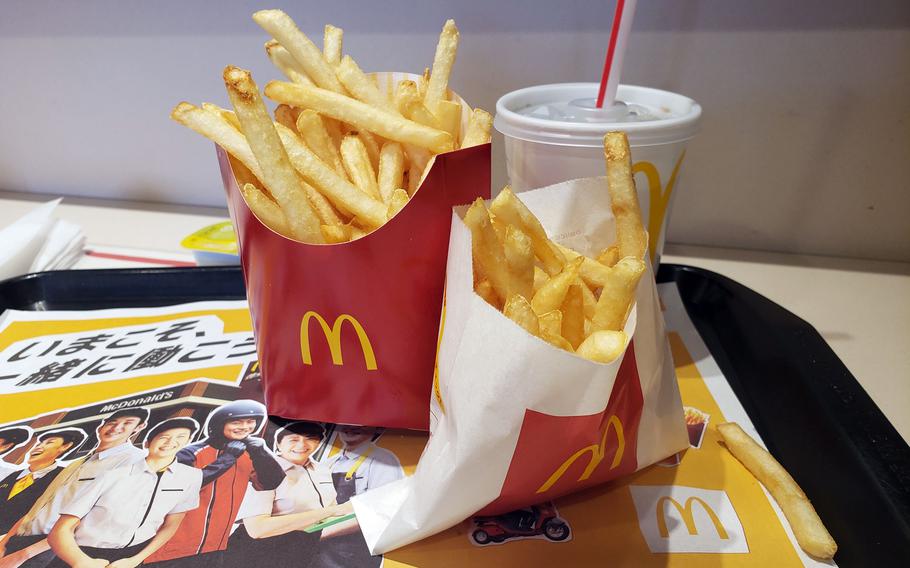 Bad weather and global supply chain disruptions are leaving McDonald's restaurants in Japan a few fries short of a large combo, though restaurants on U.S. military bases are, so far, unaffected.
McDonald's Japan is limiting diners throughout the country to small orders of fries from Friday through Dec. 30, according to an announcement Tuesday from the company.
McDonald's managers at Yokosuka Naval Base and Naval Air Facility Atsugi told Stars and Stripes that the shortages haven't reached their restaurants yet.
However, Minako Takamune, general manager at the Yokosuka McDonald's, said by phone Thursday that french fries may soon be in short supply there, too.
"Hopefully, we're not going to be [limiting purchases], but it may happen in a few days," Takamune said. "If we have lots of customers, it might happen; but if there's not a lot of customers, we can continue to serve medium and large sizes."
Large-scale floods near the Canadian port of Vancouver — a transit point for shipping services — and disruptions in the supply chain caused by the coronavirus pandemic are behind the potato shortage, according to McDonald's Japan.
The company said it is limiting fry orders for the week so customers can still enjoy them despite the shortage.
A shift manager at the Atsugi McDonald's, Nana Oda, said the restaurant has no immediate plans to limit fry orders.
"We have a lot of french fries, so we don't have any limitations," she said by phone Thursday.
The McDonald's Japan french fry shortage is another in a long line of shortages and delays caused by global shipping disruptions that have affected areas such as agriculture, raw materials and manufacturing.
Those disruptions include soaring demands for goods, large surges in shipping costs, workforce shortages and an increase in waiting time to unload cargo at ports.
---
---
---
---