Holiday flush: Navy begins monthlong purge of military water system on Hawaii
by
Alex Wilson
Stars and Stripes
December 21, 2021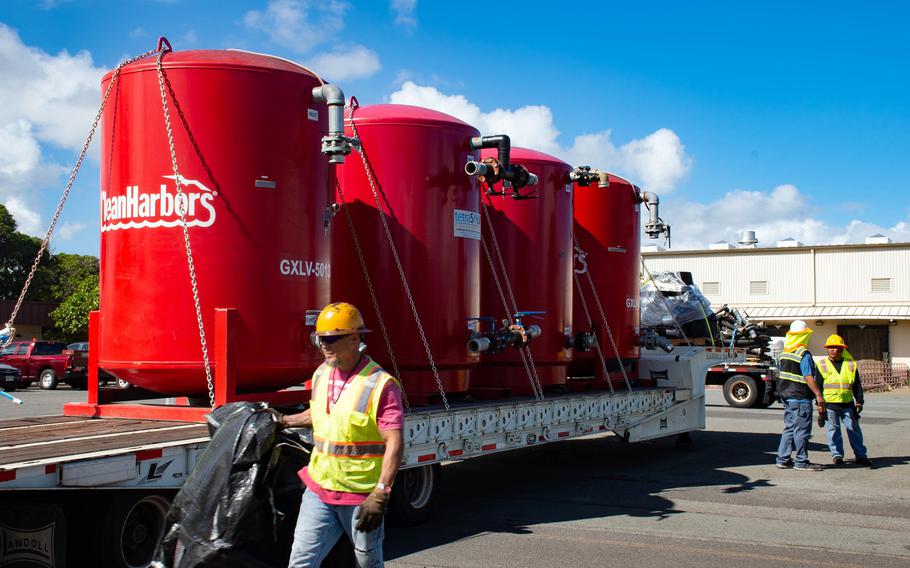 Nearly 4,000 residents of military housing for Joint Base Pearl Harbor-Hickam are facing the holidays in hotels or in homes without potable water as the Navy flushes contaminated water lines, a job that may stretch into late January.
The Navy planned to start flushing water lines at the Pearl City Peninsula military housing neighborhood on Monday, the first of 17 system purges in military communities, according to a news release Sunday from the joint base. The Pearl City flush was expected to take one day.
Individual homes at Pearl City will also be flushed between Monday and Jan. 4, according to a plan to purge the contaminated water system announced Friday. Pearl City is first to be flushed due to its proximity to the Waiawa well, the Navy's source of drinking water after two other wells were shut down Nov. 28 and Dec. 3.
The last communities, McGrew Point and Halawa, may be completed Jan. 20, according to a Sunday update of the base's plan to flush the water system.
Residents of military housing complained in late November of an odor and oily sheen in their tap water. Tests confirmed the presence of petroleum products in the base water supply, and the Navy tracked the contamination to a Nov. 20 jet fuel spill at the Red Hill Bulk Fuel Storage Facility.
By Friday, more than 1,600 individuals had moved temporarily to hotels, while nearly 2,200 people are staying home without clean water, according to a factsheet on the water emergency compiled by the base.
The plan to flush the system was developed by a team of doctors, engineers and scientists, with input from state and federal regulatory agencies, Rear Adm. Blake Converse, deputy commander of Pacific Fleet, told reporters Friday.
"We're going to flush the system," Converse said. "We're going to flush each of the individual lines going to the homes, and we're going to flush each of the homes to restore clean water. And we're going to test the system at several steps along the way to the appropriate standards."
Tens of millions of gallons of tainted water in the distribution system will be processed through massive carbon filtering systems the Navy flew in over the past week and that are now being assembled, according to the base.
Tainted water in individual households – typically 80 to 120 gallons in pipes and water heaters – will be flushed into the regular sewage system, Converse said.
As the Navy scrambles to tackle the issue, the Department of Defense Office of Inspector General announced Monday its intent to evaluate the "operation, maintenance, safety, and oversight" of the Navy's Red Hill Bulk Fuel Storage Facility.
The investigation follows a request from the Hawaiian congressional delegation of Reps. Ed Case and Kaiali'i Kahele and Sens. Mazie Hirono and Brian Schatz. The delegation applauded the decision and said the results would determine the future of Red Hill.
"Recent events have called into question the Navy's operations of the Red Hill facility and their ability to ensure the safety of water provided to Hawaii's military families and Oahu residents," the delegation said in a news release Monday. "It is critical that the military restore safe drinking water immediately. We also need answers."
---
---
---
---