Japan agrees to higher tab for hosting US forces over next five years
by
Hana Kusumoto
Stars and Stripes
December 21, 2021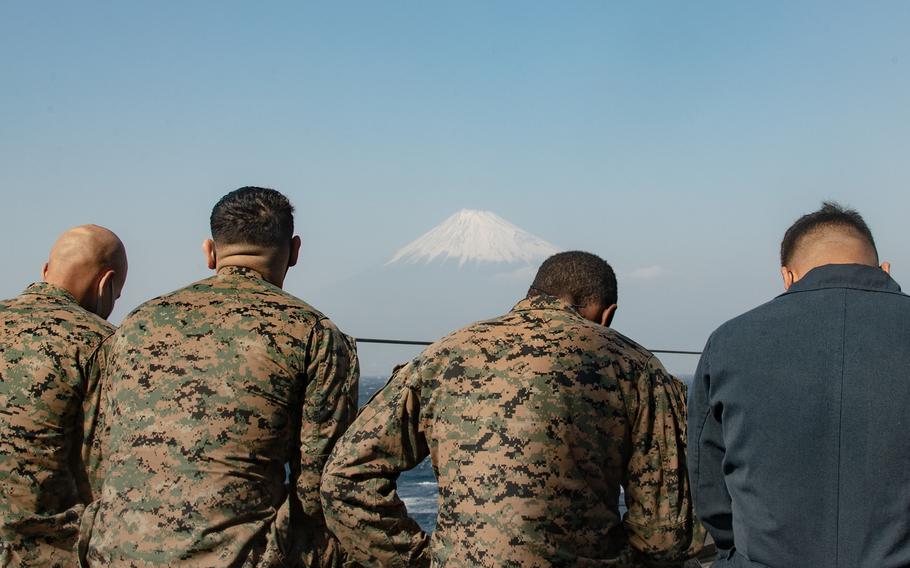 TOKYO – Japan has agreed to increase its share of funding for U.S. troops stationed in Japan to 1.06 trillion yen, or $9.3 billion, over the next five years, Foreign Minister Yoshimasa Hayashi said Tuesday.
The increase comes to approximately 211 billion yen, or $1.8 billion, per fiscal year, Hayashi said during a news conference. Japan allocated about 201.7 billion yen for fiscal year 2021 under the current agreement, according to the defense ministry.
The new agreement will take effect in April, when the Japanese fiscal year starts.
"We have been holding discussions based on the recognition of need to strengthen deterrence and readiness of Japan-U.S. alliance," Hayashi said.
He said that it is also necessary "to support the stable presence of U.S. forces in Japan while the security environment surrounding Japan is becoming more severe in light of the difficult financial situation in Japan."
Bilateral defense cooperation under this cost-sharing agreement will contribute to the "enhancement of readiness and resilience of the Alliance, including by improving the interoperability of U.S. Forces and the Self-Defense Forces of Japan," the ministry's news release said Tuesday.
Interoperability describes the ability of a country's armed forces to use another country's training methods and military equipment.
News of the increase comes after President Joe Biden's administration called for Japan to bear more of the cost to deal with China, which is building up its military strength in the region.
The new agreement significantly cut utility contributions for U.S. military bases and added a new category to cover the procurement of materials and equipment for joint training, Hayashi said.
"We significantly reduced utility costs, where it is difficult to directly see the contribution to strengthening the deterrence and readiness of the Japan-U.S. alliance," he said.
The Japanese share of utility costs will be reduced from about 61% to about 35% in five years, he said.
Instead, 20 billion yen will be allocated for joint training, Hayashi said.
"Such equipment and materials will not only ensure the readiness of the U.S. Forces but also can contribute to enhanced capabilities of the Self-Defense Forces of Japan for greater Alliance deterrence and readiness," the news release said.
The new agreement covers labor costs for 23,178 local employees and training relocation costs, approximately 11.4 billion yen, which is about the same as the current amount, the release said.
The cost-sharing agreement for U.S. forces stationed in Japan is usually renewed every five years. However, the two countries agreed to extend it for fiscal 2021 as the U.S. was transitioning from the Trump administration to the Biden administration.
---
---
---
---