Submarine re-supply ship makes first-ever mooring at naval base on Okinawa
by
Frank Andrews
Stars and Stripes
December 20, 2021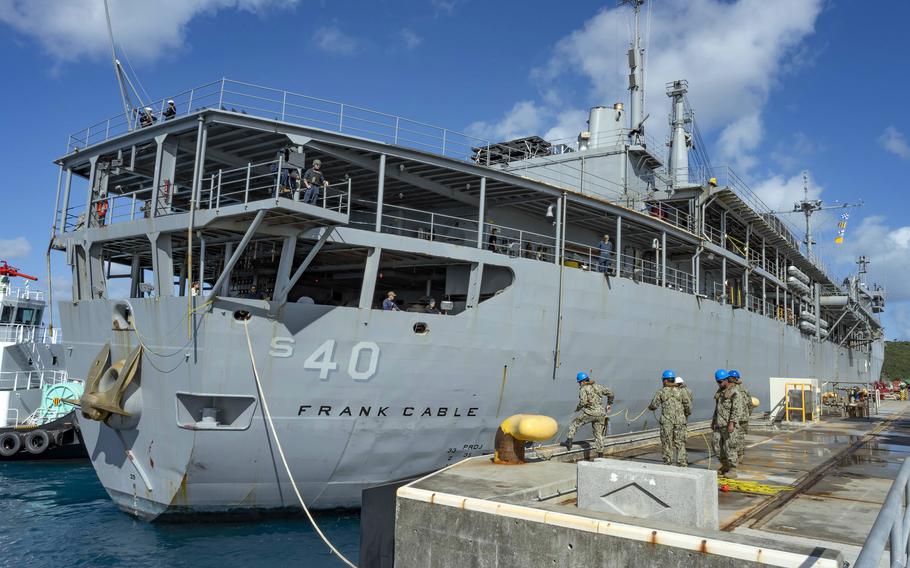 CAMP FOSTER, Okinawa – The USS Frank Cable, one of two submarine tenders in the U.S. Navy, recently completed its first-ever visit to White Beach Naval Facility for a pier survey.
The four-day port call on Okinawa was a first for any submarine tender in the U.S. fleet.
"Our ships routinely operate around the region, and Okinawa was another chance to showcase Frank Cable's capabilities to the fleet, provide the crew an opportunity to enjoy the culture and history of the Okinawan community, and to enhance the interoperability and flexibility of our expeditionary logistics capabilities," Lt. Cmdr. Robert Reinheimer, spokesman for Submarine Group 7, wrote in an email to Stars and Stripes on Thursday.
Interoperability refers to the ability of a country's armed forces to use another country's training methods and military equipment.
The Frank Cable, homeported on Guam, made its first port call for a pier survey and crew liberty in Yokohama, Japan, on Nov. 1, according to the Navy. A month later, in White Beach, the ship's crew launched another pier survey.
The surveys are routine exercises meant to ensure safe navigation and operations, Rienhiemer said. The surveys for the Frank Cable ensure it can moor safely on the pier and have access to all necessary port services.
While in White Beach, the ship's crew also made repairs to the aft weapons hoist, launched small boats for training and went on liberty out in town.
"Mooring in White Beach, Okinawa, is a first-time event for both Frank Cable and for U.S. Navy submarine tenders," said Capt. Albert Alarcon, the ship's commanding officer, in a press release this month. "Besides validating submarine tender access and sustainability in Okinawa, this provides another option for supporting submarines and surface combatants in the Pacific Theater."
The Frank Cable and Emory S. Land, both built in the 1970s, are the last submarine tenders in the Navy's fleet. Both have operated in the Pacific and Indian Oceans over their service lives. The ships' missions are to repair, rearm and reprovision submarines and surface vessels of the U.S. Navy and its allies.
The Emory S. Land was on hand in Guam to assist the fast-attack submarine USS Connecticut after its Oct. 1 collision with a seamount in the South China Sea, according to U.S. Naval Institute News on Nov. 1. The nuclear-powered Connecticut reached San Diego a month later en route to the Puget Sound Naval Shipyard in Bremerton, Wash.
Frank Cable departed its homeport of Apra Harbor, Guam, on Oct. 18 and is on patrol in the U.S. 7th Fleet area of operations.
---
---
---
---