Water contamination in Hawaii prompts deputy Pentagon chief to inspect Red Hill fuel facility
by
Joseph Ditzler
Stars and Stripes
December 16, 2021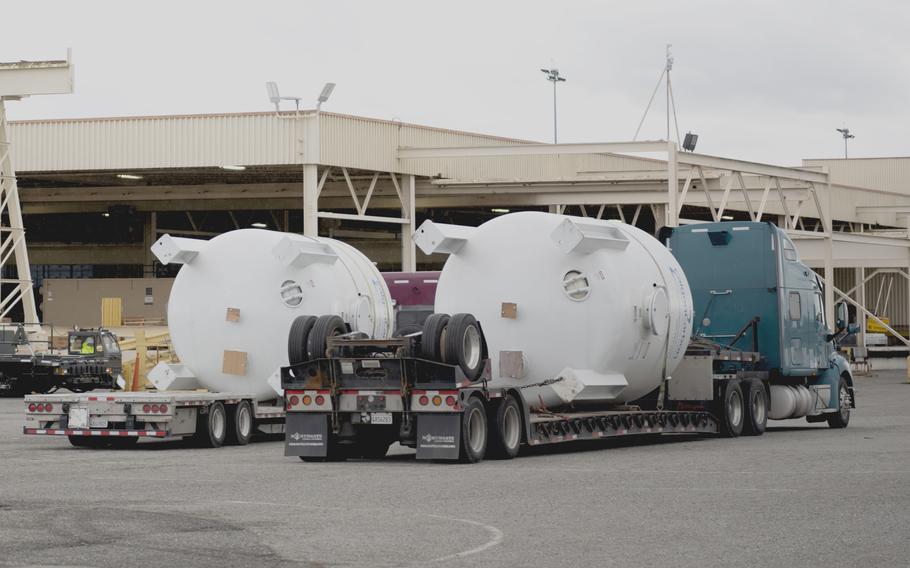 Deputy Defense Secretary Kathleen Hicks on Tuesday inspected the underground fuel storage facility in Hawaii where a fuel leak may be contaminating water the Navy supplies to nearby military housing.
Hicks visited Oahu's Red Hill Bulk Fuel Storage Facility, a massive underground system that stores fuel for the Navy, Marine Corps, Army, Coast Guard and Hawaii National Guard.
"I spent nearly two hours with a team, in the tunnels, to gain a better understanding as to what happened and what can be done," Hicks said in a statement provided by the DOD. "I also had the opportunity to meet with three military families and hear from them, firsthand, how this has impacted their lives as well as the greater community."
More than 1,700 families were temporarily relocated as of Dec. 10 due to water contamination, according to the Navy. Tests confirmed the presence of petroleum products after housing residents complained of an odor and oily sheen in their tap water.
The Navy has tracked the contamination to a Nov. 20 jet fuel spill connected with the Red Hill underground storage tanks.
Hicks said she met with Hawaii Gov. David Ige, state public health officials and the state's congressional delegation, Sens. Brian Schatz and Mazie Hirono and Reps. Ed Case and Kai Kahele.
After the leak appeared, Case introduced a provision into the National Defense Authorization Act, the annual military funding bill, to seek alternative sites for the fuel facility. Hawaii's Health Department ordered the Navy to halt operations at the fuel storage facility, which the Navy ignored. The bill is still under consideration.
Hicks' visit follows one last week of Navy Secretary Carlos Del Toro and Adm. Mike Gilday, chief of naval operations, who also met with local officials and housing residents.
"At DOD, we recognize the need to continue to care for all affected personnel and their families and help them return to their homes in a safe and expeditious manner," Hicks said in the statement. "And even though the Navy is leading our efforts, solving this problem will require all of us in DOD and across the Services to be rowing in the same direction."
The Navy is moving a massive water filtration system from the mainland to Hawaii to filter water in the system's pipelines.
"We take this very seriously," Defense Secretary Lloyd Austin said in a statement last week. "And I am personally monitoring our progress and our mitigation efforts. Indeed, Navy leadership updates me daily on the measures they are taking to care for affected military personnel and families, to restore the safety of the water system in military housing, and to coordinate with local authorities – in particular the Hawaii State Department of Health – about the best way forward."
---
---
---
---