Another Alaska-based soldier has been found dead off post
by
Wyatt Olson
Stars and Stripes
December 15, 2021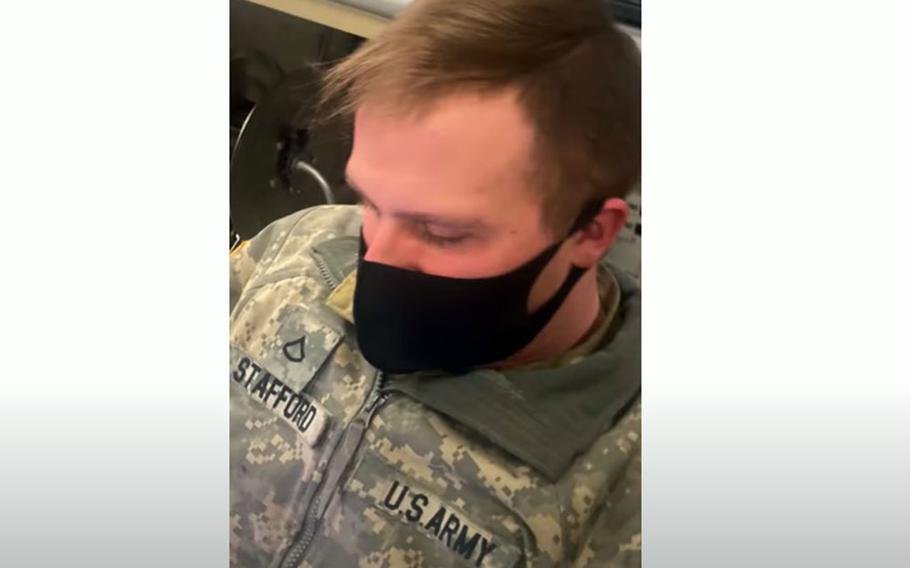 A 21-year-old Army aircraft mechanic with a passion for four-wheeling and Chevrolets was found dead Dec. 8 in his off-post home in Fairbanks, Alaska, the Army said in a news release Tuesday.
Spc. Hunter Trey Stafford was an aircraft powerplant repairer with the 1st Battalion, 25th Aviation Regiment at Fort Wainwright.
The Alaska State Troopers and Army Criminal Investigation Division are investigating the cause of death, the Army said.
David Hosea, a longtime friend and fellow helicopter mechanic at Wainwright, told Stars and Stripes by phone on Tuesday that Stafford had "always been a Chevy fanatic."
"He had a big Chevy Silverado that he bought," Hosea said. "I remember the day he bought it he was so excited.
"He really, really loved off-roading. Most weekends — well, even weekdays — his biggest way of coping was four-wheeling and dirt-biking. He just loved to be behind the wheel of anything that had a motor."
Stafford was also "an insane mechanic," Hosea said.
"He just understood how things worked," he said. "He wasn't much of a reader, but when it came to maintenance, he knew how to scrub the manual and find the answer he needed. He just understood the machines that we worked on so well."
Stafford "worked extremely hard" as a mechanic, Lt. Col. Matthew Carlsen, commander of the 1st Battalion, said in the news release.
A native of Munford, Tenn., Stafford joined the Army in January 2019. He trained at Fort Leonard Wood, Mo., and Fort Eustis, Va., before reporting to Alaska in September 2019. His awards and decorations include the National Defense Service Medal and the Army Service Ribbon.
His death follows those this past month of three other Alaska-based soldiers, whose causes of death have not yet been made public by the Army.
On Nov. 28, Sgt. Miles Jordan Tarron, 30, was discovered dead in his vehicle in Anchorage. Spc. Isaiah Nicholas Oneal, 22, was found dead in his vehicle in Fairbanks on Nov. 26. Sgt. Christian Joseph D'Andrea, 22, was found dead in his off-post home in Fairbanks on Nov. 12.
---
---
---
---