Xi told Putin China, Russia are better than allies, Kremlin says
by
Ilya Arkhipov and Andrey Biryukov
Bloomberg
December 15, 2021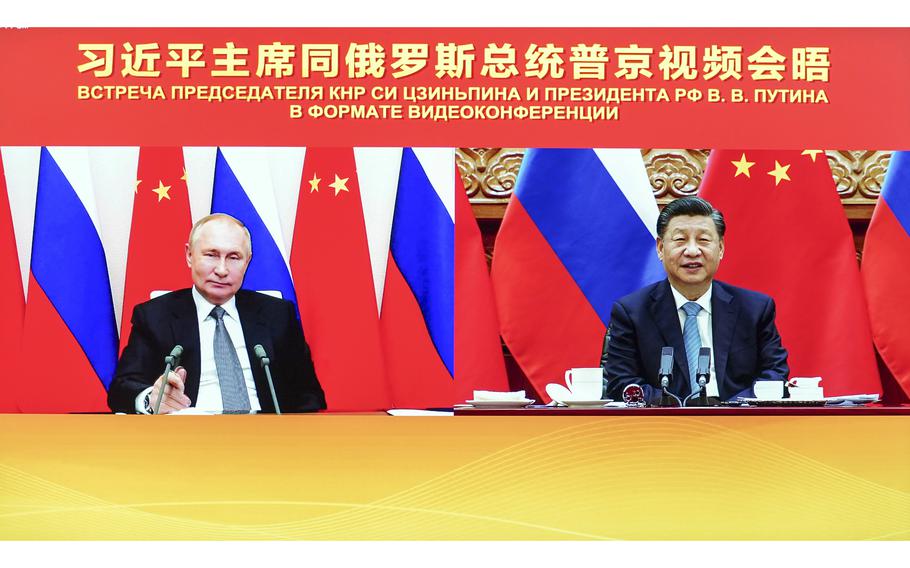 Chinese President Xi Jinping hailed relations with Russia as better than an alliance in a video call with President Vladimir Putin, according to the Kremlin, as the two leaders made a show of solidarity amid rising tensions with the West.
Xi "said that although they are not allied, their effectiveness even exceeds this level," Kremlin foreign policy aide Yuri Ushakov told reporters at a briefing after Wednesday's call. "Such a figurative expression very accurately reflects the essence of what is happening now in relations between our two countries."
Calling Putin an "old friend," Xi said the Russian leader had "firmly supported China in defending its core interests and opposed attempts to divide China and Russia," Chinese state broadcaster CCTV reported. "I highly commend this," Xi told Putin, adding he's willing to roll out new plans for cooperation in various areas.
The high-level dialogue came a week after Putin and U.S. President Joe Biden held a video summit aimed at defusing the crisis over Ukraine that's been sparked by a massive Russian troop build-up on the border with its neighbor. The U.S. has told European allies that Russia may be making preparations for an invasion of Ukraine as soon as next month, something the Kremlin denies.
Putin has since spoken by phone to a string of western leaders including French President Emmanuel Macron and U.K. Prime Minister Boris Johnson, and underlined Russian demands for binding security guarantees against further eastward expansion by the North Atlantic Treaty Organization. Russia handed its proposals on European security to U.S. Assistant Secretary of State Karen Donfried at talks in Moscow on Wednesday, Ushakov said.
Xi raised his concerns with Putin about U.S. activities in the Asia-Pacific region, including the formation of the AUKUS partnership with Australia and the U.K. that undermines the foundations of nuclear non-proliferation in the region, according to Ushakov.
"The close coordination between Russia and China on the international arena, the responsible joint approach to solving urgent global issues, have become a stabilizing factor in international affairs," Putin said at the start of the call in comments shown on Russian state television. He described their relations as "a true model of interstate cooperation for the 21st century."
Kremlin spokesman Dmitry Peskov said Tuesday that Putin planned to discuss the Ukraine tensions with Xi as "allies."
Biden has proposed talks between Russia, the U.S. and other key NATO members, but it's not clear if the West is ready to meet Putin's demands.
The Kremlin has accused Ukraine of sabotaging a 2015 peace deal and planning to use force against Russian-backed separatists in the country's east. Ukraine denies that.
---
---
---
---