Blinken calls out China's aggressive actions during first stop of Southeast Asia tour
by
Joseph Ditzler
Stars and Stripes
December 14, 2021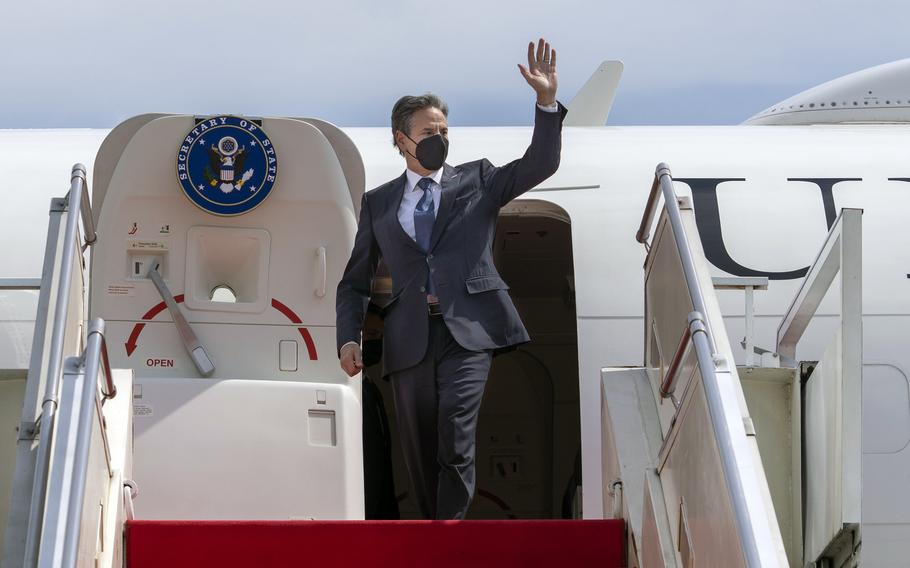 Secretary of State Antony Blinken, speaking in Indonesia on Tuesday, employed some familiar catchphrases to explain the United States' stance on the Indo-Pacific region and why it makes the better global partner.
"Now we talk a lot about a free and open Indo-Pacific, but we don't often actually define what we mean by that," Blinken said at a Jakarta university during a swing through Southeast Asia that includes stops in Malaysia and Thailand. "Freedom is about the ability to write your future and have a say in what happens in your community and your country, no matter who you are or who you know."
Blinken arrived Monday in Indonesia, a nation the State Department describes as a strategic partner. He met with Indonesian President Joko Widodo to discuss how the two countries can work together in the region, according to a State Department briefing.
Blinken's trip abroad touches on countries often at odds with China, the assertive presence in the region, and his speech reflected that atmosphere. America's interests are also at stake in the Indo-Pacific, Blinken said.
"We all have a stake in ensuring that the world's most dynamic region is free from coercion and accessible to all," he said in remarks that were streamed online. "This is good for people across the region; it's good for Americans, because history shows that when this vast region is free and open, America is more secure and more prosperous."
He also called out Myanmar, or Burma, where military authorities unseated the popularly elected government under Aung San Suu Kyi in February, imprisoned her and her supporters, killed others in street demonstrations and detained many more.
"We'll also stand up against leaders who don't respect their people's rights, as we're seeing now in Burma," he said. "We'll continue to work with our allies and partners to press the regime to cease its indiscriminate violence, release all those unjustly detained, allow unhindered access and restore Burma's path to inclusive democracy."
He turned also to North Korea and its pursuit of nuclear weapons, and China, whose aggressive behavior is cause for concern among nations that still maintain economic and cultural ties with the Asian giant. Blinken unholstered another catchphrase.
"Finally, we'll work with our allies and partners to defend the rules-based order that we built together over decades to ensure the region remains open and accessible," he said. "The goal of defending the rules-based order is not to keep any country down. Rather it's to protect the right of all countries to choose their own path, free from coercion, free from intimidation."
From Southeast Asia to Northeast Asia, from the Mekong River to mid-Pacific islands, the nations of the Indo-Pacific are concerned about China's aggressive behavior, Blinken said.
"Claiming open seas as their own; destroying open markets through subsidies to state-run companies; denying the exports or revoking deals with countries whose policies it does not agree with; engaging in illegal, unreported and unregulated fishing activities."
Standing up to China is not about inflicting a choice on surrounding nations, Blinken said.
"It's not about a contest between a U.S.-centric region or a China-centric region. The Indo-Pacific is its own region. Rather it's about upholding the rights and agreements that are responsible for the most peaceful and prosperous period this region and the world has ever experienced," he said.
For example, the South China Sea, where $3 trillion in commerce moves annually, must remain open to freedom of navigation, another key entry in the U.S. phrasebook.
Blinken reminded his audience that an international tribunal five years ago dismissed China's claims to portions of the South China Sea as unsupported by international law.
"It's worth remembering that tied up in that colossal number, $3 trillion, are the actual livelihoods and wellbeing of millions of people across the world," he said.
Wrapping up his speech after nearly 45 minutes, Blinken reminded listeners that President Joe Biden, speaking with China's President Xi Jinping in a virtual summit last month, reminded Xi that each has a responsibility to ensure the competition between their nations does not veer into conflict.
But, Blinken said, the U.S. will employ as a deterrent the instruments at its disposal, including diplomacy, intelligence gathering, military power, along with those of its allies and partners, a concept called integrated deterrence by Defense Secretary Lloyd Austin.
"It's about reinforcing our strength so we can keep the peace, as we've done in the region for decades," Blinken said. "We don't want conflict in the Indo-Pacific."
Blinken was slated to move onto Malaysia on Tuesday to meet with Prime Minister Ismail Sabri and Foreign Minister Datuk Saifuddin. The secretary is scheduled to arrive in Thailand on Thursday to meet Prime Minister Prayut Chan-o-cha and Foreign Minister Don Pramudwinai.
He meets with Adm. John Aquilino, head of U.S. Indo-Pacific Command, in Hawaii on Friday.
---
---
---
---