Coworkers, families at US air base in Tokyo raise funds for teacher's cancer treatment
by
Kelly Agee
Stars and Stripes
December 10, 2021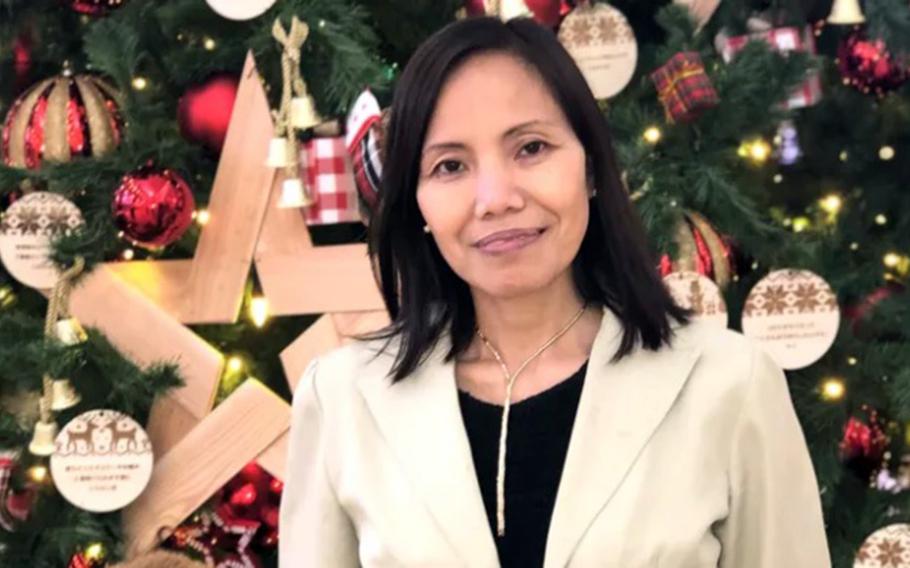 YOKOTA AIR BASE, Japan — Coworkers of an early childhood teacher at this base in western Tokyo are raising money this holiday season to offset the costs of her cancer treatment.
Jocelyn Ercilla, who has worked as a teacher at the on-base Yume Child Development Center for 13 years, starts chemotherapy on Dec. 13 for stage 4 cancer, two of her coworkers told Stars and Stripes. Ercilla, who wishes to keep the details of her diagnosis private, worked her final day at the center on Nov. 30, they said Dec. 6 when we spoke in person.
Many families at the air base have known Ercilla as the woman who watched over their children daily and also helped them develop critical social skills and to grow emotionally, cognitively and physically, said coworkers Charmaine St. Louis and Amy Yamaki.
"She is highly passionate about her job," St. Louis said. "It doesn't matter what has been thrown at her; she always keeps her composure and keeps doing what she does because she loves what she does."
Ercilla was unavailable for comment due to her health.
Yamaki and St. Louis said they both jumped in to get Ercilla whatever help they can provide through GoFundMe, the popular online fundraising platform. As of Friday, dozens of donors had contributed more than $3,000 toward a $4,000 goal, according to the "Help Ms. Jocelyn for her Medical Expenses" page.
"A lot of people that she affected with her passion for the job aren't here anymore," Yamaki said. "So, this was the best way to reach out to people."
Donor Andrea Ally commented on GoFundMe: "We are praying for you Ms. Jocelyn. Thank you for taking such good care of our boys."
Japan's health care system covers up to 70% of her treatment as a Japanese citizen; she's liable for the remaining 30%, which translates to about $1,000 a week for chemotherapy and medications, according to her coworkers.
Transportation is another expense. Ercilla must commute from Mizuho city to Kyorin University School of Medicine in Mitaka, which takes her about 1 ½ hours.
Six weeks of treatment lie ahead, her coworkers said. She'll check in each Monday for treatment through Thursday, travel home that night and return Friday for a checkup before starting again the following week.
Along with collecting money for Ercilla, the two are also putting together gift baskets that include fruits, soups, water and clothing such as socks and pajamas.
"I was overwhelmed with happiness from all the donations that went through just on the first night," Yamaki said. "I felt so grateful and so thankful that it brought tears to my eyes."
Getting together as a community to help people in need is important and highly effective, she said.
"It is important as a community, we need to be involved in helping our neighbors, and those who are struggling," Yamaki said. "A lot of people won't ask for help. Also, if we gather together as a community and 100 people donate $5, that is like a Starbucks drink. This is why gathering funds as a community makes it easier for individuals to donate."
Ercilla was still working even after she found out she had cancer.
"She worked all the way up to last Wednesday, in pain because that is what type of person that she is," St. Louis said. "She is still thinking about the kids. She said to me before she left, 'Please let the parents know that I am thankful for everything and that I am thinking about the kids.'"
---
---
---
---