Army would play pivotal role in an Indo-Pacific conflict, says service's top civilian leader
by
Alex Wilson
Stars and Stripes
December 9, 2021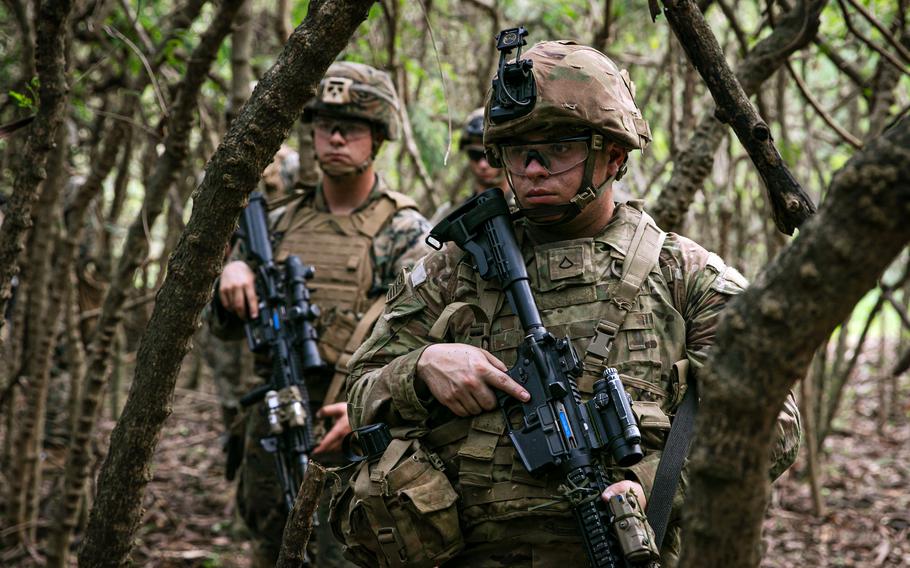 The U.S. Army's top civilian leader at recent forums said the service has been reevaluating its role in the Indo-Pacific region as challenges continue to arise from China.
The Army is in the midst of "the most comprehensive effort to modernize itself in 40 years," Secretary of the Army Christine Wormuth told the Center for Strategic and International Studies on Dec. 1. Most of those efforts focus on operational challenges in the Indo-Pacific region, she said.
The Indo-Pacific's vast maritime stretch puts the Navy, Marine Corps and Air Force in dominant roles, leaving the Army an underestimated force in the region, according to a 2017 U.S. Army War College report.
Wormuth described the Army as a "linchpin service" that would establish bases, handle logistics, oversee command and control operations and bring significant combat capability to the region.
Speaking Saturday at the Reagan National Defense Forum in Simi Valley, Calif., Wormuth focused heavily on the ongoing expansion and modernization of China's armed forces.
Department of Defense officials have repeatedly described Beijing as Washington's major "pacing challenge."
Wormuth said China has approximately 2 million uniformed personnel, including about 975,000 on active duty in its army. That far outweighs the United States' 1.3 million uniformed personnel at its 485,000 active-duty soldiers.
Tensions between the U.S. and China have continued to intensify in the Indo-Pacific, largely over the South China Sea and Taiwan.
China claims nearly the entirety of the South China Sea — a critical waterway for the global economy — and frequently criticizes the U.S. military's presence there. Beijing also considers the island of Taiwan, a functional democracy, as a breakaway province that must be reunified with the mainland.
"China's focus on modernizing its military capabilities will strengthen its ability to coerce Taiwan and rival claimants in territorial disputes, project power globally and counter interventions along" China's periphery, Wormuth told CSIS.
She said "integrated deterrence" — joint efforts between U.S. military services to project power — is key to avoiding conflict in the region. That deterrence must include "newer domains" such as outer space or cyberspace military capabilities, she said.
During Saturday's security conference, Marine Corps Commandant Gen. David Berger said he's observed an "erosion" of both competition and a sense of urgency in tackling the challenge posed by China.
"At this point, I think we may need to consider things that seem extreme," he said. "If we're not going to do that now, we're going to continue in a sense – not even sleepwalking – but just walking toward disaster."
If deterrence fails and conflict ensues, Wormuth said, the Army would serve a variety of roles during a joint operation with the other service branches.
"No one service can meet the challenge alone," she said, "which is why we are focused on learning, experimenting and operating in the region as part of the joint force."
---
---
---
---